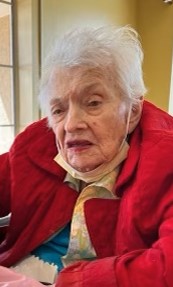 Graveside services for Nettie Mae Noles were held Thursday, August 18, 2022, at 10:30 a.m. at Bistineau Cemetery in Heflin, Louisiana under the direction of Rose-Neath Funeral Home in Minden, Louisiana. Officiating was Bro. Brock Childers. 
Nettie Mae was born on February 22, 1927, in Heflin, Louisiana and peacefully entered God's Kingdom on August 14, 2022.
She had three loves during her life here on earth: First, her family; second, her love of fishing, gardening, and nature: Third, her love of cooking and spending time with friends while eating, playing cards, riding horses, and church socials.
She is preceded in death by her parents, Joe H. and Dera Murphey; her younger brother, Billy Joe Murphey; her husband, Edd Noles; and her nephew Al Burkhalter.
She is survived by her children, Diane Noles Richter (Randy, deceased), Eddie Noles (Rita), and Robin Noles Kemp (Tommy, Jr.); 4 grandchildren, Melanie Richter Hooper (Kiley), Megan Richter Tisdale (David), Lisa Noles Miller (Toby), and Justin Kemp; 3 great-grandchildren, Abbie Miller, Trent Kemp, and Tyson Kemp; her sister, Jimmie Ruth Burkhalter of Haughton; her sister-in-law, Evelyn Noles of Mansfield; niece, Nancy Burkhalter McDearmont of Haughton; and nephew, Joe Burkhalter of Haughton.
Rose-Neath Funeral Home
211 Murrell Street
Minden, Louisiana 71055
(318) 377-3412