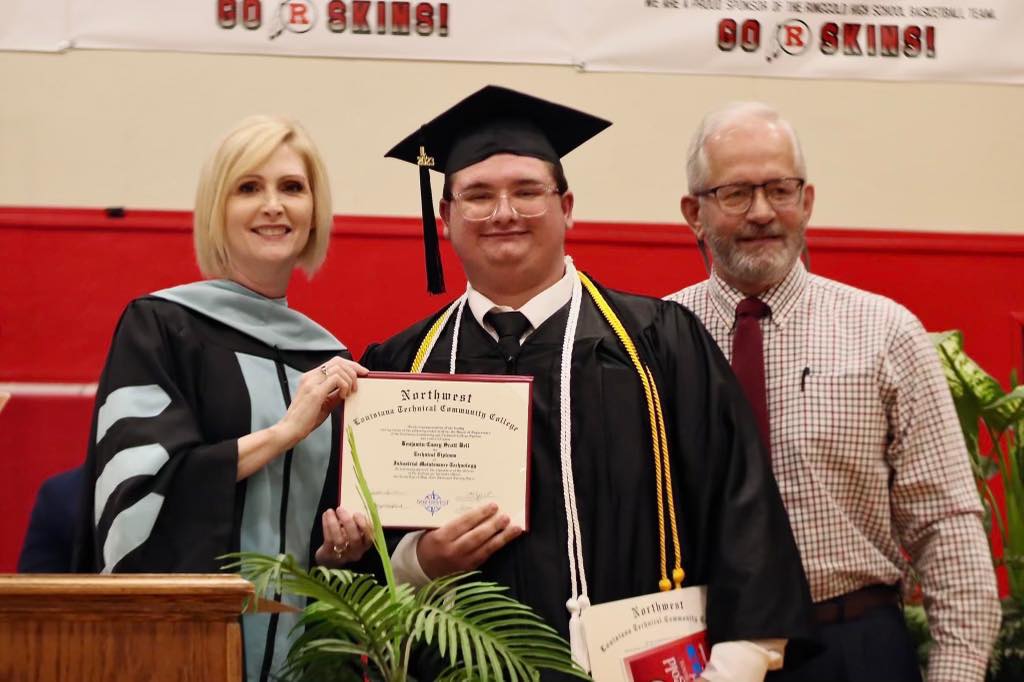 Northwest Louisiana Technical Community College (NLTCC) proudly honors the accomplishments of Benjamin Bell, an outstanding student who recently graduated from the Industrial Maintenance Technology (IMT) Program. Benjamin's hard work and enthusiasm have earned him a technical degree from NLTCC, received just days before his high school diploma from Ringgold High School.
Benjamin, a dual-enrolled student, made a smart choice by joining the IMT Program, which offers specialized classes and hands-on experience in various areas of industrial maintenance. This comprehensive program covers electrical and hydraulic systems, welding, machine operations, maintenance, and troubleshooting. Benjamin explained his decision, saying, "The reason why I picked industrial maintenance was because I couldn't make up my mind if I wanted to go for welding or electrical, so I chose industrial maintenance because it had both."
Benjamin had a great experience at NLTCC. He expressed his gratitude towards the college, saying, " I chose NLTCC because I had heard a lot of good things about it, and they had industrial maintenance, which none of the other colleges I looked at had. My favorite part about the program was that I had the chance to get my degree faster and I didn't have to pay a dime. " He also highlighted the support he received from the friendly teachers and staff, especially his instructor, Mr. Michael Holomon.
Demonstrating the program's effectiveness, Benjamin has already embarked on a promising career. He recently started working for Caddo Electric at Fiber Bond. Reflecting on the advantages of dual enrollment, Benjamin shared, "Dual enrollment helped me finish my education faster and get a better-paying job sooner than if I had gone to college after high school."
A degree in Industrial Maintenance Technology offers numerous benefits for those seeking employment in North Louisiana. This career path provides competitive salaries, stable job opportunities, and the chance to work in diverse industries. Industrial maintenance technicians are in high demand, and the skills acquired in the program ensure efficient and safe work in industrial settings, opening doors to success in North Louisiana's thriving industrial sector.
If you are looking for a rewarding career in Industrial Maintenance Technology in North Louisiana, NLTCC is here to support you. The IMT Program can be completed in as little as 18 months. With a combination of classroom, laboratory, and hands-on training, students are well-prepared for their future profession.
To learn more about the IMT Program and enroll today, contact NLTCC at 318-371-3035 or visit www.nltcc.edu. Start your journey towards a fulfilling career in industrial maintenance technology with NLTCC.