Lieric Robinson has long, cool dreadlocks that just barely fit inside his helmet. His hair has helped him develop his own identity. He's been growing it out since seventh grade, around the time he started noticing his body get bigger and started playing football.
"I always had a low haircut before," Robinson said. "When I moved to Minden, I wanted something different. At Webster, I saw other kids with long hair. I thought I'd give it a shot."
Robinson and his family moved to Minden from Ringgold when he was in middle school.
"It got a little rough down there in Ringgold," Robinson said. "My parents decided we should try something different."
"Lieric is a powerful athlete and leads with his impeccable work ethic."

-Spencer Heard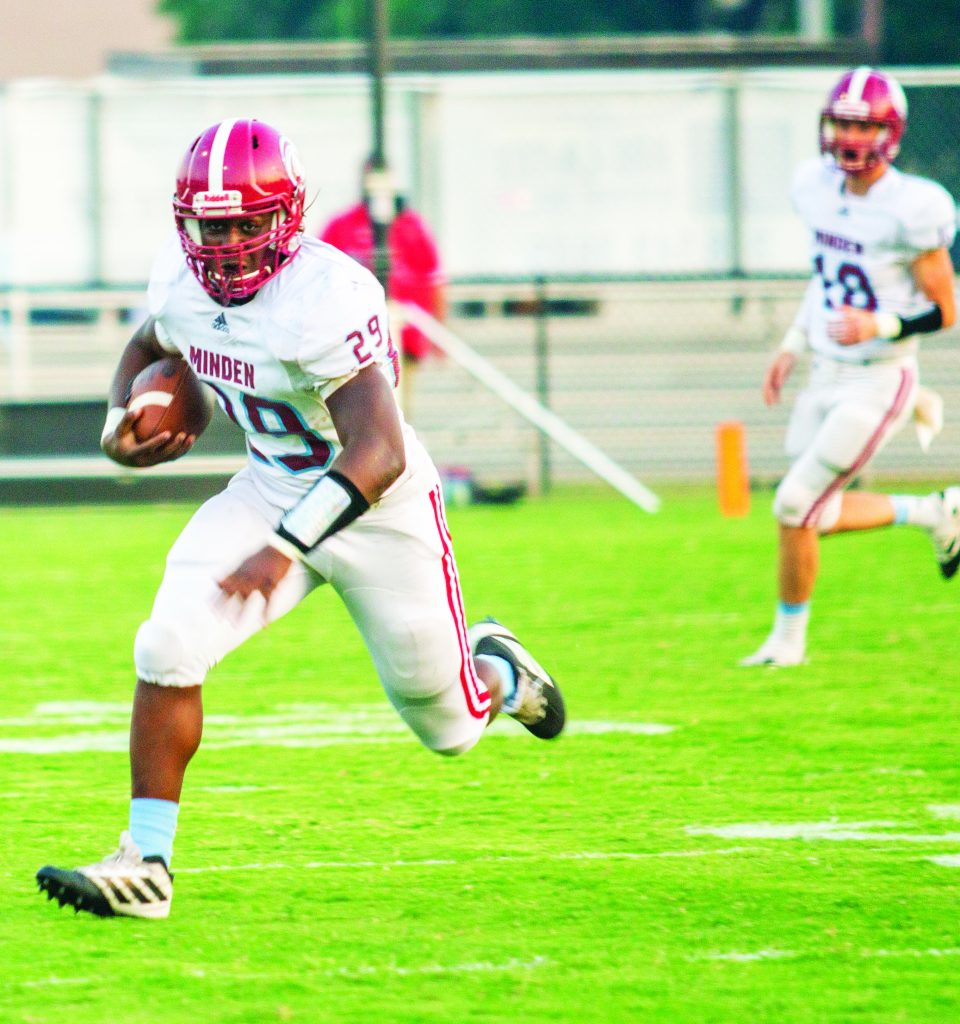 Minden coach Spencer Heard is one of the many people in the Crimson Tide community who is thrilled that Robinson moved here.
Robinson led Minden rushing last season, breaking out for nearly 1,000 yards on the ground.
"Lieric is a powerful athlete that leads with his impeccable work ethic," Heard said. "He lets his pads do the talking."
For all the work Robinson puts in from the backfield, he is equally valuable as a leader for the Tide.
"Lieric is a player that hopefully some of our young guys try to emulate," Heard said.
Minden has jumped out to a 4-1 record this season and rattled off four straight wins after an opening-week loss at Parkway.
That success sits in stark contrast to last season, when Robinson saw his Tide team struggle all season long to find consistency.
"This season, we're just so much different," Robinson said. "We're much more mature with how we do things."
That maturity comes with experience.
Robinson, along with players like quarterback Trenton McLaughlin and wide receiver Seth Johnson, all featured last season as Minden struggled to find their feet.
The tough times they fought through last season are paying off this season as Minden is the team with the maturity and know-how.
"We show a lot of toughness and confidence when we're on the field," Robinson said. "We want to prove to the community what the Tide are all about."
Robinson takes his role as a leader seriously. Even at 4-1, he knows they still have a lot of work to do.
"I think we could still take things more seriously," he said. "We need to get better every week.
"We put in so much work in the summer and in the offseason. Now it's starting to pay off."
Robinson learned early in his life that the work you do to prepare is as important as the performance.
"In middle school, I started seeing that I was gettting bigger," he said. "I decided I wanted to play football. I wanted to get stronger. I started eating everything in sight and lifting weights. I lifted on my own time. At school and at home."
Robinson went from a young fullback with potential to the starting running back for the Tide.
Now, he's helping his teammates and the underclassmen learn what it takes to be successful.
"When I started playing football, I was small and nervous and scared," he said. "I had to get tougher."
His character and toughness are contagious for a Minden team at the top of their game.
"I think we have a chance to do something special. We can go pretty far this year."
BY THE NUMBERS
After rushing for nearly 1,000 yards in 2018, Lieric Robinson has had another strong start to the season in 2019. In addition to running the ball, Robinson is great as a receiver out of the backfield.
VS. PARKWAY
-9 carries, 21 yds, TD
-4 rec., 51 yds
VS. HAYNESVILLE
-17 carries, 78 yds 
-1 rec., 18 yds, TD
VS. NORTH WEBSTER
-14 carries, 60 yds, TD
-1 rec., 5 yds
VS. MANSFIELD
-19 carries, 140 yds, TD
-2 rec., 15 yds, TD
VS. BTW
-17 carries, 107 yds, TD
-2 rec., 30 yds