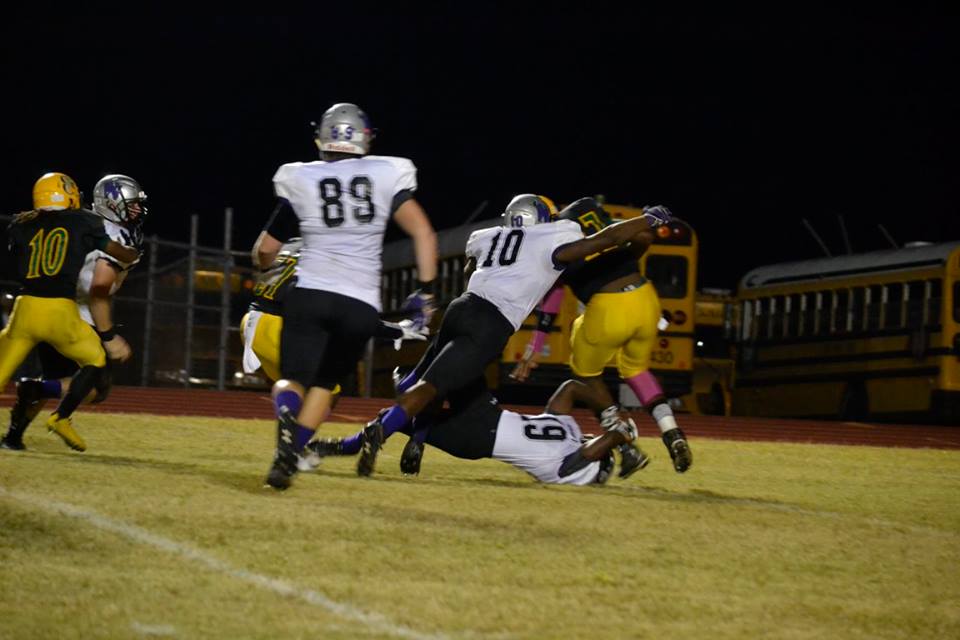 SPRINGHILL – John Ware can hardly believe it, but his team will host a playoff game next week as co-champions of district 1-3A.
North Webster defeated the Southwood Cowboys 14-0 on senior night at Baucum-Farrar Stadium to improve their record to 6-4 and clinch a first-round home game next week in round one of the playoffs. The cherry on top came when news broke that Mansfield had upset previously unbeaten Loyola, forcing a 3-way tie for the district championship. Sure, it's wasn't the conventional route, but the Knights are where they want to be.
"We've been playing pretty good, especially the last two weeks," Ware said. "This is a good year for us. They're weren't really a lot of expectations for us going in, but we put up another winning season; that's five in a row for us. To be back in the playoffs, with a home game, means this was a special year."
Many said this would be a rebuilding year for the Knights after the departure of Devin White and several other key contributors. The schedule was daunting, featuring two 5A schools, Class 4A's Minden and a season-opener against state perennial power Haynesville.
It might be Ware's best coaching job to date.
"You know, it's one of those things I don't take for granted," Ware said. "I know how hard it is to get to this point and to be able to win consistently. The schedule certainly helped us out on the back end."
The Knights were lights out defensively against the Cowboys, allowing only two first downs throughout the game in a dominant showing by seniors Rico Gonzalez, Jaylon Bonton, John Hardy and more.
The Knights have been hurt by teams capable of throwing the ball, but against the run-heavy Cowboys, North Webster dug in.
"Defense has been playing a lot better the last few weeks," Ware said. "We're making tackles instead of missing them and playing assignment football.
On the back half, we've been a lot better too. We haven't seen as many blown coverages, but a lot of that comes with stopping the run. When you know it's a passing down there's a lot more that you can do."
The North Webster offense had a tough time getting things in motion against a gritty Southwood defense, managing only 14 points.
"We struggled," Ware said. "We moved well between the 30's all night, we just couldn't punch it in. We struggled with turnovers or penalties setting us behind the sticks. It hasn't been uncommon for us. We don't have that break away speed this year so we have to be able to sustain drives through the red zone."
Jaylen Thomas carried 16 times for 78 yards to lead Knights' running backs, followed by Sam Modisette with 44 yards on 12 carries. TJ Hawthorne was keyed on and contained, but did manage to scrape out 39 yards and a touchdown on the night. He also caught 2 passes for 59 yards and a receiving touchdown from quarterback Cameron Huff who played a solid game for the Knights.
Playoff brackets were released on Sunday, and the Knights will host the Richwood Rams in round one.
The Rams (6-4) played one of 3A's toughest schedules as well, with losses to Ouachita, Bastrop and Union Parish to name a few.
It should be an electric matchup of 6-4 teams Friday night in Springhill.
"I don't see any reason why we can't make a run," Ware said. "To be able to have a home game first is pretty special. If you would have told me we would be hosting a playoff game nine weeks ago, I wouldn't have believed you. We have as good a chance as anybody, but we have to play really good football consistently."