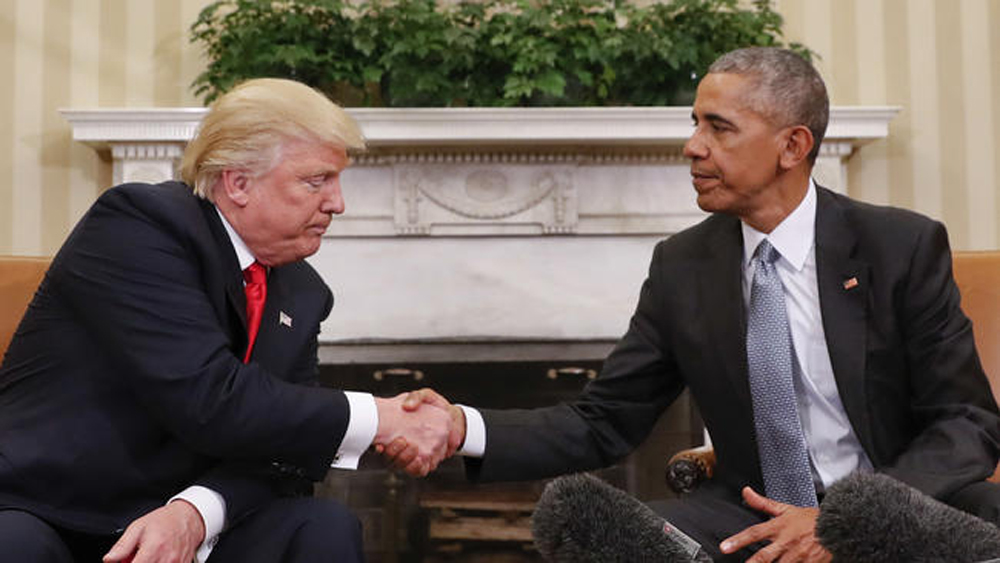 HONOLULU — In an alternate universe in which President Barack Obama ran for a third term against Donald Trump, who would have won?
No surprise: The president and the president-elect disagree.
A fresh dispute erupted Monday between Obama and his successor, spurred by Obama's hypothetical musings that had he run again, he would have been victorious. Interviewed for a podcast, Obama suggested he still holds enough sway over the coalition of voters that elected him twice to get them to vote for him once again.
"I am confident in this vision because I'm confident that if I had run again and articulated it, I think I could've mobilized a majority of the American people to rally behind it," Obama told his former White House adviser, David Axelrod, in a podcast released Monday.
Trump, naturally, disagreed. He took to his preferred medium — Twitter — to offer his reaction.
"President Obama said that he thinks he would have won against me. He should say that but I say NO WAY!" Trump wrote.
He suggested Obama's record would have prevented him from securing a victory, citing jobs that have left the U.S., troubles with Obama's Affordable Care Act and the ongoing threat posed by the Islamic State group as examples.
The White House declined to comment on Trump's tweet.
In the podcast, Obama didn't address whether he would have been able to surmount the obstacle that the Electoral College posed for Hillary Clinton. The Democrat failed to secure a majority of electoral votes despite winning the popular vote by millions.
Yet Obama said he's spoken to people across the U.S. who have told him the direction he pursued "is the right one," a sentiment he said extends even to some people "who disagreed with me." He suggested Democrats' failure in the election may have stemmed from the prevailing assumption that Clinton's victory was all but assured.
"If you think you're winning, then you have a tendency — just like in sports — maybe to play it safer," Obama said.
Though Obama railed against Trump during the campaign, he's largely held his tongue since the Republican's Election Day victory, in large part to ensure a smooth transition of power. He and Trump have spoken regularly by phone, and Trump has praised his predecessor for the graciousness with which he's handled the process.
But in recent days, points of tension between their two teams have started to emerge, driven by Trump's picks of Cabinet nominees who have vowed to dismantle much of what Obama has accomplished. The Obama administration has also been dismayed by requests from Trump's team for information they fear could be used to try to identify and then eliminate bureaucrats who have worked on Obama priorities like climate change and women's rights overseas.
Obama, who is vacationing in Hawaii, was prohibited by the Constitution's 22nd Amendment from running for a third term. But Obama has said even if there weren't term limits for presidents, he believes it's important for the country to have a change of leadership after eight years. He's also suggested his wife, first lady Michelle Obama, would have had little patience for a third term in the White House.