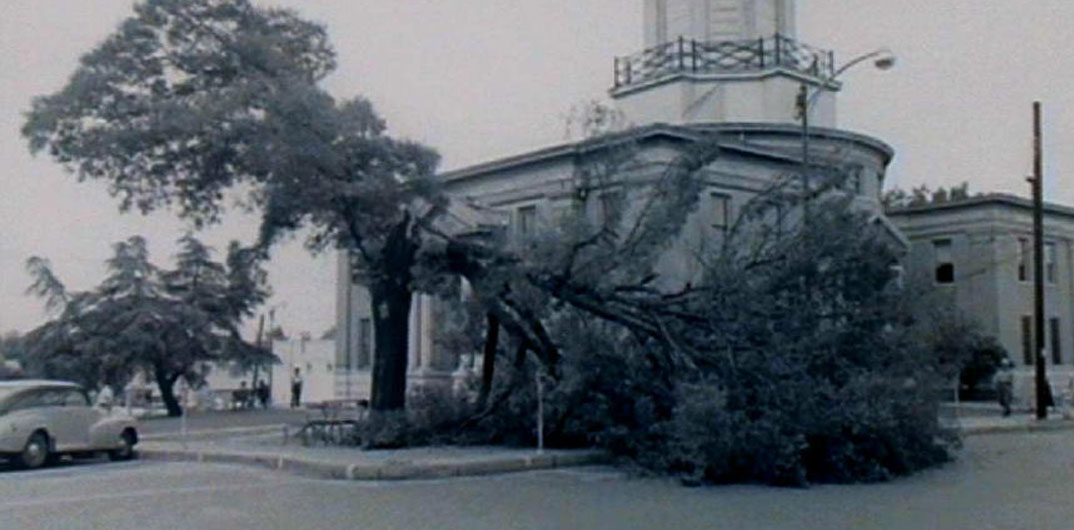 A few days ago I was asked to provide the history of the Arizona Ash tree. The plan to do signage for the tree made this task even more important. I have heard many stories relating to Minden's trees; during my years as the director of the Dorcheat Historical Museum. I wanted the correct information given for the sign. For several days I researched old newspapers, old books and made many calls. I think what I have complied here is a pretty accurate account of some of Minden's more famous trees and the people that have loved them and protected them.
In January of 1983 Minden historian Mrs. Paul Campbell wrote a brief history of Minden's trees that included the history of the 1905 courthouse trees. Her research was a blessing to find. I have taken her work… as well as other things I have found to compile this article. I only wish I could have known her…..for she was a woman of amazing knowledge about our history. Webster Parish Historian John Agan along with many others have helped preserve Minden's past. They have helped me find the correct information for this project. In all my endeavors related to history, I could not do… what I do today… without the work that they have already done…we should all be forever grateful for their knowledge and love of our town. I hope when you see John Agan you tell him as much.
Arizona Ash
Much has been written, mostly false, about the beautiful Arizona Ash that stands opposite the civic center near the site of Minden's 1905 (2nd) court house.
Charles Davis, Office deputy in the sheriff's department, with an office in the southwest corner of the 1905 court house, wanted relief from the afternoon sun that poured through the building's windows. He asked a farmer friend to bring him a fast-growing shade tree to plant just outside his office. And so it was done. This tree was planted in 1915. The ash and a companion tree, a huge cedar that stood near the old Peoples Bank building and where the flagpole is located today, were saved by popular demand when the area was made into a parking lot. After the court house-city hall building was demolished in June of 1971.
Already damaged, the Cedar tree was toppled by a wind gust on Oct. 30.1979.
The following letter about the old Ash Tree was written by Joyce Gaines in November of 1974
The Salmon Tree
Herald Of Seasons
Search the depth and breadth of the good old U.S.A. and beyond its borders, too, and you are never likely to find another town with a Salmon Tree. Some would tell you there is a sameness to the small towns of the South, but that is only because they have not visited Minden, Louisiana. As everyone knows, the yellow pages of the local telephone directory state very firmly that Minden, pop. 15,211, is located in the rolling hill country. But we, its citizens, feel more secure in the knowledge that it lies snugly in the pleasant piney wooded hills of northwest Louisiana.
In the last century, when Minden's old City Hall was built, a slender sapling was planted on its southwest side. There were those who said it looked like an Arizona ash, but the tree, caring nothing for its name, grew and grew to magnificent proportions. Protectingly it spread its branches over part of the old City Hall, it survived wicked winter ice storms and blazing summer heat. It laughed at, the fury of tornadic winds and in summer it gently rustled its leaves in sympathy with the local philosophers who sought the shade of its great branches. As an eighty year old woman told us, "Ever since I was a little girl I have looked to that particular, tree and seeing its leaves turn, knew that Thanksgiving, and Christmas was close upon us." The tree had become an integral part of the city but we did not discover this until progress decreed a New City Hall. The old City Hall was to be razed to make way for a parking lot and the tree would have to go. Outraged cries of anguish, heard all over town, were ignored. The architect, the contractor, the mayor and the City Council cried, "Progress, in the name of progress the tree must go!"
In a dingy back room at the old Chamber of Commerce office, the Minden Beautification Council held its monthly meeting. This group was presided over by one J. B. Salmon, an elderly, retired engineer. A methodical man, he guided the meeting through its trivialities until, unable to contain myself any longer "I interrupted with, "Mr. Salmon we have to save the 'tree!" From around the table came a chorus of, "It can't be saved, the city fathers along with the architect and the contractor, all say it is impossible to save the tree!"
It was then I saw the sparkle in J.B.'s tired old eyes and a flash of fire and a youthful determination. I don't know whether J. B. ever built bridges in impossible places but in that instant, I knew him to be capable of such feats.
He said simply, "I will talk to them." We never learned who 'them' were or what he said but at the next meeting he proudly announced, "The tree will be saved!" Right then and there, for me, it became the Salmon Tree, a symbol of determination, of democracy and good old fashioned faith.
Who cares that we sacrificed a few parking places? Has not the tree justified itself, through being more beautiful than ever? Oddly enough, progress was not delayed, merely circumvented.
J. B. Salmon went to his rest a few years ago but I hope he got to see his magnificent tree, standing so proudly across the street from the new City Hall, mellowing its modern lines and never once forgetting to signal a change of season.
Next time you pass by the Salmon Tree, give thought to the man who saved it!
"Tree of Knowledge"
The other tree that many confuse the ash tree with is the "Tree of Knowledge"
This tree stood on Main Street between the 1917 post office site and the old court house (Pearl Street extension). The post office was located where the bank and flagpole are today. Generations of Minden men sat on two iron benches beneath this tree, telling tall tales, discussing politics and the economy, and solving the problems of the state, nation and the world. Although damaged by the 1933 tornado and a storm that took place on Thursday night, May 19, 1955. This storm would split half the tree away, but part of the tree survived till; near the-time that the court house was razed.
The following poem was written about the old tree by Richard Faircloth and artist Wanda Monzingo Ballard painted her memories of the tree several years ago.
The tree of knowledge
By Richard Faircloth
It was the old tree of knowledge
That stood on the Courtyard square,
Where the older gentleman gathered
And exchanged stories there.
If words could be recorded
That were spoken under that tree,
Oh, what an interesting volume
Of subjects that would be.
Many visiting pastors
Have stood upon the sod,
And under The Tree of Knowledge
Have preached the Word of God
The hostile winds were heavy
That tore her limbs apart,
Leaving interesting memories
In many admirers heart.
We will miss her shade in summer
And her beauty in the breeze,
But I thank God in Heaven
For the use of such trees.
As late as 1974 a controversy was centered on the old Courthouse trees. Many civic leaders fought to cut them down to make way for parking. But the people of Minden would not have it.
Most folks love trees. When you see a massive old oak tree you wonder what that tree has seen in its life-time. For one such tree located in the Fuller-Murrell Cemetery. The cemetery contains the grave of Isaac Murrell, first white child
born in (Old) Claiborne Parish. I learned the tree's history back in January of 2009 and how it came to be woven in the fence so long ago. We go back to December of 1884 to learn how this tree came to be. This tree lived for 124 years old and it is sad to say that it came to end of its life due to disease, decay and its potential of doing damage to the remaining headstones that it had shaded for over 100 years. I am now going to tell you the history of this tree and how because of one person this tree has become a part of history.
In 1880, my sister Maggie (Margaret Rebecca) married and moved to Pittsburg, Texas and in 1882, Sister Mamie married and moved there too. We four younger children, Alice, Lena, Ettie and Rawlins, joined them in 1884. Brother John had married Ella Warren and was then living in Minden. I well remember the last time we, with the help of Walter and Carrie Spann, Jodie and Rush Farrier, Walter Crichton, the Fort's, and Dr. Harrell's boys, cleaned the cemetery before we left for Texas. It was December 1884. We dug up everything and had a good day cleaning up. I found a little oak tree about as big around as a match and about ten inches long with about four leaves at the top. I pulled it in and out of the iron fence to protect it, for I knew that it would be a tree by the time we were grown. Years later I again saved the oak tree. Someone wrote asking permission to cut it down, as "it had grown through the fence". I wrote back and quoted Joyce Kilmer's immoral line "Only God can make a tree." So the tree still stands through the fence.
The Murrells, my grandparents, came to Claiborne Parish in 1818 and lived near Homer, Louisiana, where they are buried on the old farm. Quite a few slaves were buried there too but now the graves can hardly be separated. A"Hardshell" Baptist Church was built nearby, which later burned down and the congregation of the church moved to Athens, Louisiana. I have so many, many pleasant memories of my early childhood days in Minden. How we had to pull through the deep sand to the old college, which then was a frame building and now has been replaced with a brick one. The happy days we had with the Spanns, Farriers, Gleasons, Flemmings and others, who all lived near our home. But times change and people must move on.
Written by Alice Murrell Colquit (first lady of Texas 1911—1915) married to Oscar Colquitt 25th Governor of Texas (listed on the 1880 Webster Parish census, page 300 as being 14 years old.
Minden's Dogwoods
The dogwoods that glorify Minden's Boulevard and parks and residential grounds arc due to a tree-planting drive instituted in 1954 by City Councilman Dr. Paul M. Campbell, an effort resulting in the planting of 2000 trees that year. Initially Dr. Campbell arranged with a Shreveport nursery to supply trees (and planting advice) at a cost of $1.00 for white and $1.25 for pink. Workers in the city sanitation department planted the trees and watered them for several months.
The Minden Garden club joined in the selling; the Downtown Lions Club contributed 200 trees; Floyd Smith of Springhill offered trees for 50 cents, including setting out — all to meet a planting deadline of Jan. 1 1965. Trees were planted at a rate of 100 to 140 per day. Elizabeth Harper. 12-ycar-old daughter of the Press- Herald's editors, purchased the first tree, a pink, and because it was first, a larger tree was provided. Planted in front of the Germantown historical marker on the. Boulevard, it bloomed the first year and every year thereafter until the year Dr. Campbell died. (Another dogwood was planted in his honor later.)
The Hanging Tree
The hanging tree probably stood near the corner of Elm Street and Goode Avenue. At least three official executions took place on this tree, one being that of a man who attempted to kill Christopher Chaffe by placing an axe on a keg of dynamite in the room below Chaffe's bed and firing it. The axe went through the ceiling but failed to harm Chaffe.
Col. Goode had the tree felled: when he purchased land on Elm Street (now part of Goode Annex) and built house on the site of the present Dandridge home.
Miss Effie's Tree
Another interesting Minden tree is a live oak at the edge of the McDonald-Fogel-Irving house grounds on Fort Avenue. It is known as "Miss Effic's Tree;" so-called for Miss Effie Turner a long-time teacher of Minden. According to a plaque, partially grown into the bark, the tree came from the campus of South Western Institute and was planted in February of 1932. Miss Effie, who lived across the street, named the tree for South Western President Edwin L. Stephens, organizer of the Louisiana Live Oak Society.
Academy Park
Academy Park's ancient oaks dated to 1850 when the Minden Male Academy was established on the grounds. Although many of these original trees died in the late 1970s a few survived. Recently we have lost a few more due to rot, disease and dangerous limbs. Only a handful are surviving and they may not be with us much longer.
Others
When Lt; Col. A.J.L. Freemantle of the British Cold Stream Guards, traveling from
Galveston to the East Coast, passed through Minden in I860 and called it "a charming little town," he may have considered the trees that lined present Broadway and Main streets– the same trees under which a company of Missouri Confederate soldiers were mustered out after surrender in Shreveport.
They rested a while in the shade on that hot day in May 1865, and women from nearby houses brought them cooling drinks. Years later their commanding officer, Col. Thomas Johnson, recalled the incident, Saying that Minden with its' greenery and; pleasant shade seemed on that day' to be the closest thing to Paradise he could imagine.
Minutes of the Minden Town, Council, Feb. 1, 1858, show that "Trees were ordered to be planted on the Parallelogram. Many of those trees still survive today.
For years the area coming up the hill toward downtown Minden had a peculiar look of needing something — which it did. Its' trees had been taken by the 1933 Tornado.
So you can see that TREES– the care and preservation of them…..have always been an important part of the fabric of our town.