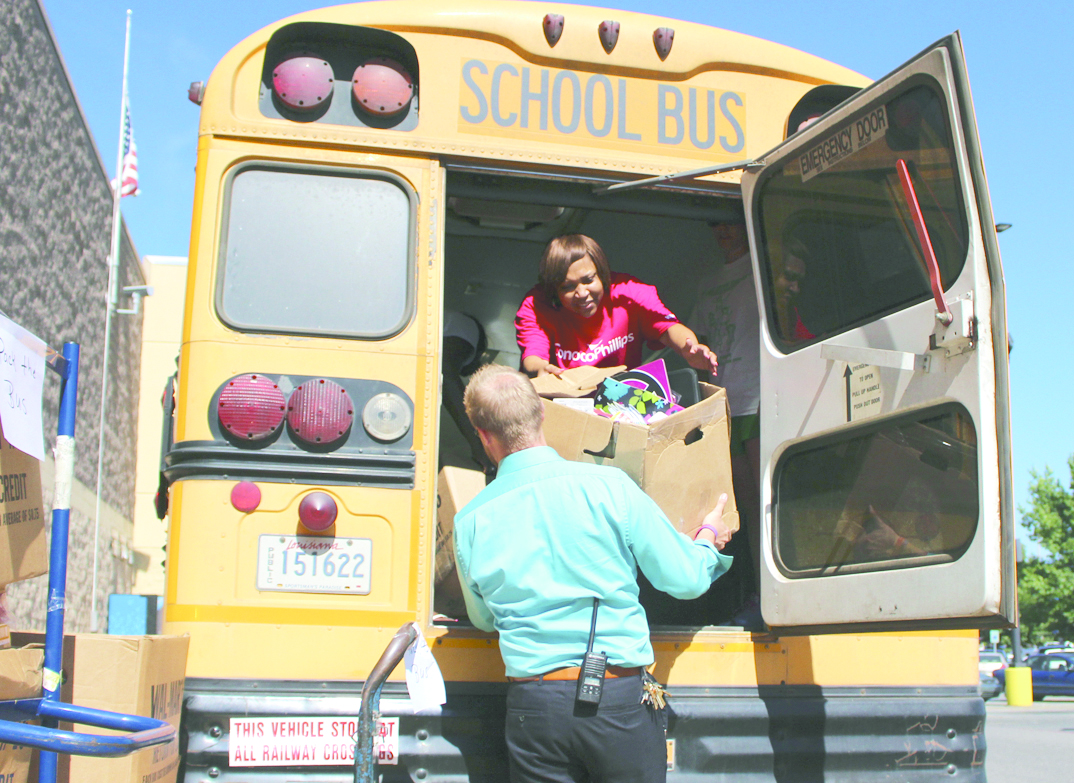 Event will supply 10th annual Back to School Bash next month
The Webster Parish School Board is entering its tenth year of treating students with free school supplies at the annual Back to School Bash.
In order to gather the supplies needed for this event, taking place at the Minden Civic Center August 6, the "Pack the Bus" campaign is going on this month.
On July 20-21, Webster Parish businesses, communities, and individuals will come together to stuff a school bus full of supplies to be given to students at the Back to School Bash. The bus will be parked at Walmart in Minden, and Ursula Hullaby said store patrons can receive a supply list as they enter and donate as they leave.
"Most people come out with something to fill the bus," said Hullaby, Safe and Drug Free School coordinator. "We also have local businesses gather supplies up to that time, and then they'll come and fill the bus with the things they've gathered from their employees."
The bus will be at Walmart from 4 p.m. to 8 p.m. Friday, July 20 and 8 a.m. to noon Saturday, July 21. Hullaby said the school board office totes available to drop off at any local businesses who wish to collect donations. She said a condensed version of the official school supply list will be available outside Walmart during those times.
"Things like loose leaf paper and pencils," she said. "One of our hot items are the red and blue mats. They're more expensive, but you'll have some people go in and buy two or three for the kindergartners. Composition notebooks, ink pens, and index cards are also good items."
Hullaby said the Back to School Bash serviced over 1,500 students last year, and she expects the number to continue to rise as they celebrate ten years.
"This is a huge anniversary for us," she said. "We're going under the big top and doing everything carnival style: popcorn, snow cones – we plan to have a big day for our kids. This is ten years. This is huge. It speaks to the heart of our community, because I know we could not have done this for this long without them."
Hullaby said all students in the parish are welcome to attend and receive supplies, but the schools officially participating are the ones on the south end of the parish.
"Their principals will be there, there's a school table, and we'll have over twenty vendors there giving out treats and information about their businesses," she said. "Minden Medical is always there doing a handwashing station as well. It's a lot of educational things like that."
Students can receive a voucher for a free haircut from one of the local barbers, and the first 300 students will also get a free t-shirt.
"It's an extremely important event because it's expensive to send our kids to school," she said. "Even though it's public school, there are needs and necessities with considerable costs. The support in this parish is just awesome.
Donations are rolling in, and people are calling and volunteering. The kids receive a lot of support from this community. In many cases, kids go home with everything on their list."