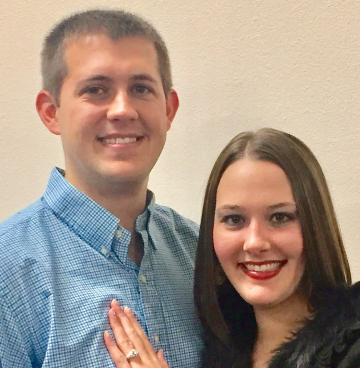 Mr. and Mrs. John Caskey of Homer, Louisiana, are pleased to announce the engagement of their daughter, Whitney Lynn Caskey to Tony Joe Pearce, DVM, son of Mr. and Mrs. Terry Joe Pearce, of Shongaloo, Louisiana.
Whitney is the granddaughter of Mr. and Mrs. Larry Dean, Sr. of Homer, and the late Mr. and Mrs. Bert Caskey of Arcadia, Louisiana. She graduated from Summerfield High School and from Bossier Parish Community College with an associate's degree in Business Administration and certification in General Studies. She currently works at Minden Home Care in Minden, Louisiana, as a biller and receptionist.
Tony is the grandson of Fairy Festavan Clements and step-grandson of the late James Clements of Springhill. He is also the maternal grandson of the late Huey P. Hollan of Cullen, Louisiana. Tony is the grandson of Deva Nell Kilpatrick, and step-grandson of the late James Kilpatrick, both of Shongaloo. He is the paternal grandson of the late Joe Carrol Pearce from Magnolia, Arkansas. Both of his grandmothers still reside in Shongaloo. He graduated from Springhill High School, Louisiana Tech University with a bachelor's degree in Animal Science and from Louisiana State University School of Veterinary Medicine with a Doctorate in Veterinary Medicine. He currently works at McMahen Veterinary Hospital in Springhill.
A wedding is planned for April 29, 2017, at First Baptist Church in Homer, Louisiana, at 6:30 p.m. A reception at Homer City Hall will follow the wedding.
Whitney and Tony will reside in Springhill.