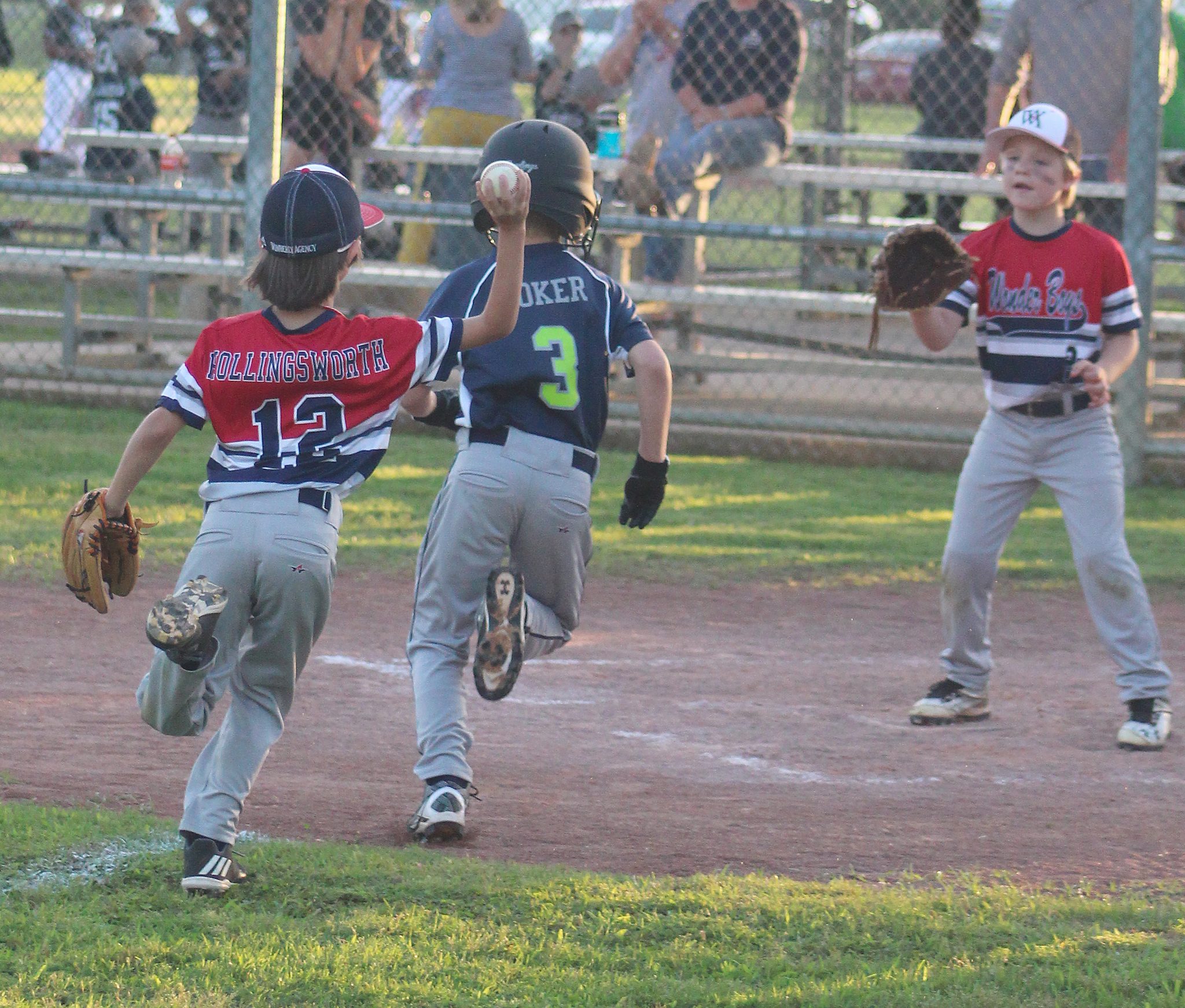 SOFTBALL
DarlingsHot Shots 0, Gatti & Merckle 0
Hot Shots 0, Gatti & Merckle 0
Lucy Giddens tripled and doubled for Hot Shots, Lindsay Ryan doubled and singled and Joslyn Rabb, McKinlee Hamilton, Chloe Gorman and Isabella Powell all had two hits.
Gabi Brown had two hits for G&M, while Cydnee Walker, Lanie Gates and Sariyah Anderson added hits.
Gabi Brown had two hits for G&M, while Cydnee Walker, Lanie Gates and Sariyah Anderson added hits.
Minden Athletic 17, Coleman Appraisals 8
Mattie Fowler, Ellie Earnhardt, Teal Austin, Gemi Robinson, Penny Lane Croad, Anna Grace Vining, Ella Heflin and Addison Chanler had multiple singles for Minden Athletic. Hannah Day, Peyton Malone and Lylah Huddleston added singles.
Lexi Morrow, Vanessa Branton, Hallie Sutton, Alexis Glover, Alayla Scott and Varsity Hodges all had multiple hits for Coleman.
Angels
Southern Sass 2, Pride 0
Kylie Ryan tripled and Keily Sumlin doubled for Southern Sass. Ah'Lazia Douglas and Sara Culpepper also singled.
Vivian Still had two singles for Pride and Addison Monk and McKenzie Still added singles. Monk struck out eight batters in the circle.
Life Savers 5, MF&G 2
Baliegh Haulcy and Dakota Howard both blasted home runs to lead Life Savers to victory.
Baylee Cottle, Jacoya Lewis and Izzy Vise had hits. Haulcy and Howard each struck out five.
Jewelyn Hays, Makenzie Hamilton and Keona Combs had hits for MF&G. Hays struck out eight batters in the circle.
Ponytails
LFC Lightning 17, Bat Attitudes 5
McKenzie Gates and Gracie Green had singles for the Lightning, while Kenzie Warmack struck out two.
D'yana Hamilton and Jayden Dent each had hits for Bat Attitudes. Elyse Jackson struck out two for them.
BASEBALL
Coach Pitch
Peterson Contractors 4, Bayou Rentals 3
Elliot Smith's triple and Charlie Monzingo's two singles paced Peterson. Craten Ware, Sawyer Harris, Ryder Buckner and Kade Suggs added base hits for Peterson.
CJ Price and Evan Walker doubled for Bayou, followed by Riley Daniel with three singles. Dawson Gaston, S.J. Scott and Dakota Streetman added hits.
Industrial Generators 1, Rampage
Colton Cooper doubled and Tate Lowe, Kaden Kinsey and Andrew Bogues added singles.
Jordan Carey singled twice for Rampage, followed by Jaxon Pate, Austin Strickland and DeKerryo Sterling with base hits.
AA
Force 14, Agrent Financial 0
Peyton Houston, Eli Still, Gage Williams and Cameryn Davis all tripled and added other base hits for the Force. Ryan Reagan, Hudson Glasscock and Carson Whitehead all had multiple singles for the Force.
No hits were recorded for Argent Financial.
Jellum Company 6, Bulldogs 4
Hayden Williams doubled and singled for Jellum, followed by Kurt Joyner and Jake Glass with two singles each. Peyton Campbell, Garrett Basinger, Colton Jellum and Christian Watts added singles.
Beaux Santelices and Tate Fegley singled twice to lead the Bulldogs, followed by Connor Bolton, Zac Mosley, Holden Williams and Davis Powell with base hits.
Wonder Boys 5, Minden's Finest 3
Bennett Speer tripled and singled, followed by Nolan Waller with a double and Bryson Finley with two singles to lead Wonder Boys. Carson Powell and Darren Hollingsworth added base hits.
Jaxon Melton singled twice and Mickey Shephard and Hunter Walker added singles.
Gorilla Tech 3, Hebert's T&C 1
Jacob Jefferson doubled and singled to lead the Lil' Gorillas, followed by Blaine Long with a double and Jamall Carey and Malachi West added singles.
Jackson Monzingo singled twice for Hebert's, followed by Mason Atkins, Dakota Taylor and Zaedin Howard with base hits.
AAA
Mayhem 17, U.S. Silica 7
Wyatt Whorton got hold of another triple and a single for the Mayhem, followed by Preston Frye with two singles; Zander Rowell and Jamison Bray added hits. Frye and Whorton combined to strike out five batters.
Cason Halter led US Silica with a double, followed by Will Fife and Chris Harris with singles.
Crusaders 9, Outlaws 4
Braydon Winston had two singles, followed by Deveryuan Moore, Spencer Brantley, Hayden Watkins, Willie Jenkins and Ethan Turner with singles. Levi Pope struck out four batters.
The Outlaws were led by Dakota Royer with a triple, followed by Landen Rushing, Landon Watson and Kevin Berry with singles. Watson also struck out two on the mound.
Dixie Youth
Apaches 10, Roughriders 0
CJ Watts crushed a pair of home runs and Bradley Dick added a homer of his own to lead the Apaches. Cooper Chase tripled and Hayden Harmon, Dayton Sims and Chase Sentell added base hits for the Apaches. Cooper Chase pitched and struck out nine batters to combine with Cade Boley for a no-hitter.
Jase Pate struck out one batter on the mound for Roughriders.
Winn Surveying 14, Minden Athletic 3
Bryce Powell homered and singled and Price Miller tripled to lead Winn. Brandon Winston, Jake Wilkins, Dexter Smith, Parker Cooper and Gage Jellum added singles. Winston and Miller also each struck out three on the mound.
Chelby Hinton, Elijah Redding and Jacob Disotell had singles for Minden Athletic. Seth Levesque struck out two on the mound.
Dixie Boys
Homer 5, Webster 3
Andrew Fegley had an RBI single for Webster, followed by Jakob Walker and Parker Hall with singles. Trenton Mclaughlin struck out five for Webster.
Glenbrook 14, Outlaws 1
Corbin Kendrick doubled twice to lead Glenbrook, followed by Peyton Wells with a double and single, Ryan Sheets with two singles and Jackson Mayfield and Nick Mercer added singles, as did Jonathon Parkerson.
Keegan Frizzell and De'Mareya Howard singled for the Outlaws. Frizzell struck out one batter for the Outlaws.