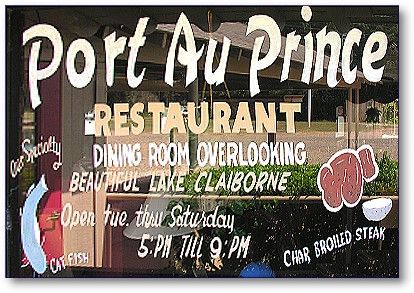 A burglary of a Lake Claiborne restaurant leads to an arrest. Normally, that would be the end of the story. However, for Port-Au-Prince owner and Minden resident Jerry Almond, that's only the beginning.
On Friday, August 17, the Claiborne Parish Sheriff's Office received a complaint that Port-Au-Prince restaurant, located at 3327 LA Hwy 146, Lake Claiborne, had been burglarized. Once access was gained, suspects took approximately $331.00 worth of food items, according to a report in the Homer Guardian-Journal.
Almond said the incident took place on a Saturday night, when the suspects broke into an outside freezer using a hatchet to break a chain. However it was nearly a week before he realized what had happened.
"It went kind of unnoticed," he said. "We get our deliveries at the middle of the week, so between the time they took the stuff on a Saturday night, and I finally figured it out, we had another shipment come in."
Once Almond realized a burglary had taken place, he reviewed footage from a security camera. "We had them on film," he said.
On Wednesday, August 22, detectives with the Claiborne Parish Sheriff's Office secured warrants for the arrest of Haden George Garrett, 24, and Kyle Bernard Parden, 26, both of Homer.
Garrett was arrested on Thursday, August 23, and booked into the Claiborne Parish Detention Center for the offense of Simple Burglary, with a bond of $25,000.
Parden was arrested the same day and also booked into the Claiborne Parish Detention Center for the offenses of Simple Burglary and Simple Criminal Damage to Property, with a total bond of $35,000.
Since then, Garrett and Parden have both talked to Almond about the incident.
"Two of the three kids have come to me and deeply apologized," Almond said. "They immediately regretted [the burglary] after they did it."
Almond said he feels for the two kids that came to him.
"When you get down to it, I can't help but think these are young ones, and we all make mistakes," Almond said. "If it weren't for the grace of God, we'd all be in bad shape"
While the fate of Garrett and Parden rests with the court system, Almond said he has forgiven them.
"If we want be forgiven, we'd better be forgiving other folks," he said.
The investigation is ongoing.