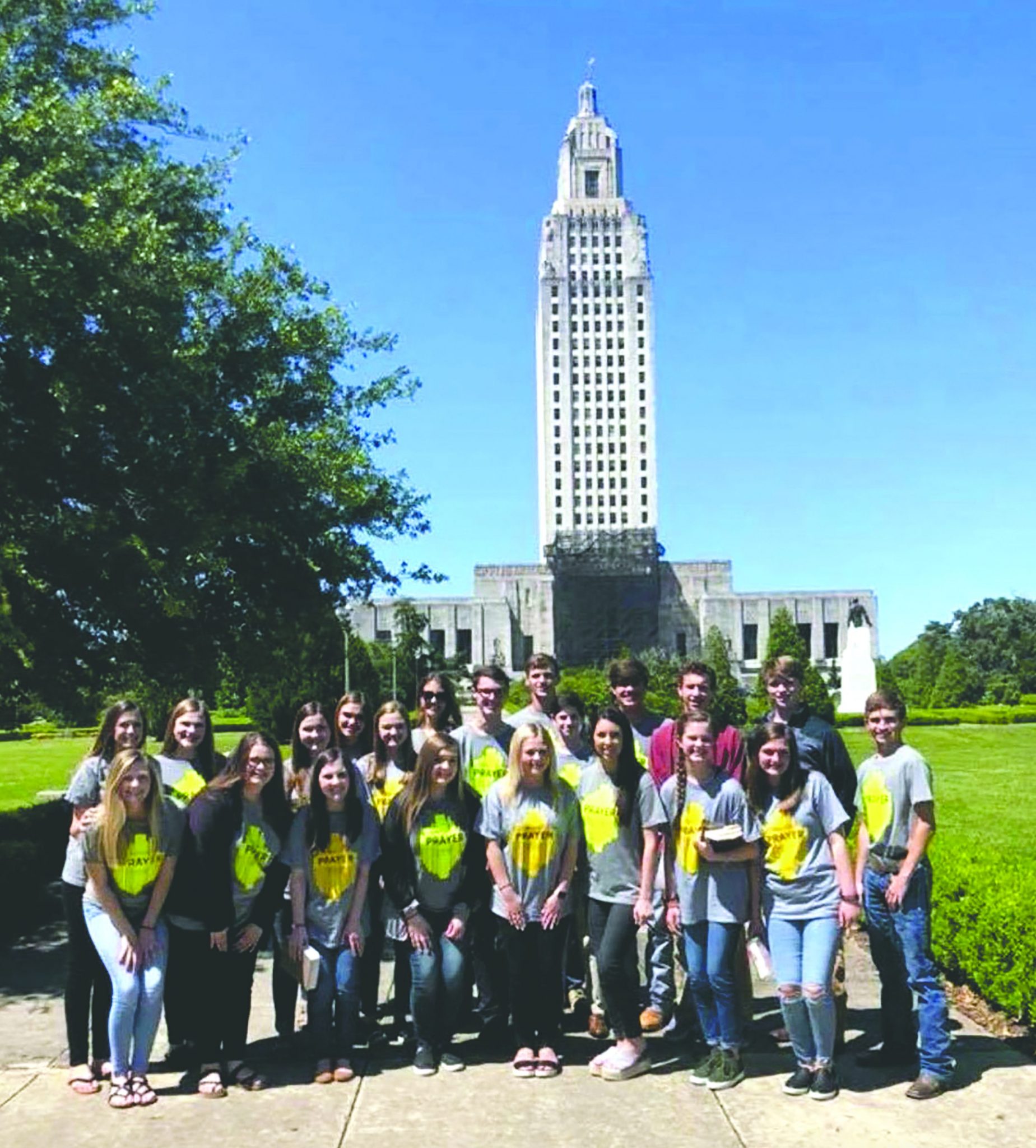 As The Webster Parish School System implements religious expression policy, legislature considers a different option
Rowland, Johnson talk policies
As reported last week, the Webster Parish School Board passed a new policy to govern student and employee religious expression Monday, April 16. This nine-page policy was adopted in response to litigation against the board from the American Civil Liberties Union that has been ongoing since December 2017.
"We recognized that some of the practices that we were doing at our schools did not fall within the guidelines of what the Constitution allows," said Johnny Rowland, school system superintendent. "Because of that, the board saw fit to adopt this new policy that clearly outlines what is allowed according to the Constitution."
The policy goes into detail about such topics as student speakers at school events, distribution of religious literature, and a teacher's ability to promote personal religious beliefs. Overall, students under this policy have the right to numerous kinds of religious expression at school during "non-instructional time," while rights for teachers and other school employees are more limited. A breakdown of more specific items from the policy is included on page 3.
The Bossier Parish School Board adopted religious expression guidelines as well the same week. The two policies are practically identical and were presumably prepared by the same legal team.
"The policy was one that our attorneys brought to us," Rowland said. "It was well thought-out, and after looking at it we saw very quickly that it in no way infringes or denies our students' rights given to them by the Constitution to religious expression at school. That's something that's very important to the board."
In December 2017, the ACLU sued the Webster Parish school system on behalf of Christy Cole, the mother of a Lakeside Senior High student with agnostic beliefs. Details of the suit's numerous claims of sponsored religious promotion and of the school system's answer can be found in a January 31 article of the Press-Herald's online edition.
Americans United for Separation of Church and State filed a lawsuit against Bossier schools in February on behalf of four parents, citing widespread use of prayer and proselytizing in class and at school events. Three additional families joined the suit after it was filed.
Mike Johnson weighs in
Yesterday, U.S. Representative and former Constitution lawyer Mike Johnson spoke with KEEL radio about the new policy and the litigation against Bossier schools. He spoke of his time as the senior attorney for Alliance Defending Freedom, America's largest religious liberty defense organization.
"We fought tooth and nail on every single issue over all those years where there was any small chance to defend or advance religious freedom, and we won 90 percent of our cases," Johnson said. "We fought there because we knew we were right on the law and the facts and we could prevail in court. Right now, we've got a different situation."
Johnson said due to the specifics of the suit, this new written policy was the only option available.
"[The plaintiffs] presented all this hard evidence to the court of clear violations of very well-established law," he said. "The school district had no choice but to admit to the well-documented facts, and they had no choice but to update their written policy."
Since its adoption last week, one sentence in both parishes' policies has come under some public scrutiny for its restrictive language for teachers.
"School officials shall not offer a prayer, recite a prayer alongside or with students, bow their heads, kneel, join hands or otherwise posture in a manner that is likely to be perceived as an endorsement of the prayer," the policy reads.
Johnson said the policy only goes as far as the school district is forced to go by court precedent, and those who do not like some of the language should not blame the district.
"For decades, there are volumes of case law specifically prohibiting teachers and coaches from leading and participating in student prayer," he said. "People say, 'Why don't they just keep fighting this in court?' You have to understand, the board is fighting vigorously on every available inch of ground. But if you fight on well-settled points of law, teachers praying with students for example, that issue was settled by the courts 50, 60 years ago. If you fight on it, it's totally futile and even counterproductive."
"If anyone is upset with the school district, their frustration is misplaced," he said. "It needs to be on the courts and what's happened in the courts over the past 50, 60 years."
The Webster Parish School Board has yet to reveal any further plans in the process of answering ongoing litigation beyond the passage of this policy. In regards to the Bossier lawsuit, Johnson said he believes the policy will be enough to "moot" litigation.