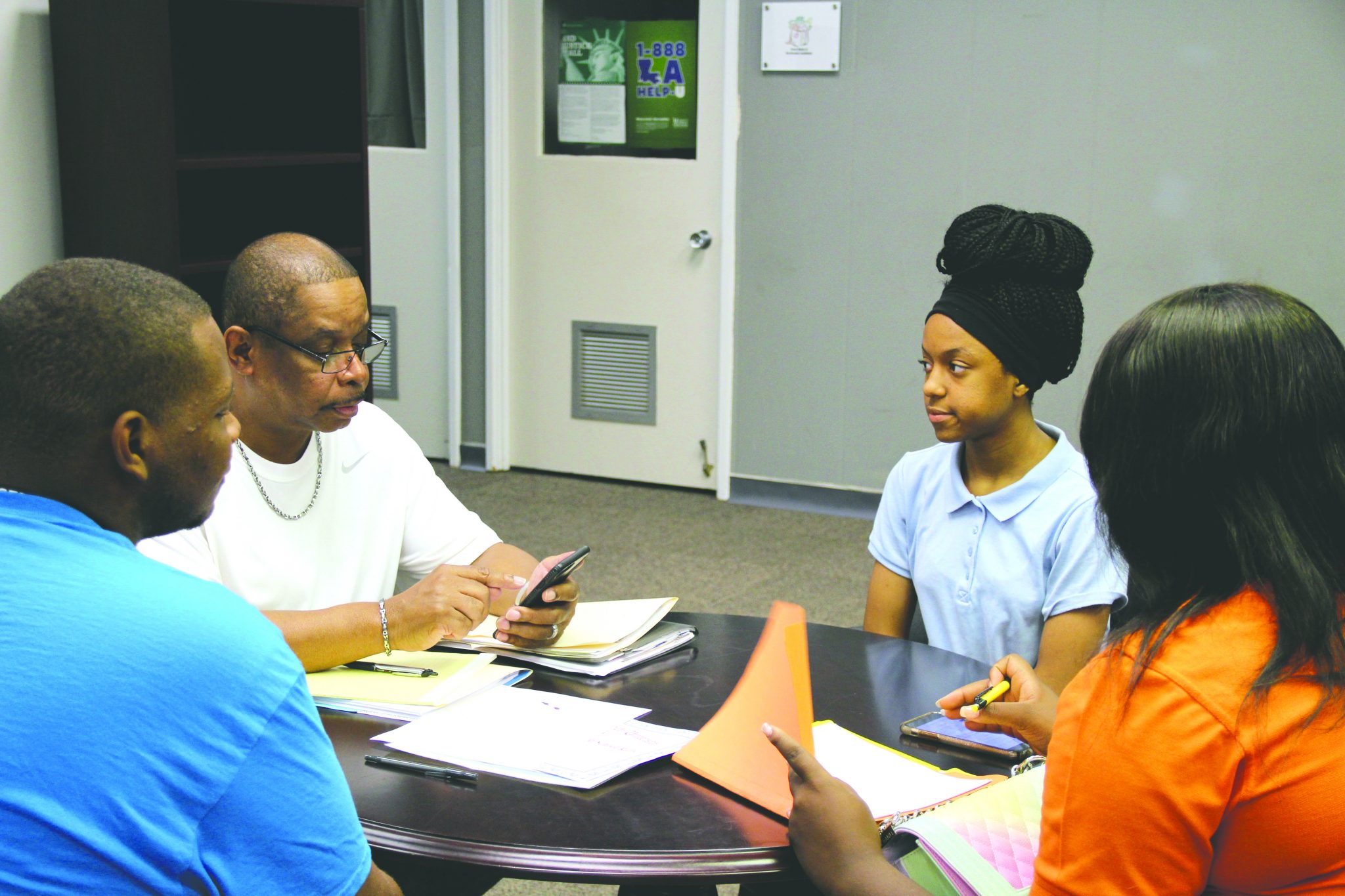 Four young leaders step up to serve others
The Project Reclaim Youth Leadership Institute is in its tenth year of helping at-risk youth in Webster Parish by teaching leadership skills and showing them a better path in life. This year, however, the organization is incorporating a new way of doing things.
"We decided this year that it would be a good idea to put some outstanding leaders in the program in leadership roles so they can further develop their capacity for leadership by serving," said Ron Anderson, founder of Project Reclaim. "They help to craft the agendas that we have, they're helping to plan our end of the year field trip, and they're going to assist with the program this summer. They're just four outstanding young people, and we're real proud of them."
Project Reclaim is a leadership academy that invites elementary through high school students from tough situations to learn key skills in monthly meetings and reclaim their futures. The non-profit organization was recently awarded Community Partner of the Year at the Greater Minden Chamber awards gala.
Anderson has chosen four such students, three high schoolers and one middle schooler, to form the initial Leadership Council. Anderson said the leaders have begun to take over the running of meetings and other duties.
"Usually it's Mrs. Alexis Young, our program specialist, and myself who kind of run everything," he said. "But we're changing that because we want them to be in the position of using the leadership skills they have."
Acassia Hill, Marquez Shyne, and Timterrica Jackson, three of the Leadership Council members, met with Anderson Tuesday to go over plans for the summer programs. Each of them spoke with the Press-Herald to tell a little of their story. Rontavious Norton is also on the council but was not present.
Acassia Hill
Hill, 13, is the only junior high member of the council. She recently received a leadership award at her school from Anderson that was featured in the Press-Herald.
Program Specialist Alexis Young told a story that exemplifies Hill's character and leadership ability, despite her tender age. She said an elderly woman stood at the podium of Young's church one Sunday and told of a near-death experience she had on her front lawn.
"She said she felt like she was about to collapse because her chest was hurting so badly," Young said. "She started to fall to the ground, and there were three young ladies walking up the street. They began to approach her, and one young lady came up and said, 'You'll be alright, you're going to be fine, don't panic.' She told the other two ladies to call 911, the whole time just attending to [the woman]. She told the church congregation "that young lady is such a leader."
That young lady who helped a neighbor in a time of crisis was Hill. She said she has come a long way from where she was just two years ago, before Project Reclaim.
"I was at [J.A.] Phillips when I first met Mr. Anderson," she said. "I had been getting in a lot of trouble – going through some things. When he came to the school, they called me down and he gave me an invitation. So I went, and after that I've been doing good. He's been there, he's been someone I can talk to, someone I can trust."
Hill said she is blessed to be able to serve on the Leadership Council because kids like her in Minden do not have too many leadership opportunities.
"With them teaching us young students how we should act, it's a good thing because some kids need the love and the leadership Mr. Anderson and Mrs. Alexis Young give us," she said. "I hope to continue to improve my attitude toward school, my grades, and just to succeed."
Hill said she hopes she can help other at-risk kids learn the valuable lessons she has learned.
"Whatever you've been through in the past, don't let that reflect into your future," she said.
Marquez Shyne
At 18, Shyne is the oldest of the group and has been involved with Project Reclaim for five years. He said his time with the organization has turned his life around.
"Whenever I was 13 or 14 years old, entering high school, I was the type that hung around the wrong crowd," he said.
"Mr. Anderson one day came to my house and said he saw something special in me. Since then, I've been doing right for myself. I got myself on track, I have not been in any violent things. Project Reclaim is real special to me because it helped change my life."
Shyne said he struggled academically through the first few years of high school, but now, as a senior about to graduate, he has a 3.7 GPA and just placed third in his district at the statewide Literary Rally.
"My goal in being a part of this council group is to help others not go down the path I went down and let them know there is someone here to listen to them," he said. "At times I felt like there wasn't anyone to listen, but since I have been here I can call Mr. Anderson and Mrs. Young, tell them my problems, and they'll listen to me and encourage me. And that's something I want to help do for the generation coming up now."
Timterrica Jackson
Jackson, 17, is the newest council member to Project Reclaim, having been invited a few months ago. She said she met Anderson in a situation where she thought no one would care about her.
"When I met Mr. Anderson, it was through a court-ordered class," she said. "So for him to invite me to a leadership council was very important. If I was to meet somebody coming to a court-ordered class, I would probably be very judgmental. I would think, 'This is the last fool I want to deal with.' But I was thankful I was sent to the class because I got something good out of it. There's not a word that Mr. Anderson has said to me that I don't remember."
Jackson said her main goal is to simply absorb as much as possible while serving in this leadership position.
"I just hope to learn all that I can learn by being a leader," she said. "Those two give us unconditional attention, it doesn't cost anything from us, and they give it their all. It's inspirational."
Even in her short time with the organization, several lessons have already stuck out to Jackson.
"The very first day I met Mr. Anderson, he told me 'You can never let someone determine your worth by their thought.'
I think about that every day. Every day will be better than yesterday if you have hope."
After the meeting, Anderson said he was proud of every one of his Leadership Council members.
"They're role models for this program," he said. "I don't like the idea of a born leader, because that kind of implies you don't have anything else to learn. But they've got some intrinsic leadership skills they bring to the table, really strong leadership qualities. So we're going to continue to try to help them develop those."