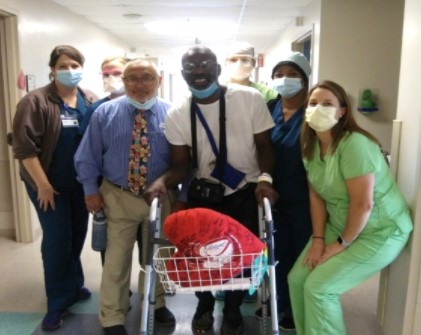 It is something we all dread experiencing: having a heart attack or watching a loved one have a heart attack.
One day in late September, what started as arm pain for Minden native Mr. Timothy Wesley led to a massive heart attack that could have ended his life. Thanks to him recognizing his symptoms and his family's quick thinking and taking action, Mr. Wesley came to Minden Medical Center. On his way to the emergency department, the arm pain he experienced became chest pain, which led to cardiac arrest and Mr. Wesley became unresponsive. The Emergency Department jumped into action delivering immediate care to stabilize Mr. Wesley and was able to transfer him to the Heart Catheterization Lab 15 minutes after arrival. During his heart cath procedure, it was discovered one of his arteries was blocked. The Heart Cath Team, under the direction of Dr. Phillip Rozeman, opened up the artery's blood flow and placed a stent to restore vital blood flow. After Mr. Wesley was stable, he transferred to Willis-Knighton for further care and observation. Mr. Wesley does not remember much about the experience, except for the arm pain, calling his family, and then waking up at Willis-Knighton to the news that he had suffered a heart attack.
After being discharged from Willis-Knighton, Mr. Wesley returned to Minden Medical Center for inpatient rehabilitation to regain strength and function and return to normal daily living. In his therapy sessions he worked on strengthening his arms, regaining balance, breathing exercises, and getting back to his overall normal routine. After completion of inpatient rehabilitation, Mr. Wesley went on to continue the road to recovery with outpatient therapy services two days a week with a focus on building strength and endurance safely and successfully resume normal daily living and complete tasks in the community. Mr. Wesley is a true testament to the importance of continuing therapy after discharge to maximize your strength, balance, endurance and to prevent readmissions to the hospital. 
Mr. Wesley has to wear a LifeVest® which is a wearable cardioverter defibrillator (WCD) designed to monitor patients at risk of sudden cardiac death, until he gets a pacemaker, a small device that will help control any abnormal heart rhythms, in a couple of months.
Mr. Wesley experienced a type of heart attack commonly known as a "widowmaker." This type of heart attack occurs when the left anterior descending (LAD) artery, which is the largest coronary artery that supplies blood to the left, front part of the heart, is blocked. When blood, oxygen, and vital nutrients cannot reach the heart, this causes heart damage resulting in the symptoms most are familiar with. Common warnings signs of a heart attack include:
Chest discomfort in the center or left side of the chest. The discomfort might feel like uncomfortable pressure, squeezing, fullness or pain.
Pain or discomfort in other areas like the jaw, neck, back, one or both arms, shoulders, or stomach.
Shortness of breath, which might occur with or without chest discomfort.
Feeling weak, light-headed, nauseous, or breaking out in a cold sweat.
Not all heart attacks are alike. Some may show no symptoms or be mild with minimal symptoms, while others are more sudden and severe. Know the signs and do not dismiss signs from your body that something is wrong. Most importantly, do not wait to seek medical care and call 911 if you or someone in your household is experiencing symptoms of a heart attack.
"Mr. Wesley is a great case to show the importance of recognizing symptoms that could be heart problems. It's a miracle this situation came to fruition, but it only did because [Mr. Wesley] recognized something was wrong and did something about it," said Cardiologist Dr. Phillip Rozeman. "We are lucky here in Minden to have the ability to take care of people in our cardiac catheterization lab. We're appreciative of our relationship with Willis-Knighton, and it shows how important it is that we all work together."
"God had the right people in the right place at the right time. Everybody – from Dr. Chanler in the ER and his staff to Dr. Rozeman and his staff – everybody did a wonderful job," said Darlena Wesley, Timothy's sister. "They say, 'teamwork makes the dream work' and that is the truth! Job well done. Thank you for bringing my brother back."
Today, Mr. Wesley is home with his family, and was recently released from outpatient rehabilitation after meeting all of his goals and demonstrating ability to complete tasks as he did prior to the heart attack. He continues to remain in good health and spirits, and still comes to visit his "MMC family" during his follow-up appointments.
To learn more about the signs of a heart attack and health tips, visit the American Heart Association's website at www.heart.org.