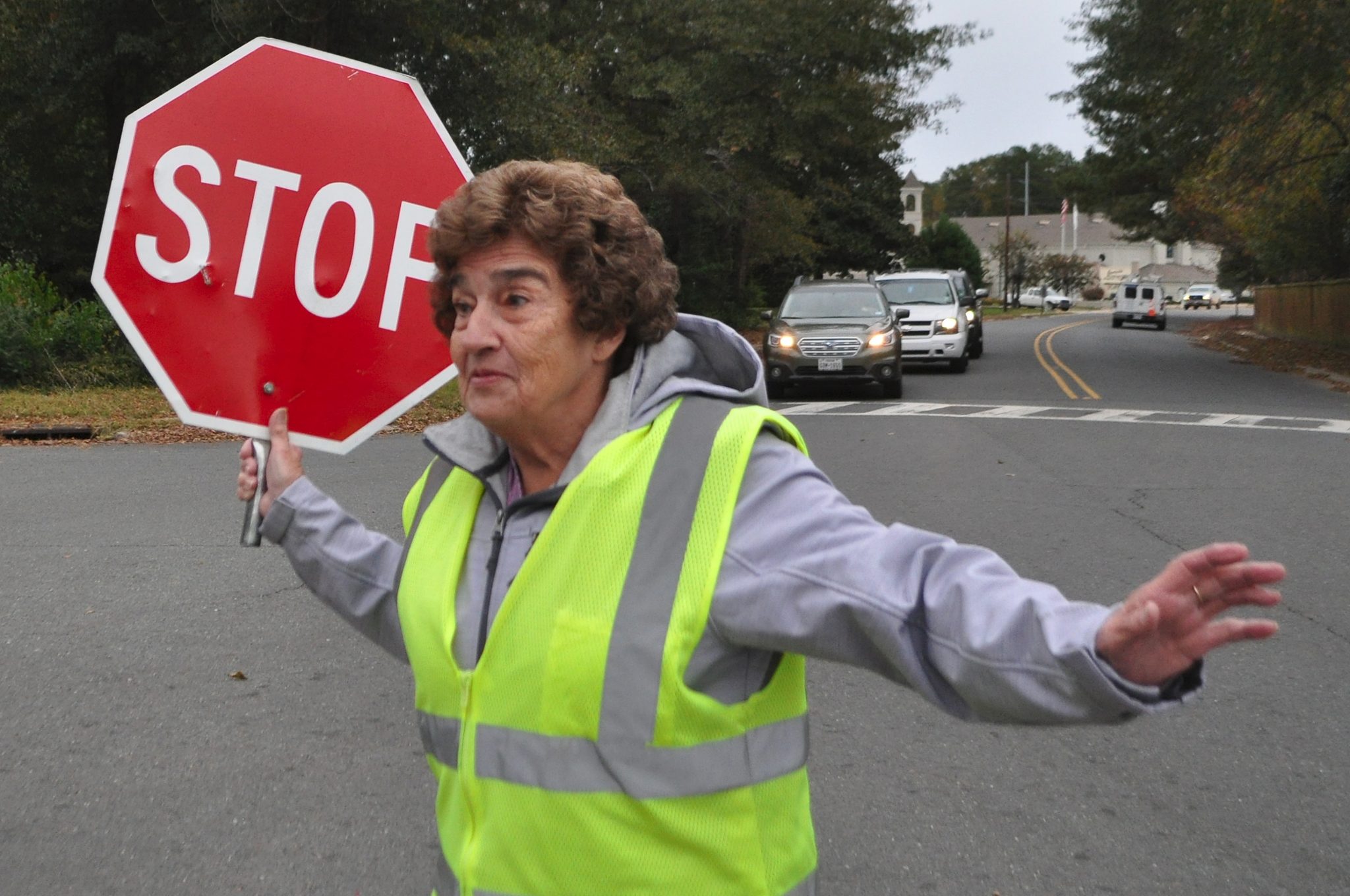 For nearly 50 years, one school crossing guard has helped thousands of children walking to school cross the streets of Minden to make it to school safely.
Lila Mae Hinze has seen many police chiefs come and go but she has remained committed to her job. With no particular reason in mind for working as a school crossing guard, she said she just does it.
"I had three children in school and I was looking for something to do," she said. "It gets me up in the morning. I don't know what I would do if I quit."
As the crossing guard at E.S. Richardson Elementary School, Hince talked about the five-way intersection, saying it is much better than it used to be.
"Before they moved the car riders to the back, it was horrible," she said.
Students now unload busses at the front of the school, making it easier for them to get into and out of the school.
Hinze is usually at the intersection around 5 a.m. and stays until about 8. In the afternoons, she comes before school lets out and stays until every last student is gone.
"This time of year it's dark when I get here," she said. "I usually stay just to make sure nobody is late."
Years ago, school crossing guards stood in or on the side of the road at all times, which meant enduring all kinds of weather conditions – rain, sleet or snow, hot or freezing temperatures. Now they are able to sit in their vehicles until children need to cross the street, she said.
Getting children across the street is her main focus, but Hinze also helps direct the busses in the mornings and afternoons to allow them to get to their next destination quickly.
Hinze is the youngest of five children, and has four of her own. She leads a busy life with her family which includes spending time with nine grandchildren and several great-grandchildren. At an age where she could retire, she said she's been thinking about it. Picking up her granddaughter from school each day keeps her going, though.
Although family responsibilities and her job keep her busy, she is an avid seamstress. Hinze said she enjoys sewing even though she has slowed down quite a bit.
"I used to make all of my children's clothes, and my sister-in-law owns Fabric Boutique," she said. "I go over there and do classes. I did some embroidering and monogramming. I still sew, but I don't as much as I used to."
The daughter of the late Burrell, "B.T." and the late Vera Warren, Hinze helped her father, who owned and operated Warren's Drug Store on Broadway.
"I would come here (to Richardson), and then go to the drug store and work there and help out my dad," she said. "Then I'd go home. I also took care of my mom before she died."
She was married for 47 years to Charles Hinze, the love of her life, until his death in 2008.
After raising four children, she enjoys the life of a grandmother and great-grandmother. She offered this simple tidbit of advice.
"Live your life," she said. "You don't have but one life. When it's gone, it's gone. You can't redo it."