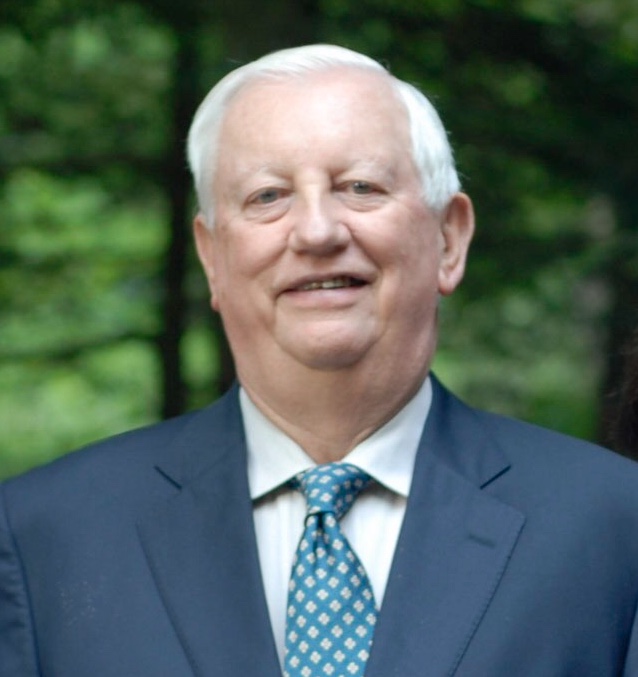 Redden Thaddeus Andress II died February 20, 2018, in Minden, Louisiana. He was born in Minden on August 7, 1932, and was the first child of Harry Carter Andress and Treeby Miller Andress. Minden was his lifelong home, and the home of members of his family since the 1840s.
Thad graduated as co-valedictorian of Minden High School in 1950. Then he went on to graduate with a Bachelor of Arts in Economics from The University of the South, Sewanee, Tennessee, where he was named to Phi Beta Kappa. He served in the US Army Corporal Guided Missile Battalion as a collimation man at Fort Bliss, Texas, then went on to Harvard University where he received his Masters of Business Administration.
Thad returned to Minden and was vice-president and assistant manager of Andress Motor Company, Inc., from 1958 to 1965. He acquired and operated the R. H. Miller Insurance Company from 1965 through 1994. Thad served as a director of Minden Building and Loan Association from 1965 to 1980 and as a director and member of the Executive Committee of Minden Bank and Trust Company from 1980 to 1999. Since his retirement, Thad was very active in managing his family's timberlands.
Thad was one of Minden's most active participants in church and civic affairs. As a highly confident leader, accomplished in fundraising and getting things done, he was called upon often; he often said he needed things done "yesterday." Thad was very willing to make his opinion known in public matters, with the hope that his ideas would prevail. He was named Minden's Most Outstanding Young Man and Minden's Man of the Year. He founded the Boys and Girls Club of Minden, which had a successful ten years of helping our youth. He was chairman of the Minden Drug Committee that was organized to combat crime during a time of over fifty murders in one year in the city. Thad loved the Minden Lion's Club, having been an active member since 1957.
Thad was a lifelong member of St. John's Episcopal Church and was an active leader; he served many years on the Vestry, several times as Warden, many years as Finance Chairman, a lector, and a deputy to the Diocesan Conventions.
For thirteen years, he was chairman of the Diocesan Finance Committee of the Executive Committee of the Episcopal Diocese of Western Louisiana and served for eight years as Chairman of the Diocesan Board of Trustees. He served as Deputy to the General Convention of the Episcopal Church for eight consecutive conventions over a period of twenty-one years; among the many committees, he once served on the most prestigious Program, Budget, and Finance Committee.
Thad was elected as 7th Province Representative to the Committee to Nominate the Next Presiding Bishop and to the 7th Province Ecclesiastical Court for a six-year term. A number of resolutions put forth by Thad were passed by the convention. For six years he served as a member of The Board of Trustees of the University of the South, and supported Sewanee in many ways throughout the years.
He was involved for a number of years in the creation of a museum for Minden, while serving as President of the Dorcheat Historical Association and Museum, Inc. He participated in numerous other civic organizations and in his later years was very generous in his financial support.
Thad loved reading, travel, playing games, and parties. He treasured his family, Sewanee, the Episcopal Church, and Minden.
Thad is preceded in death by his parents and first wife, Sally Tatum Andress, the mother of his four children. He is survived by his loving and much-loved wife, Oneta Hancock Andress; his four children and their spouses: Weston and Marty Andress, Elizabeth and Ed Steedman, Laura and Scott Beaver, and Collier and Fant Smith; Oneta's two children and spouses: Kendall and Haley Hancock, and Allyson and Jason Kinzel; and thirteen grandchildren: Leah and David Brady, Caroline Andress; Fleming and Thad Beaver; Sally, Fant, and Helen Smith; Charlie and Mary Catherine Hancock; and Charlotte, Henry, and Meredith Kinzel; and by his brother Miller and Jenny Andress and his sister Joan and Sam Williamson.
Honorary Pallbearers will be Leonard Colvin, Carleton Prothro, Shannon Mendenhall, Danny Logan, Richard Campbell, Luther Moore, Ben Cabell, Hal Jackson, David Ward, Don Brice, Larry Burrell, Ed LaBruyere, Mike Harper, Fred Cabiness, and John McConnell. Pallbearers will be Fleming Beaver, Thad Beaver, W. Fant Smith, Charlie Hancock, David Brady, Fant Smith, Scott Beaver, Jason Kinzel, Henry Kinzel and Ed Steedman.
Thad was most appreciative of the kindness of Cassandra Mitchell, Willie "Pancake" Allums, and Anita Brasher.
Additionally, he was grateful for the wonderful care received from Manish Dhawan, MD, and Kelly Warren, the caring staff of Highland Clinic and the Minden Medical Center.
Visitation will be Friday, Feburary 23 from 5:00 to 7:00 p.m. St. John's Episcopal Church Parish Hall. Services will be at 11:00 a.m., Saturday, February 24 at St. John's. A celebration will be held after the service in the Parish Hall.
Memorials may be sent to St. John's Episcopal Church, 1107 Broadway, Minden, LA 71055 and Dorcheat Museum, P O Box 1094, Minden, LA 71058
Rose-Neath Funeral Home
211 Murrell Street
Minden, Louisiana 71055
(318) 377-3412