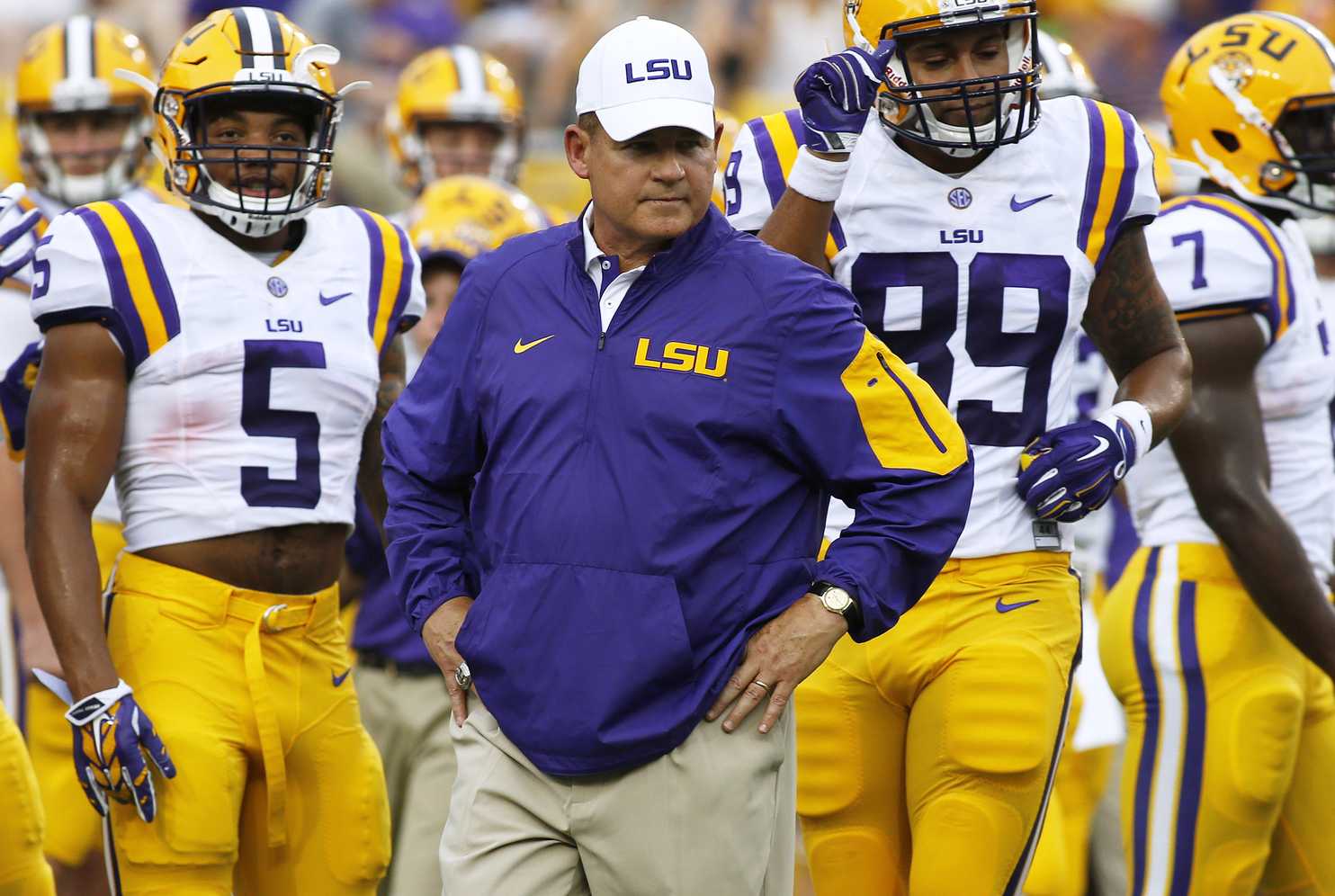 BATON ROUGE — LSU fired coach Les Miles and offensive coordinator Cam Cameron on Sunday, and promoted defensive line coach Ed Orgeron to interim head coach.
The moves came less than 24-hours after Miles briefly watched his players celebrate what they thought was a last-second winning touchdown pass at Auburn, only to walk off the field with a loss after officials determined on video replay that time had expired before the ball was snapped.
It was the latest of several frantic finishes in which the clock management of a Miles-coached offense had come under intense scrutiny. It will go down as the last.
"Coach Miles has done a tremendous job here and he's been a great ambassador for our University, which makes this even more difficult," LSU athletic director Joe Alleva said in a written statement. "However, it's apparent in evaluating the program through the first month of the season that a change has to be made.
"We have an obligation to our student-athletes to put them in the best position to have success on the football field each week. We have great confidence that coach Orgeron will do just that."
Miles' firing, reported first by The Advocate of Baton Rouge, came hours after LSU (2-2, 1-1 Southeastern Conference), which was ranked 18th last week, dropped out of the Top 25 in the latest AP Poll released Sunday afternoon.
Miles, who was in his 12th season, went 114-34 at LSU, the second-most victories in school history behind Charles McClendon's 137 victories from 1962 to 1979.
Cameron, an old friend of Miles from when they were both assistants at Michigan in the 1980s, joined LSU in 2013. His offense was largely effective when his quarterback was Zach Mettenberger, a tall, strong-armed pro-style pocket passer. Production was far less consistent — and the passing game was often anemic — during the past two seasons.
Miles coached the Tigers to a national title in the 2007 season. The 2011 Tigers also reached the national title game, but lost to Alabama in what has grown to a five-game losing streak against the Crimson Tide.
The 2012 Tigers were Miles' best team since, but an early November loss to Alabama squelched that team's title hopes while Alabama, under former LSU coach Nick Saban, went on to a decisive national title victory over Notre Dame.
Since the start of the 2013, LSU has gone 15-11 against SEC opponents. His recent struggles nearly led to his firing last season, when a loss to Alabama began the first three-game skid of Miles' tenure at LSU and the Tigers once again faded from contention. But after the Tigers rallied to close the regular season with a home triumph over Texas A&M, LSU athletic director Joe Alleva announced that Miles would return.
With a slew of starters returning on both offense and defense — including star running back and Heisman Trophy candidate Leonard Fournette — this season was widely seen as a referendum on Miles long-term future. LSU was ranked No. 5 in the preseason, but opened with a close loss to Wisconsin at Lambeau Field. Miles still had a chance to recover from the loss to the Badgers, who've since moved up to No. 8 in the AP Poll.
But Auburn was unranked and struggling, and managed to beat LSU without scoring a touchdown on Saturday because LSU's offense was sluggish and struggled with clock management in the final minutes — a repeated theme during the Miles era.
Miles had tried to give the offense a lift during LSU's second game against Jacksonville State, when quarterback Danny Etling replaced season-opening starter Brandon Harris. Etling led LSU to victories in that game and against Mississippi State, but struggled at Auburn, finishing with 118 yards passing.
Orgeron is a Louisiana native and renowned recruiter. He was a head coach once before in the SEC with Mississippi, but never had a winning record there and was fired after three seasons. He fared better as interim head coach at Southern California in 2013, going 6-2 in place of Lane Kiffin, who'd been fired that season.