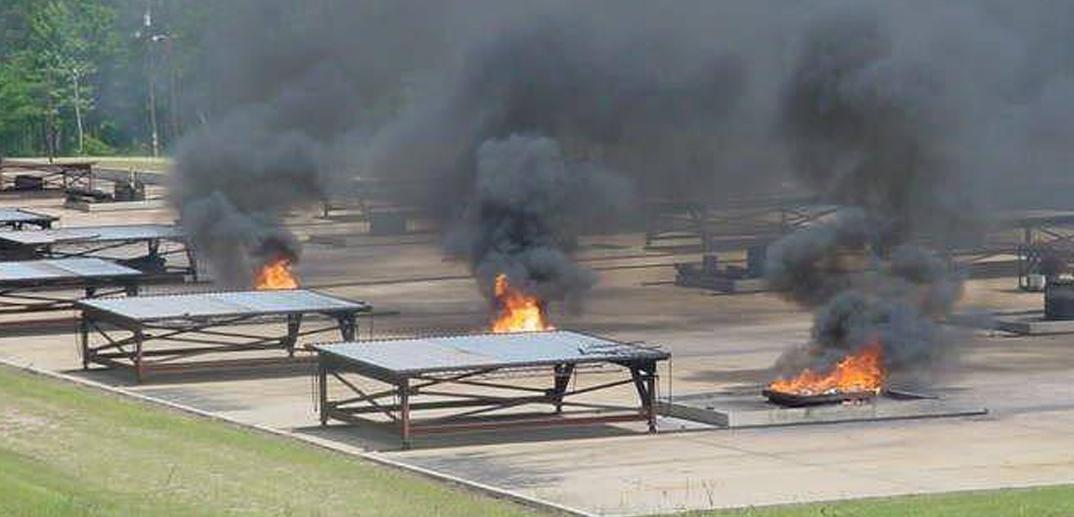 State Rep. Gene Reynolds, D-Minden, pre-filed a bill Tuesday to stop open burn statewide on the heels of learning a Louisiana company open burned millions of pounds of TNT and aluminum powder.
"The bill is starting out as completely banning open burning of munitions," he said. "It may not end up that way, but that's how it's going to start out. You have a perfectly good way of getting rid of this stuff there at Camp Minden, and that's all they need to know – open burning is not good."
He says the military may push back on this because they open burn at Fort Polk and Colfax, and some backlash will occur.
"It's going to be a battle, but I think it's a battle worth fighting," he said.
In the 2015 legislative session, Reynolds filed a resolution to stop the open burn at Camp Minden only, and it expires with the inauguration of Gov.-elect John Bel Edwards.
The bill pre-filed Tuesday is statewide, he said.
Concerns are rising about the open burn of roughly two to three million pounds of TNT and aluminum powder at Clean Harbors in Colfax. Brian Salvatore, a chemistry professor at Louisiana State University in Shreveport, says Clean Harbors has applied to modify their permit to increase the amount they open burn.
Clean Harbors says it's due to an increase in demand for disposing of explosives waste materials, Salvatore said.
He explained that TNT is more dangerous than the DNT found in the M6 artillery propellant and the aluminum powder is difficult to burn.
"Initially, we were aware they had shipped off the nitrocellulose, which is the main component of M6, and Tritonal, which is aluminum powder mixed with TNT," he said. "They claimed to have extracted most of the TNT from that, so mostly they are burning aluminum powder with some residual explosive material in it."
Salvatore says the Environmental Protection Agency was questioned about it, but they did not answer their questions, claiming they are now saying the state allowed a temporary increase in the amount of munitions they could burn per hour.
David Gray, with EPA Region 6, says the permit application is currently up for public comments and several have expressed concern about it; however, he says EPA Region 6 remains dedicated to encouraging alternate methods.
"Recognizing that companies around the country are still authorized and permitted to conduct open burning, we continue to support technical alternatives to open burn practices," he said.
Gray gave some background information, saying General Dynamics and Alliant Techsystems and Hercules, Inc. signed agreements with the EPA to remove and dispose of roughly three million pounds of assorted explosives material from Camp Minden. General Dynamics and Alliant Techsystems began removing the explosives from the site in April 2014. Hercules removed 849,000 pounds of nitrocellulose and sent it to El Dorado, not Colfax, for incineration – which has been completed, he said.
"From about August 2014 to August 2015, General Dynamics and Alliant sent a portion of the onsite materials to Clean Harbors LLC in Colfax, Louisiana," he emphasized. "No M6 was disposed of at Clean Harbors. About 318,532 pounds of extracted aluminum metal, debris and fines and Tritonal contaminated debris were destroyed using open burn in accordance with Clean Harbors' permit. The remaining two million pounds was recycled at other offsite facilities."
Salvatore says Clean Harbors has to prove there are no other alternatives to the open burn, "and that they cannot do."
"It's a fool's errand, and anyone who lets them get away with that is being irresponsible," he said. "The DEQ is to blame for that. The EPA should also be tougher than they are. The EPA should be more proactive and say, 'RRCRA' is the framework you are working under, and 'RRCRA' will not allow you to do this if there are no other alternatives,' and we know there are alternatives. Somebody has to step in and be the adult."