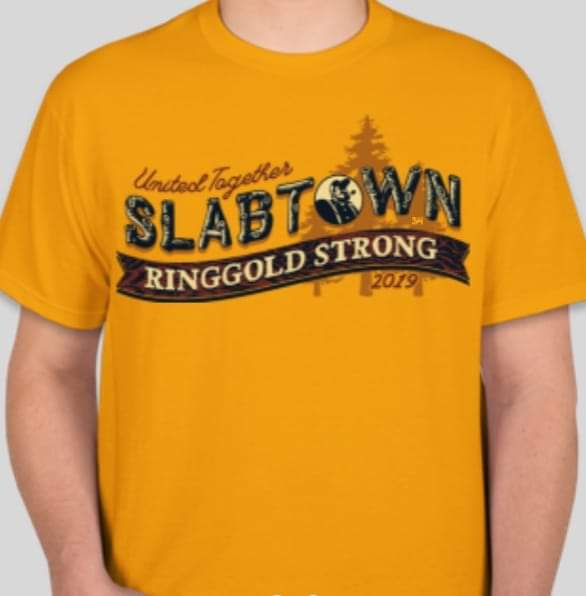 Special to the Minden Press-Herald
The 33rd annual Slabtown festival is approaching and we are all very excited.
We will kick off with Relay for Life of Ringgold on Friday, April 5, 2019 from 5-9 PM at Ringgold High School Track. There will be a Survivor Walk and testimonies, followed by a FREE viewing of the outdoor movie "Grease", silent auction, cake walk, food, drawings and music for all ages.
The biggest day, Saturday, April 6, 2019, when we expect to have all of downtown Ringgold filled with many food & craft vendors, along with the big tent—-the air will be filled with great entertainment.
Festivities start with the big parade at 11 AM, featuring the 2019 Grand Marshal Clemenistine Townsy. Don't forget to bring some sacks as there will be lots of candy being thrown during the parade.
Opening ceremonies will take place under the big tent, with presentation of the flag, and prayer. Everyone looks forward to seeing who has found the annual treasure, and the presentation of the big check for the lucky winner. The cake auction will take place at the Mayor Breakfast and this year we have some of the best bakers in the Ringgold area, this is your chance to bid and win one of these Legendary confections.
The big tent will be alive with wonderful music. The food at the festival is always a treat not to be missed along with the many craft booths. You can contact Cheryl Henry at 318-894-8717 or 318-455-7742 for a booth application. We have a wonderful kids' fun area. The basketball games will be going on in the old school gym be sure to catch a couple of games it goes to a great cause. If you want to participate contact Coach Jerald Perkins at 310-462-0026 or Pastor Ken Blow at 318-583-2019 or Coach Jerome Moore at 318-464-1062. Be sure to buy the official Slabtown tee shirt on sale under the tent. There will be a Car Show so come show off your treasure. You can contact Camica Allums or Lakeyshia Brown-James. The best thing about The Slabtown festival is that it is a time to have lot of fun with family and friends as the festival is always a family event. Please like our page on Facebook to get more information about all events or send an email slabtownringgold@gmail.com. So, grab the kids, a few bags, and prepare for so much Fun that it should be a crime. A special thanks to the Town of Ringgold, Mayor Melton Vining, Ringgold Police Dept., Ringgold Fire Department and Bienville Sheriff Department be sure to thank them for their service. Coca Cola trailers will have wonderful refreshments. We are very proud of Coca Cola and Bank of Montgomery as our sponsors.