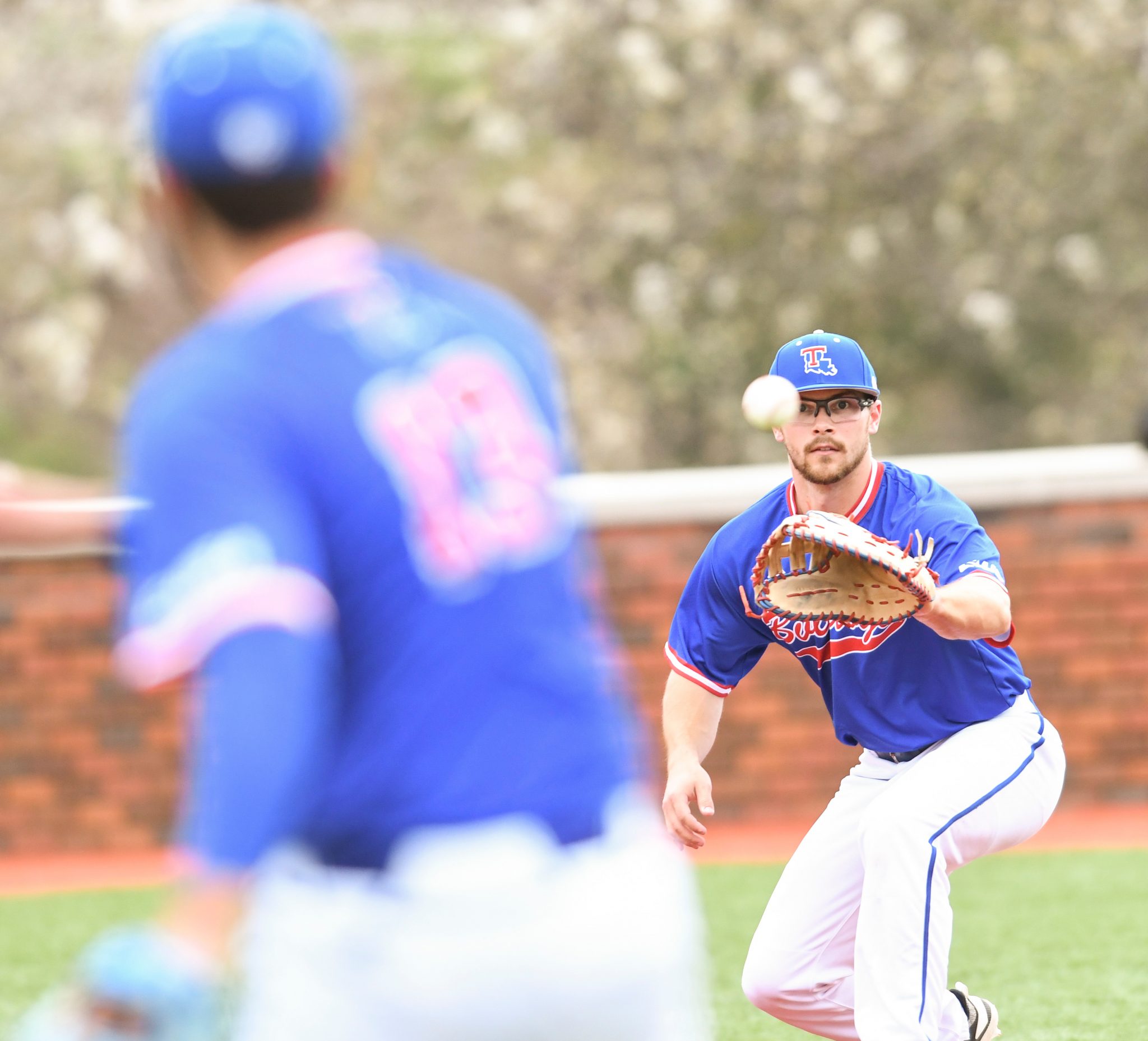 RUSTON, La. – Following up on its first Conference USA series win of 2019, the Louisiana Tech baseball team will return home to the friendly confines of J.C. Love Field at Pat Patterson Park, opening an eight-game homestand, beginning on Tuesday evening vs. the ULM Warhawks at 6 p.m.
Tuesday's game will be streamed live on CUSA.tv (subscription required) and will be broadcast on KNBB 97.7 FM with Dave Nitz on the call.
LA Tech (14-9, 2-4 C-USA) received some solid starting pitching last week, holding its opponents to just 11 combined runs across four games, while Tech went 3-1, and notched its first C-USA series victory of the year.
Redshirt senior Matt Miller put together his most successful week of the 2019 season last week. Miller, usually Tech's Friday night ace, made a midweek start, pitching one scheduled inning against Mississippi Valley State, and struck out the side on 16 pitches. Then on Friday, Miller resumed his normal Friday night duties in C-USA play, tossing 8.0 innings, while allowing just one run on four hits. The Tech captain struck out seven and walked none, while helping the team pick up its first league win en route to its first league series triumph. For the week, Miller posted an ERA of 1.00 across 9.0 innings pitched, while striking out 10 and did not walk a batter.
Meanwhile, the Bulldog offense hummed to a .331 batting average and scored 37 runs on 49 hits in four games last week.
After the road series win, the Bulldogs have now won six consecutive road conference series, dating back to the beginning of last season (Tech was 5-0 in 2018).
This will be the first of two meetings between Tech and ULM this season, as the two clubs will meet up again on April 16th in Monroe.
Last year, the Bulldogs took both meetings over the Warhawks, winning in Ruston, 6-1 and in Monroe, 7-0. Tech is 10-0 in the last 10 meetings between the two teams.
ULM is currently in the midst of a seven-game losing streak, and most recently was swept by Texas State in a Sun Belt weekend road series.
As a team, the Warhawks are hitting .244 as a team, while the pitching staff has compiled an ERA of 7.30. Tech is hitting .286 as a team, with a 5.19 combined ERA on the mound.
Mason Mallard leads the Bulldogs with a team-best .375 batting average. Mallard and Mason Robinson are tied for the team lead with 33 base hits each. Centerfielder Parker Bates continues to lead the team in RBI, with 25, while sophomore Steele Netterville ranks second with 21.
Redshirt freshman Jonathan Fincher and senior Braxton Smith have combined for a lethal backend to the Tech bullpen. Smith picked up his team-leading third save in Sunday's win and boasts a 2.95 ERA across 18.1 IP. Meanwhile, Fincher is second on the team with 12 appearances and owns a 3.63 ERA, with opponents hitting just .227 off the left-hander. The two late relievers have combined for 53 strikeouts and 15 walks.
The Bulldogs are tentatively scheduled to throw left-hander Kyle Griffen (3-2, 4.32 ERA, 25.0 IP, 13 K, 3 BB). The junior made his last start against Sam Houston State back on Mach 12, and fired six innings of shutout baseball.