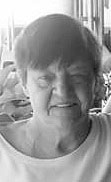 HEFLIN, LA – Memorial services for Rita S. McCarley, 70, of Heflin, LA will be held Friday, April 13, 2018 at 2:00 P.M. in Rockett Funeral Home Chapel, Ringgold, LA.
Rita was born November 30, 2018 in Weiden, Germany and passed away April 7, 2018 in Minden, LA.
Left to cherish her memory include her husband, Bruce H. McCarley, Sr of Heflin, LA.; sons, Frank Thornton and wife, Katrina of Ringgold, LA and Bruce H. McCarley and wife, Belinda of Atoka, TN; daughter, Angie Keevers and husband, Don of Minoqua, WI; one brother, one sister, eight grandchildren and a number of other relatives and friends.