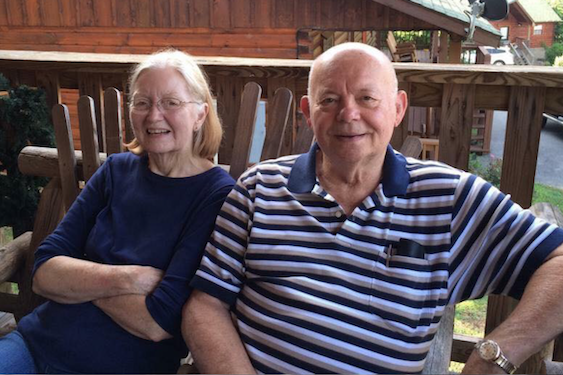 HENRY ROGERS REEVES
5/22/1937 – 3/7/2023
JACKIE "TOOTSIE" BATTON REEVES
8/30/1938 – 3/9/2023
Minden High School sweethearts. Married 64 years and 3 months. Widowed less than 48 hours. Safely home with Jesus Christ forever.
Rogers Reeves was born on May 22, 1937 in Mansfield, Louisiana, to Henry and Mattie (Norris) Reeves. From a young age, he learned to love hunting, fishing, and navigating the bayous and backwoods of north Louisiana. In high school, Rogers was an all-state tackle for the Minden Crimson Tide.
Jacqueline Dale (Batton) Reeves was born in Minden, Louisiana, on August 30, 1938 to Jack & Alice (Shurtleff) Batton. She was known affectionately as Tootsie to family and friends. In high school, she proudly led the Minden Crimson Tide Marching Band down Main Street and onto the football field as the Head Drum Majorette.
Family lore has it that Rogers' high school English teacher, who happened to be the wife of the MHS football coach, threatened to fail Rogers and get him kicked off the football team unless he asked Jackie Batton to the fall dance. Rogers loved football. The rest is history.
Rogers and Jackie went to Louisiana Tech together in the fall of 1956. Rogers played football all four years and earned a degree in Civil Engineering. Rogers & Jackie were married while still in college, and their son, Scott, was born in Ruston. From there, Rogers embarked on a career in engineering spending most of his career with McDermott International. Their son, Greg, was born in Platte, South Dakota, and daughter, Alicia, in New Orleans. Rogers' career would take the family to Nebraska, South Dakota, south Louisiana, overseas to Belgium, western Pennsylvania and back to his beloved Louisiana. After retirement, Rogers and Jackie continued to move and travel, and Rogers spent several years volunteering on construction projects at Young Life camps.
With each move Jackie's warm Southern way endeared her quickly to new acquaintances who would become lifelong friends. Rogers' first priority with each move was finding a church. He made certain the family attended church the first Sunday in any new town. Rogers' faith in Jesus Christ was evident in his humble servant leadership, generosity, and kindness. He served quietly and faithfully at work, home, and church.
A woman of deep faith in Jesus Christ, Jackie was awake early every morning reading her Bible, journaling, and faithfully praying for family and friends. She volunteered for many years serving in her church and Bible Study Fellowship. She underestimated her influence and witness for Christ but the outpouring of testimonies from friends following her death tell the true story of a faithful life of remarkable impact.
Rogers and his daughter, Alicia, enjoyed countless rounds of golf together, and he stayed one hole-in-one ahead of her with three lifetime holes-in-one. Rogers took great pride in his sons, Scott & Greg. He loved hearing about and telling everyone about their careers in aviation and construction. And, he loved swapping cooking tips with the boys – Reeves men are masters in the kitchen, indoors and outdoors. In their later years, Rogers and his brother, Mike, were blessed to spend many days hunting, cooking, and roaming the woods at their Louisiana hunting camp.
Jackie was the glue that kept the Reeves and Batton families connected through the years when siblings and cousins and aunts and uncles scattered across the country. She faithfully corresponded with everyone and shared updates from family members near and far. Jackie was always up for a trip with her daughter and loved the years that the family gathered in the summer for "family camp" in the mountains. She was an avid football fan, faithful to the New Orleans Saints from the 'Aints to Super Bowl champs.
In the fall of 2019, Rogers & Jackie moved to Colorado Springs to be near Alicia as Jackie was in the mid-stage of battling dementia. In early December 2019, Rogers suffered a significant stroke that left him paralyzed on one side. He persevered through months of physical therapy and an agonizing five-month separation from Jackie during COVID-19. By then, both Rogers & Jackie needed skilled nursing care. They were blessed to spend their final two and a half years side by side in the same room at Pikes Peak Care Center.
Rogers passed away early in the morning on Tuesday, March 7, after taking a fall a few days prior. With Jackie's advanced dementia it was hard to know if her mind comprehended Rogers' death. Her heart most certainly knew. Early Thursday morning, March 9, Jackie kicked dementia in the tail and followed Rogers home, together with the Lord forever. Their loving Heavenly Father was stunningly gracious calling Jackie home after Rogers had two short days to reconnoiter heaven. They fought the good fight, they finished the race, they kept the faith.
Rogers and Jackie were preceded in death by their parents and Jackie's brother, Jimmy Batton. Rogers and Jackie are survived by their children, Scott (Memphis, TN), Greg & his wife, Dalesa (Hurst, TX), and Alicia (Colorado Springs, CO); their granddaughters, nieces & nephews; Rogers' brother Mike & his wife, Janet (Sarepta, LA); Jackie's sister, Dot Smith (Stuarts Draft, VA); and Jackie's dear cousin, Ann Horne (Bossier City).
The family wishes to express their sincere gratitude to the staff of Genesis Pikes Peak Care Center, healthcare heroes through a global pandemic.