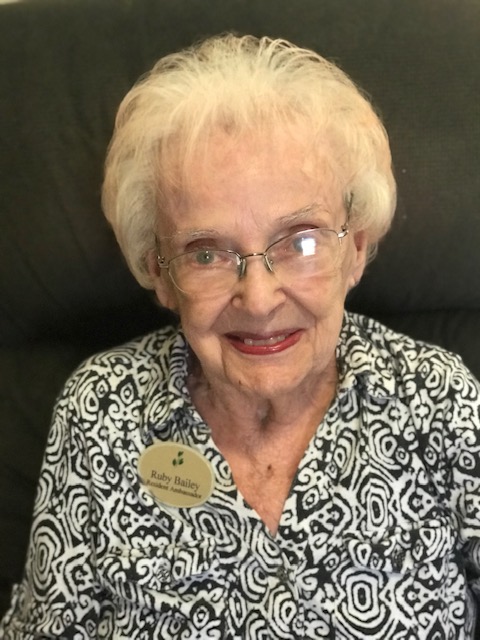 Ruby Mae Bailey, born July 31, 1926, and passed away Friday, December 9, 2022. She was born and lived in Minden, Louisiana, most of her 96 years.
Ruby was employed for many years as bookkeeper for both the A&P Grocery and Robinsons' Shoe stores. She surprised us all when she became a successful Amway cosmetic sales person. She was a loyal, conscientious and hard worker.
Ruby was a member of the First Baptist Church for over fifty years, serving in the children's department many years as a teacher and as a department leader.
Ruby was preceded in death by her first husband, Charlie W. Smith and her second husband of 52 years, Leo Bailey, her son Mack Jefferson Smith, her parents Webster and Gladys Robinson, numerous brothers and sisters.
She is survived by a daughter, Betty Ann Skinner of Georgetown, Texas (husband David) and one grandson, Jason Palos of Austin, Texas, a sister, Anna McMullen of Frierson, La., brothers Charlie Robinson, Keithville, La., and Marcus Robinson, Geneva, Florida.
Ruby moved to an assisted living facility in Georgetown, Texas five years ago. She loved it there, and the staff loved her. It was a wonderful time for her and Betty Ann to spend time together as never before. She was a wonderful mother and will be so missed!
A graveside service will be held on Friday, December 30, at 10 a.m. at the Minden Cemetery, under the direction of Kilpatrick's Rose-Neath Funeral Home, with Chaplain Bill Crider presiding.