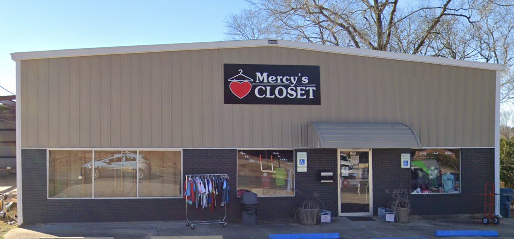 Mercy's Closet will be hosting their annual school uniform giveaway this Saturday, July 23 from 10 a.m. until 6 p.m.
While giving away clothing and other needed items to qualified applicants is a normal part of their business, this event does not require qualification. Uniforms will be free to anyone on a first come, first served basis.
"Anyone in the whole world can come and shop in our free uniforms," said Diana Sanders, director of Mercy's Closet. "There are a lot of people who do need uniforms, and we want to be sure that we're able to give everyone that needs something what they need." With this in mind, they would prefer that each person pick up only five tops and five bottoms for each school child in their household. "That's enough to get them through a week. We want to try to help as many people as possible."
Unfortunately, they cannot guarantee that they will have the correct sizes for everyone, but they will do their best. "We will put out everything that we have for this giveaway," said Sanders. To have the most luck getting hard-to-find sizes, show up early. But do keep in mind that this event draws a large crowd. "We ask that everyone be very patient, because last year it was hugely busy, and there was a very long line. We promise to do the best that we can, but it's going to be busy."
The giveaway will be occurring Saturday only. While you can come in earlier and pay for uniforms, they will not reserve uniforms intended for the giveaway.
Uniform requirements do sometimes change, so you should check with your child's school or on the Webster Parish School Board's website to see what colors or styles will be required this year. Mercy's Closet does not have this information. If it is something new, Mercy's Closet may not have it. "We're at the mercy of what people donate to us," Sanders said.
If you need a uniform during the school year, they will still be available. "We do keep school uniforms out all year that people can come in and qualify for free," said Sanders. And, of course, those who do not qualify can purchase uniforms or other goods at bargain prices.
Mercy's Closet is a non-profit thrift store that sells not only clothing but also furnishings, bedding, home decor and more. They are located at 609 Sibley Road.