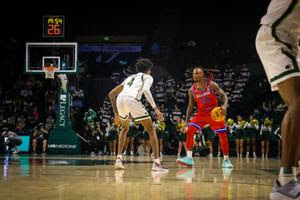 Louisiana Tech Athletic Communications
BIRMINGHAM, Ala. — After controlling much of the first half, Louisiana Tech was outscored by 11 in the second half, which contributed to a 65-59 loss to UAB on Thursday night inside Bartow Arena.
LA Tech (11-10, 4-6 C-USA) had the lead for 18 of the 20 minutes in the first stanza, getting five three-pointers to drop. Four of the five came on the Bulldogs final four field goals of the stanza, getting triples from Jordan Crawford, Keaston Willis, and a pair from Cobe Williams to gain a 30-25 advantage at half.
Willis drilled another three one-minute deep into the second stanza, which was followed by an old-fashioned three-point play by Williams who challenged the Blazers Trey Jemison at the rim and won. It gave LA Tech its largest lead of the game at 36-28.
Foul trouble started to mount though for the Dogs, and UAB (14-7, 5-5 C-USA) used it to their advantage. The Blazers went on an 11-2 run to grab their first lead since the opening minute of the contest. It was a stretch that saw the 'Dogs miss seven straight shots.
Williams buried his third three-pointer to snap the drought, making it a 44-45 game with 9:42 to go. However, LA Tech found itself in another dry spell, and this time it was UAB who used the three-ball in big moments.
After starting 2-of-14 from deep, the Blazers got back-to-back triples from Tony Toney and Eric Gaines to build their largest lead of the game at 59-50 with 2:50 to play.
LA Tech ended up making just one less field goal (only shot 33.9 percent for the game) than UAB, but the Blazers took 20 more free throw attempts, which also aided the home team.
Williams finished with a game-high 21 points, his fourth straight game of 20+ points. Willis added 13 as the only other Bulldog in double figures.
Gaines was one of four UAB players with double-digit points, scoring 19.
QUOTABLES
Head coach Talvin Hester
"The difference in the ball game was our maturity down the stretch. We did something that worked for a long time in the game. It was giving us results, but we have to be able to lock in and adjust late in games. UAB is a really good team. They play hard the whole game. We have had the problem of playing 40 minutes this season. We have to keep growing. We need our upperclassmen to step up and lead."