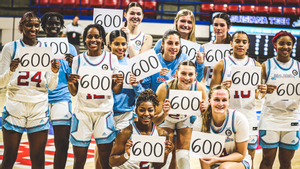 Louisiana Tech Athletic Communications
Louisiana Tech women's basketball team picked up win No. 600 all-time at home in Ruston over UAB (67-62) behind Robyn Lee's career-high 20 points off the bench.
UAB (10-9, 2-8 C-USA) got off to a blazing 11-2 start and extended their lead to 11 (19-8) after another 8-2 spurt in the first that LA Tech (12-8, 5-5 C-USA) finally stopped with their own 7-0 to cut the lead to 21-14 after one.
In the second, it was the Robyn Lee show, who scored nine of her first half 16 and tied the game at 25 after an 11-4 start to the period. Tech grabbed their first lead of the night (30-27) off a Keiunna Walker three with 3:28 to go. After UAB answered with a three on the ensuing possession, Gabbie Green grabbed the lead right back with a three of her own en route to a 9-4 finish to the half.
Tech picked right back up in the third quarter with a 9-0 run over the first four minutes to build a 14-point lead at 48-34. Both teams traded mini runs to complete the third stanza, with Tech holding on to a 54-45 advantage.
Facing foul trouble, Tech would struggle to score in the fourth as UAB chipped away and cut the game to two possessions (60-56) with 3:24 remaining. However, Tech was able to come up with some big defensive stops down the stretch, including a forced shot clock violation, and held UAB to just 1-6 over the final four minutes.
Amaya Brannon scored three of her 12 points on three big free throws in the final 23 seconds to give Tech enough breathing room to capture their eighth in a row over the Blazers. Walker had an all-around night adding 18 points and seven rebounds to go along with two assists and two steals.
Tech shot 46 percent, hitting 24-52 from the floor, while UAB hit 22-54 from the field, shooting 41 percent. Tech outrebounded UAB (34-29), moving to 8-0 this season when pulling down more boards than their opponents.