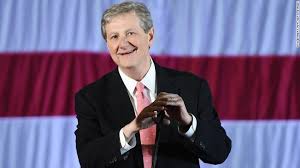 WASHINGTON, D.C. – U.S. Sen. John Kennedy (R-La.) joined the Republican members of the Senate Judiciary Committee in introducing a resolution supporting the U.S. Customs and Border Protection (CBP) officers.
In June, 94,897 individuals were apprehended between ports of entry at the southern border, which brought the total number of apprehensions this year to 688,375. This resolution commends CBP officers for their dedication and service during the escalating humanitarian crisis at the border.
The resolution also calls on Congress to pass legislation that will support the CBP and better manage the flow of migrants entering the U.S.
"Our Border Patrol agents dedicate their lives each and every day to secure our borders and protect the American people," said Sen. Kennedy. "I am so grateful for their work and the sacrifices that they make to keep our country safe. I am proud to cosponsor this resolution to honor the men and women of the U.S. Customs and Border Protection."
"I'm proud to introduce this resolution. To the Border Patrol agents, you're doing an incredible job," said Senate Judiciary Chairman Sen. Lindsey Graham (R-S.C.). "This system is broken. It's not a crisis, it's a disaster. Congress has a duty to act."