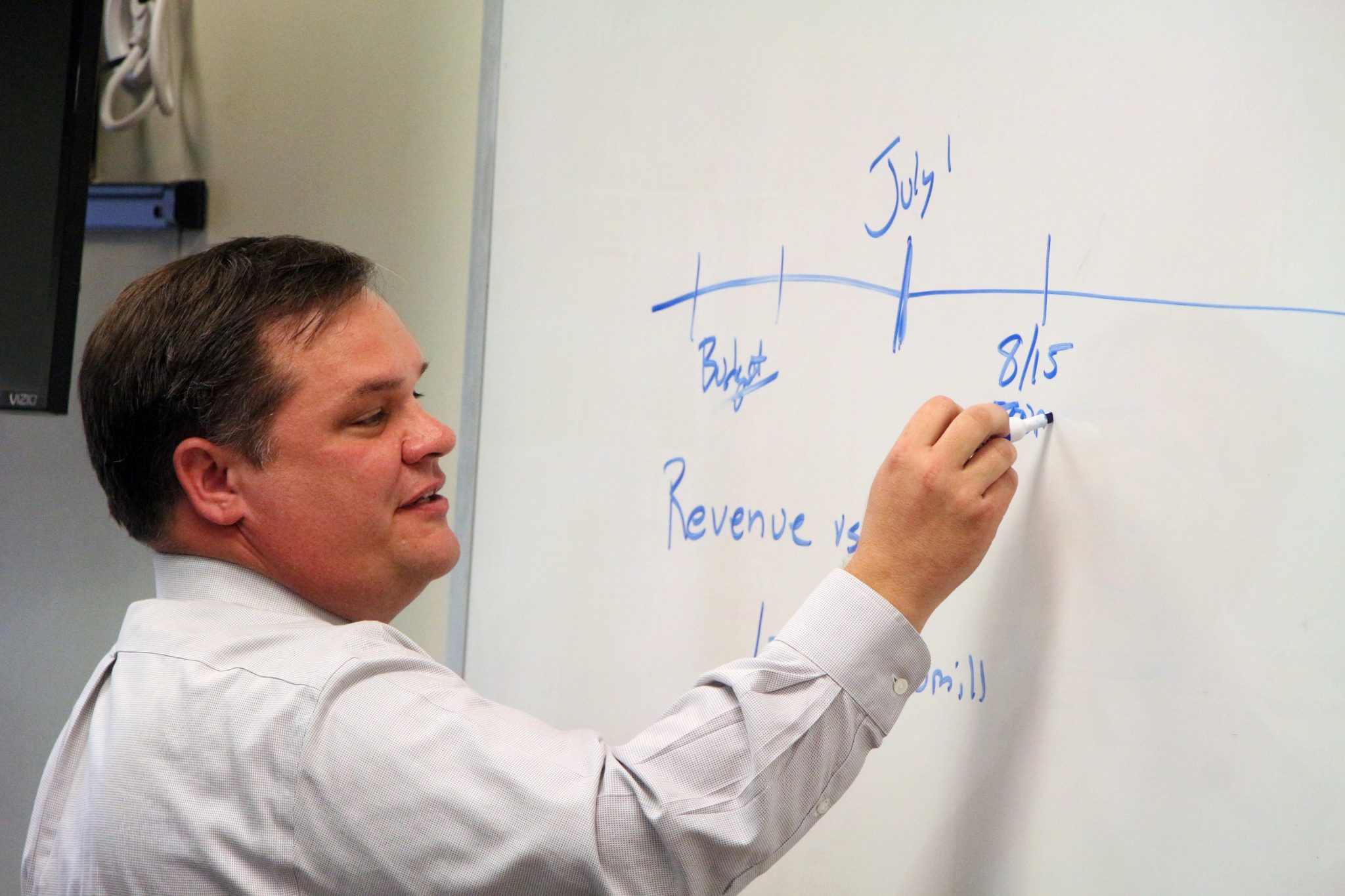 With the special session over, Sen. Ryan Gatti, District 37, is working on several bills he will introduce during the upcoming regular session.
Gatti detailed his proposed bills during a public town hall meeting last week, explaining that lawmakers will be allowed to file five bills that don't deal with finances of the state.
His first bill will reduce taxes, a promise Gatti made to his constituents.
"What we noticed last year is the state's general fund is made up of about 30 percent sales tax," he said. "That's way too much. It used to be 40 percent oil and gas. When oil and gas would fluctuate, the budget would fluctuate. So over the years they changed the state income tax and the sales tax."
The problem is, Gatti said, is the combined income and sales tax drives people out of the state to spend their money.
"People in this area especially can go to Texas or Arkansas and buy stuff. We're missing out on that revenue and it's hurting us," he said. "We're just taxed enough. Our state has a very high rate and a very narrow base. We're trying to change that with a clean penny, dirty penny argument."
Gatti's plan is to lower the rate and broaden the base this year.
"We will ask that the five cent sales tax, which is four dirty pennies and one clean penny, be reduced to two clean pennies," Gatti explained. "That will not raise as much money as the five cent sales tax."
The problem, though, is the Republican and Democratic parties don't see eye to eye on what should be cut. Gatti is already anticipating resistance to his plan.
"We all agree we need to make cuts, but nobody can agree on where to make them," Gatti said. "Everyone has special interest somewhere. If we can't agree on what to cut, we have to shut down revenue and lower our taxes."
The second bill he will introduce will ban open burning of munitions and waste explosives. Gatti said this is a major problem for the area right now.
"We shut it down last year and the year before, but the big issue now about whether or not to keep the burn chamber open or do we shut it down," Gatti said. "Word on the street now is that a significant amount of people are against it. It's a tough issue and it will take some time to find a solution."
Gatti's proposed bill would do away with all open burns moving forward.
"There's a proven system to burn chemicals," Gatti continued, "that does not pollute the air. The burn chamber in Minden worked. When you compare it to open burning, it's state of the art."
The remaining bills include adding prostate and testicular cancer as an occupational disease connected with duties of a firefighter; local pounds must post pictures to their Facebook page of dogs brought in within 24 hours of receipt of the dog or within 72 hours of euthanizing the animal; and including appropriate driver conduct when stopped by a law enforcement officer during driver's ed. instruction.
Gatti said adding this kind of instruction will be beneficial to both students and law enforcement officers.
"I think this will rebuild the trust issues from things that have happened across our country," Gatti said.
The Louisiana Legislature will convene April 10.