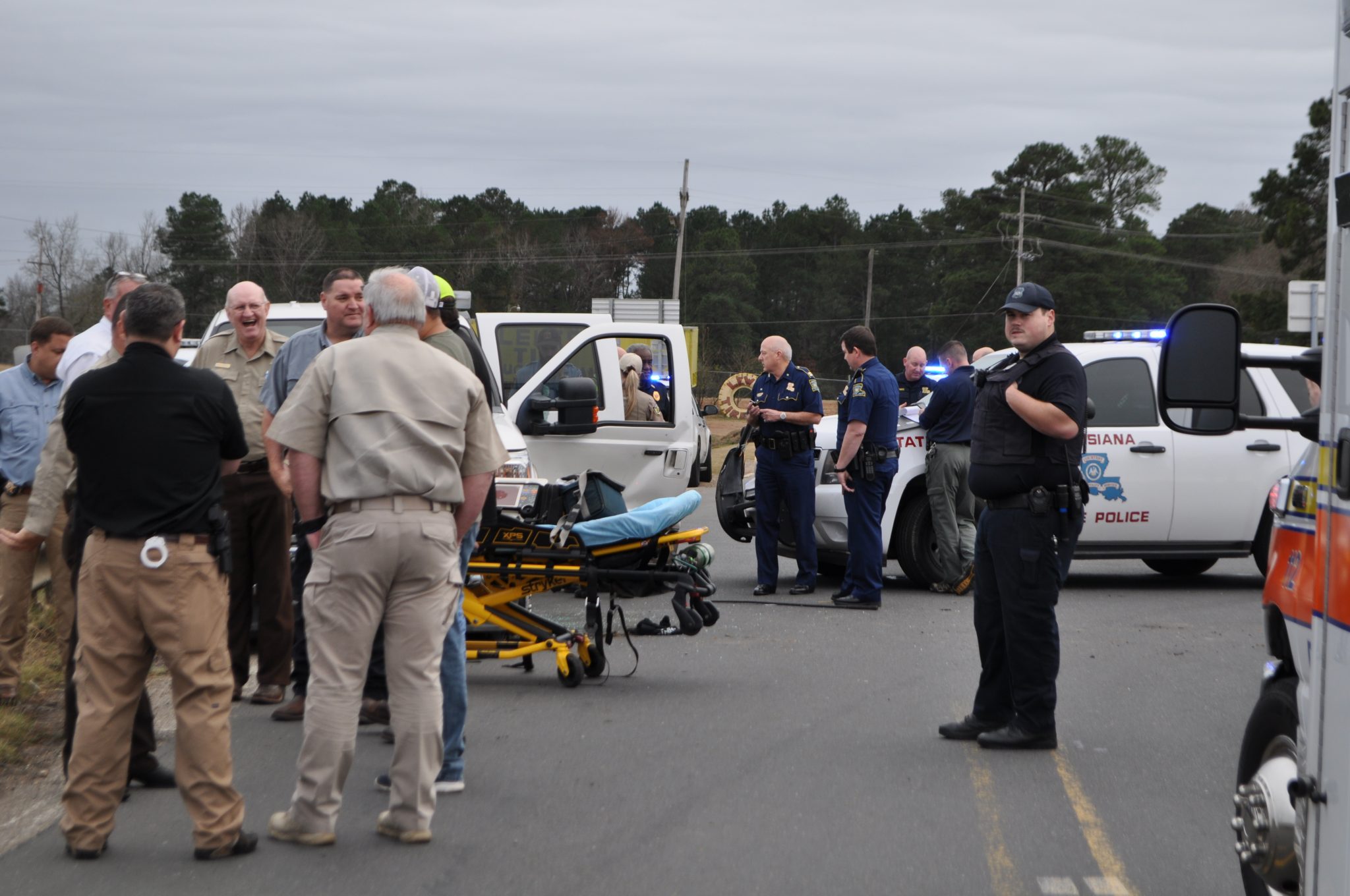 Webster Parish Sheriff Gary Sexton and a Louisiana state trooper were involved in a three-vehicle crash following a high-speed pursuit shortly after 2 p.m. Tuesday.
Louisiana State Police attempted to stop a 2012 Ford F-250 on Interstate 20 in Bossier Parish that matched the description of a truck reported stolen in Arcadia Monday, Trooper Matt Harris said. It had been flagged at the Texas-Louisiana state line.
The pursuit exceeded speeds near 100 miles per hour for more than 29 miles. The driver of the vehicle, identified as Riy Tobin, of Dallas, failed to stop and troopers pursued him with the assistance of various law enforcement agencies before it ended in a crash at the exit of Highway 531 in Minden.
Sexton said by the time the truck reached the Minden/Sibley exit, Minden Police blocked the exit, keeping the truck on interstate, and at the same time rolling out spike strips to stop him.
"He was running on four flats when he exited at the 531 exit," Sexton said. "We thought he was going straight across, and all of a sudden he turned in front of us."
A 16-year-old passenger was pinned inside the vehicle, Sexton said. She was freed and transported by helicopter to University Health in Shreveport. Sexton said he got a report late in the evening that her injuries are non-life threatening.
"She is a lucky young girl," he said.
Harris said during the pursuit, Tobin threw a handgun out of the vehicle. Sexton said another was discovered inside the vehicle, and the one discarded was recovered.
The investigation continues. He is housed at Bayou Dorcheat Correctional Center on charges of aggravated flight, reckless operation, illegal possession of stolen property over $1,500, two counts of illegal possession of a stolen firearm and contributing to the delinquency of a minor.
Harris said warrants will be obtained through Bossier Parish for aggravated flight, reckless operation, obstruction of justice and illegal possession of stolen property.