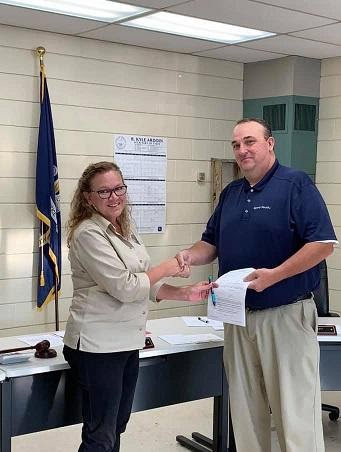 Submitted by the Town of Sibley to the Minden Press-Herald for publication.
On September 11, 2020, Sibley Alderman James Larry Merritt passed away due to Covid. Larry was a dedicated citizen of Sibley for many years. He began his political career as a Sibley Alderman in 1990 until he was elected as Mayor in 1997. In 2013, he chose to step back and was elected as alderman until his death. He was a vital part as a volunteer and officer in the Sibley Volunteer Fire Department for many years. His service was important to him whether it be to Sibley, his church or his family. Larry will, forever, be missed by all. 
The passing of Alderman Merritt left a vacancy on the Council. Mayor Williams recommended to the council to appoint Keith Merritt, son of Larry and Nelwynn Merritt, to fill this vacancy thru the end of the term, December 31, 2020. The council voted to do so. On September 14, 2020, Keith Merritt was sworn-in by Deputy Clerk of Court Karen Kimball, during the regular council meeting.