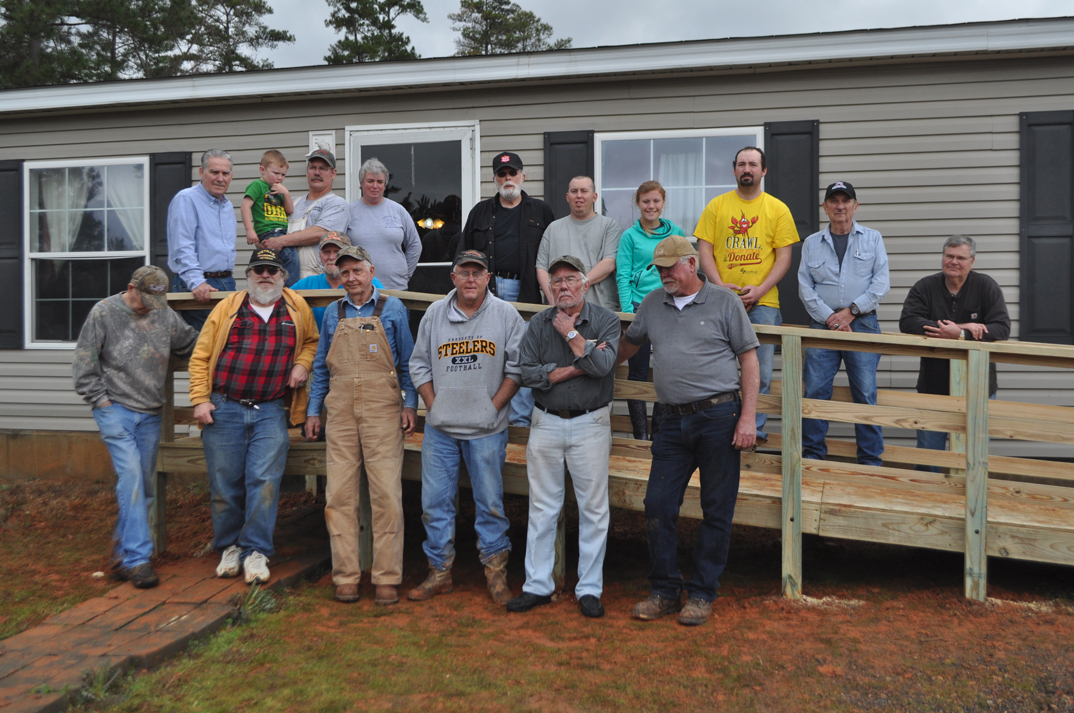 "The Spirit of the Lord God is upon me, because the Lord has anointed me to preach good tidings to the poor;
 He has sent Me to heal the broken-hearted,
 To proclaim liberty to the captives. And the opening of the prison to those who are bound to proclaim the acceptable year of the Lord. And the day of vengeance of our God; to comfort all who mourn," Isaiah 6:1-2
The "Ramp Up!" program at Sibley United Methodist Church is reaching a milestone as volunteers in the ministry built its 200th ramp in Haughton Saturday.
"We just think it's great," Tracy Lewis, grandmother of the ramp recipient, said.
Liam Lewis, 9 months old, suffers from chronic lung disease. He was born prematurely, weighing in at one pound, 12 ounces. Because of this, his lungs are under-developed and must stay on oxygen 24 hours a day, seven days a week.
Liam's father, William Lewis, expressed his thanks to those who built the ramp.
"It's a big help," he said. "It really is."
With the ramp, the Lewis family will be able to transport Liam's oxygen tanks and other equipment from the house to their vehicle more easily.
"It's a testament to God to not do what you want to, but do what God wants you to do," the Rev. Milton Getz said.
Getz was the pastor of Sibley UMC until June of last year. Current pastor, the Rev. Stephanie Kidd, says for her, this goes back to Isaiah 6:1-2.
"It's a blessing to partner with the Sibley church, and to me, this ministry is about being able to give them the freedom to live outside of their home," she said. "The ramp ministry is freeing those in captivity due to mobility issues."
This ministry came to be in 2007 when a group of men from North Highlands United Methodist Church gave one time instruction to volunteers from Sibley UMC.
"From then to date, we have completed 198 ramps for people in need," Lory White, church member, said. "The majority of our ramp projects have been in Webster, Bienville and Claiborne parishes, but we have reached out to a 60-mile radius of Sibley which encompasses Desoto, Natchitoches, Jackson, Lincoln, Caddo and Bossier parishes."
"We get such a blessing out of it," Tommy O'Rear, volunteer and church member, said. "One hundred percent of the money raised goes back into building ramps. This is the Lord's work."
O'Rear says the ministry furnishes all the labor and materials at no cost to the homeowner. The cost to build a ramp is roughly $15 per square foot. All the ramps built meet regulations of the Americans with Disabilities Act.
Among the first ramps built, White says it was for Byreatha Smith, 93, of Doyline, who still lives at home. In 2014, roughly 38 ramps were built, with about 12 so far this year.
Many of the volunteers who build these ramps are aged 60 and older, some in their 80s.
"We attribute the success of our ministry to the fact that we have no administrative costs, very dedicated volunteers from our church, other churches, IP Mill (Mansfield Mill) employees, donations and fundraisers," White said. "We are well known for ramp building area-wide, with requests coming from word of mouth, home health nurses, therapists, the Council on Aging, social workers and others. There being a continued need for the ramps, it is our desire to expand our ministry as much as possible, thereby helping to fulfill an ever growing need."
Mission Statement: "The great aim that we have in view for our continuing ministry is to provide as many quality handicap ramps as possible for the mobility impaired without regard to race, creed or color, for recipients who are unable to walk steps, but can use a ramp with a walker, others use manual wheelchairs or scooter and electric or motorized chair. Our ramps are built to ADA specs which make them very safe, thereby enhancing the quality of life for those using them."
To donate, or find out more about the ministry, call Sibley UMC at 377-0805. The church is located at 403 South Main Street in Sibley.