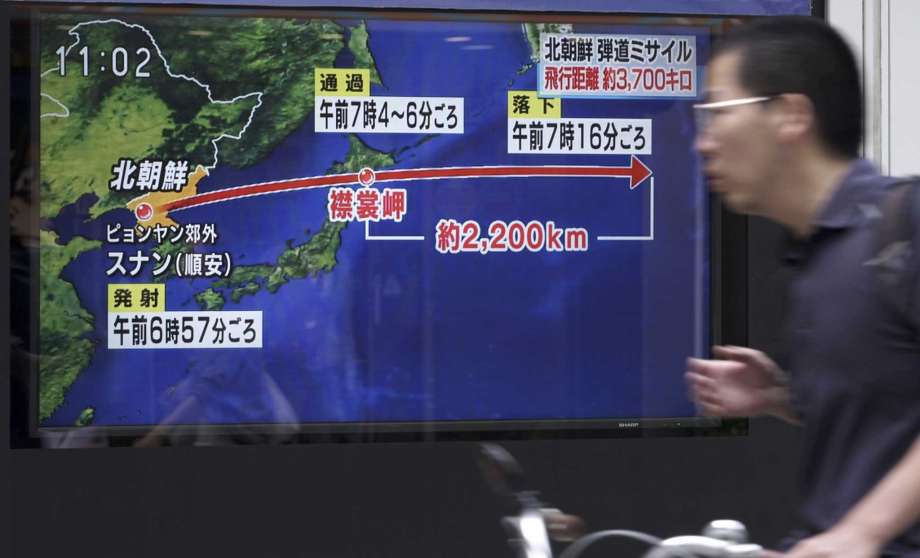 TOKYO — Warning sirens blared in northern Japan on Friday when North Korea launched a missile and again when it passed over the Japanese island of Hokkaido as residents were just starting their day.
Community loudspeakers instructed people to get inside any building and go to the basement. TV stations relayed the warnings and residents of several prefectures received the emergency messages on their cellphones. Trains and subways on Hokkaido briefly stopped for safety checks.
If practice makes perfect, people in northern Japan got another chance to improve on how they would protect themselves from a future warhead.
It's the second time Japan's emergency J-Alert system kicked into action in less than a month, following an earlier North Korean missile flyover on Aug. 29.
No damage was caused by Friday's missile, which landed in the northern Pacific Ocean. But at an emergency meeting, Hokkaido Gov. Harumi Takahashi said such "repeated reckless acts" by North Korea were unacceptable.
Prefectural emergency official Shuji Koshida said the response went relatively smoothly.
"We could spring into action after the first alert this time," he said. But he added, "We hope missiles are not launched from North Korea to begin with."
Officials say there is little more that towns can do to prepare, except for raising public awareness about how to respond.
Many people were just waking up or getting ready for work or school, and just stayed in their homes. Most trains and subways resumed operations in about 10 minutes, and by midmorning the region was generally back to business as usual, though many residents still felt uneasy.
"I hesitated leaving home, and did so only after talking to my family," a commuter told TBS television in Sapporo, the Hokkaido prefectural capital.
In Yokote in Akita, a prefecture south of Hokkaido, children stayed home until schools sent text messages to their parents saying they could leave about 20 minutes after the missile passed. Some schools asked parents to escort their children to school, though the missile's route was hundreds of kilometers (miles) away.
In Ofunato, on the eastern coast of Iwate prefecture south of the missile's path, a fisherman said he was frustrated being interrupted by the missile launch when saury are in season.
In Tokyo, Nobuhiko Kusuda, a resident of the capital, said he felt alarmed when he saw the news on his cellphone. "I strongly feel this is a threat to our daily way of life, putting our lives in danger. I really want them (North Korea) to stop this."
Chief Cabinet Secretary Yoshihide Suga said the missile flew over Japan for about two minutes shortly after 7 a.m., before it finished its 3,700-kilometer (2,300-mile) flight in the Pacific Ocean off Hokkaido's southeastern coast.
The missile launch followed the U.N. Security Council's unanimous imposition of new sanctions on North Korea on Monday after its sixth nuclear test.