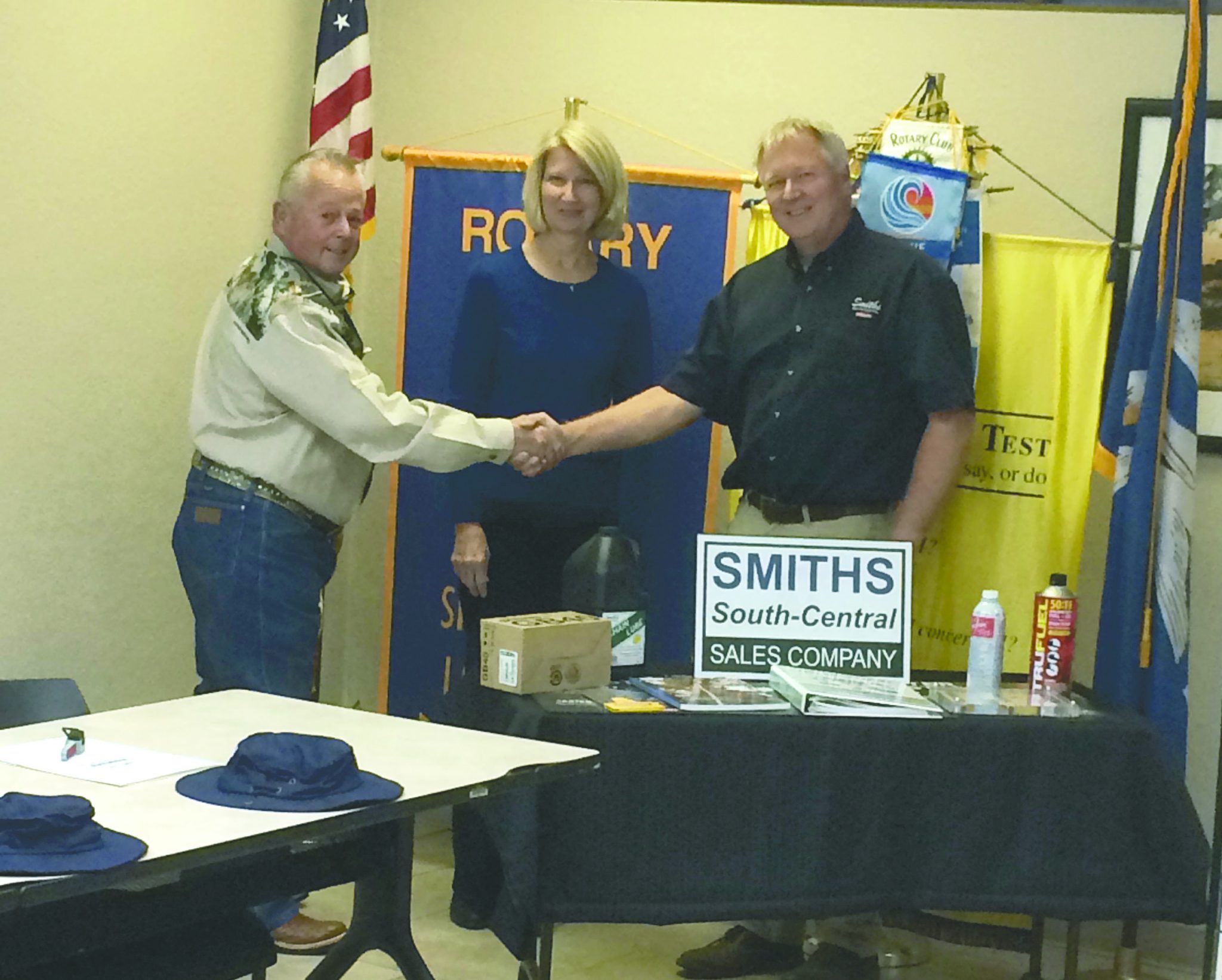 Gerald Holland
Special to the Minden Press-Herald
In the quest for jobs and business growth in North Webster Parish, home grown industries and businesses are overlooked too many times.One of the brightest lights among the local business community is Smiths South Central Sales.
Springhill native and life-long resident William F.(Billy) Smith, Jr and his wife Shirley McMichael Smith from Cotton Valley founded the company in 1972 as Smith Oil Company. Their children Robert Smith and Rose Smith Taliaferro, owners and managers of the company, spoke to Springhill Rotary Club about their business venture and adventure.
They told the Rotarians that when International Paper Company closed its mill at Cullen, Billy asked Shirley, "What are we going to do?" Her immediate response was, "We're not going anywhere!"
The company now has a different name, but they are still in Springhill, growing and prospering as they have embraced the changes and expanded their markets for the last forty six years.
In 1979 when the paper mill shut down, Smith was an oil and gas distributor for the area and procured wood for a large paper company.
Since then Smiths has grown into a full service outdoor power equipment distributor serving the states of Louisiana, Arkansas, Mississippi, Oklahoma and Texas. They expanded their customer base in '79 by associating with Oregon, a major American chain saw accessory line.
The company has always stayed alert to trends and changes in the public's needs and wants for their product-lines.
During 1986 Smiths steered their future business emphasis toward hand-held power equipment, lawn and garden residential and commercial markets. Smiths showed their business resilience by going through a set-back in their growth trend when they lost a top-line power equipment manufacturer because the manufacturer was sold. They had to refocus their business plan, quickly signed on with another company and resumed their growth.
Today they have 1,700 dealer customers, to whom they offer "top quality, unmatched customer service." Their retail store generates thirteen percent of company revenue supplying logging hardware, lawn and home power equipment, automotive lubricants and other petroleum products.
From their 30,000 square-foot facility on South Arkansas Street in Springhill, Smiths ships out two-hundred-fifty parcels daily. A bag of Jolly Rancher candy goes in every box.
Robert and Rose said their customers might not complain about an error in their order, "But they will not put up with missing out on a bag of Jolly Rancher." Orders coming in before 4 P M daily get same-day shipment, and UPS has analyzed their warehousing to make sure it works for maximum efficiency.
Smiths runs with a staff of 39. Nine of those are outside sales reps calling on distributors in their five-state network. "Billy" Smith, the company's founder, always had an entrepreneurial spirit.
He wanted to be his own boss, successful in business in Springhill. The growth, longevity and awards to Smiths South Central are testimony to the fulfillment of his vision.
Smiths was named Louisiana Small Business of the Year in 2014. Before that they were Springhill – North Webster Chamber of Commerce business of the year. Billy's children, Rose and Robert, told the Rotarians that Smiths always makes every effort to stay true to its original company mission statement: Superior long-term customer service, market share growth, exceeding customers' expectations and being seen as a reputable leader in their industry.