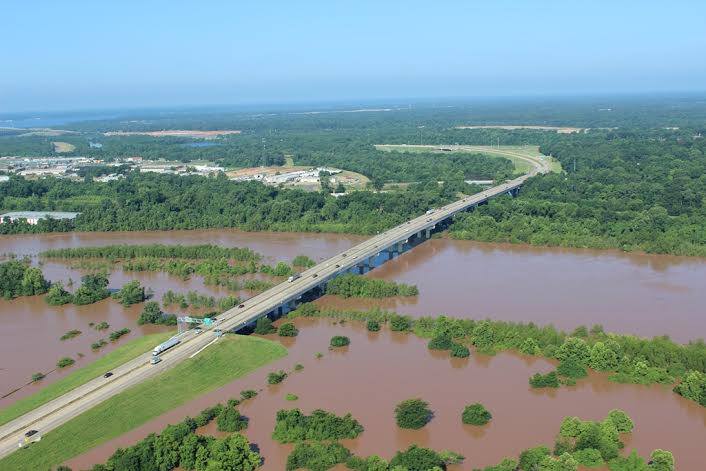 SHREVEPORT — Some Caddo and Bossier parish residents have evacuated as water threatened their homes. The Red River is rising as floodwaters drain from Oklahoma and Texas.
It's expected to crest by Saturday at 34.5 feet — at or near the level reached when it topped the 30-foot flood stage in 1990, but with much more potential for damage, said C.S. Ross, hydrologist in the National Weather Service's Shreveport office.
"It was a different world on the Red River then," he said Wednesday in a phone interview with The Associated Press. "We didn't have any development in Shreveport on the river."
Shreveport's festival plaza and docked casino boats have developed along the riverfront since 1990.
Ross said the river is expected to begin falling sometime Sunday.
"It's hard to believe the Red hasn't risen above flood stage in Shreveport until now," he said.
The Northwest Louisiana Red Cross has opened a shelter at Southern University-Shreveport, the Caddo Parish Sheriff's Office said in a news release.
Water has been confirmed in four north Shreveport houses, one of them vacant, and in a church, sheriff's office spokeswoman Cindy Chadwick said.
The Bossier Parish sheriff has recommended evacuations of a subdivision and an RV park, spokesman Bill Davis said in a news release.
Water in the Allendale neighborhood of north Shreveport rose more than a foot in the 24 hours ending Wednesday morning, said resident Tiffany Mills.
"I need to get in my house to get work uniform, clothes for my kids to go to school and diapers for my baby," Mills told The Times. "But we can't go in there without rain boots because they're afraid we'd get cut or bitten by something in the water."
City Councilman Willie Bradford said he doesn't know what the city could have done to avoid the flooding. He said officials will look for ways to prevent future floods there.