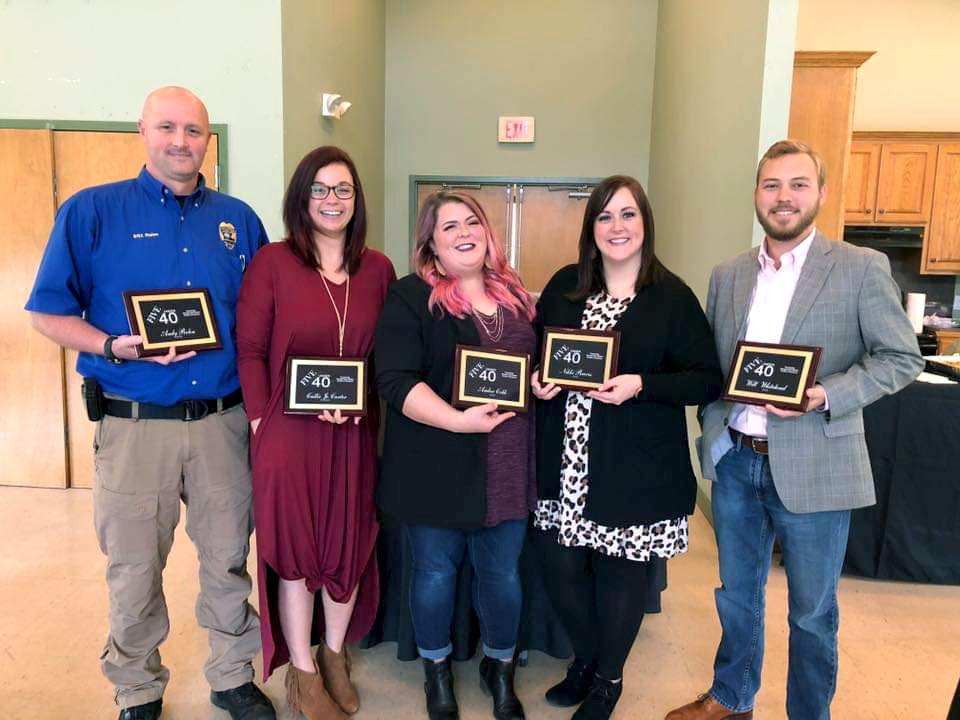 Recipients honored at Thursday event
SPRINGHILL – The 5 recipients of this year's Springhill-North Webster Chamber of Commerce 5 Under 40 were recognized last Thursday, October 26.
Each of the recipients were nominated earlier in the year, and chosen based on their professional achievements and community involvement.
The results were as follows:
Callie Jo Carter, owner of Callie Jo Photography, whose work has been featured by multiple senior companies on Instagram, as well as in Minute Magazine. She is described by the Chamber as an amazing photographer and business owner that truly cares about her city.
Will Whitehead, financial planner for Edward D. Jones Investments. A very active community member who serves as President of the Rotary Club, board member for the Chamber of Commerce, and a board member for the Springhill Lions Club.
Andy Rolen, Springhill Police Sergeant who has twice been named Officer of the Year for the SPD, and recognized as Lawman of the Year by the American Legion Post #166. Rolen also serves as a deacon for Central Baptist Church where he is active helping with the Youth program and teaches an Adult Sunday School Class.
Amber Cobb, the City of Springhill's Main Street Director. Cobb serves as President of the Lumberjack Festival Committee and is a member of the W. H. O. [Women Helping Others].
Nikki Reeves, assistant branch manager at Carter Federal Credit Union. Reeves is very active in the community, serving as President of the W.H, O., Royalty Chair and Co-Captain for the Krewe of Artemis and Past President of the Chamber of Commerce.
"I love this community and it is such an honor to be recognized," said Reeves. "And the other 4 recipients are such amazing individuals, I was just so proud to stand next to them."