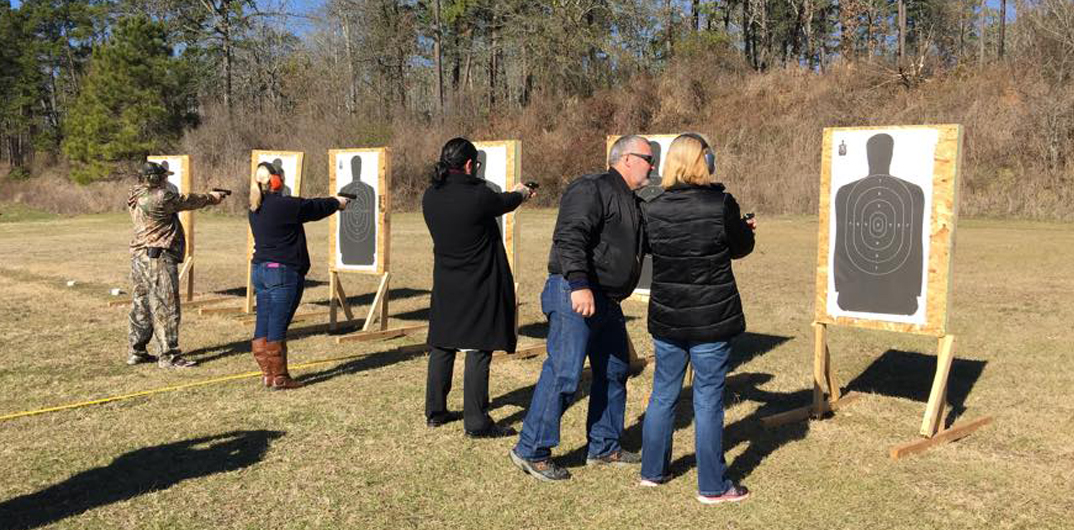 Fred Faircloth and his wife Cathy made their way to Minden in 2009, but not to show the town how to handle firearms.
Fred, an Army veteran with multiple deployments under his belt, was out of work. A call from a friend came in promising work in the oil field, and Faircloth did that happily for three years before losing his job again.
These days, Fred drives a natural gas truck for Martin Oil and Gas in Arcadia as his day job, but on the weekends he takes on the role of weapons instructor.
Tactical Actions for Armed Confrontations Training, or TAACT, is where Fred and Cathy spend their weekends. Located next door to Clyde Stanley's Karate on Broadway Street, the Florida transplants have carved out a niche for themselves offering concealed weapons and home defense classes.
"I love it," Fred Faircloth said. "I like to see myself making a difference. I've got stories for days of people who've come and taken a class and had their minds completely changed about guns."
Faircloth's time in the Army was prosperous to say the least. He was on several high-risk specialty assignments, a Department of Defense subject matter expert, Department of State subject matter expert and he trained and led Security Forces (Army and Police) in the Iraqi Combat Theatre for 30 months. Faircloth was active in the fight against Al Qaeda during Operation Iraqi Freedom and Operation Enduring Freedom.
All of this to say, he's well-qualified to do what he does.
Cathy, Faircloth's wife and business partner, said the response to TAACT has been overwhelmingly positive.
"It's been great so far," she said. "We've had classes as big as 22 or 23 and as small as six."
Fred and Cathy said that the recent trend of people signing up for classes includes more women than men.
"Men have this idea that they already know everything about guns," Fred Faircloth said. "Some that take the class feel that way, and then they get in here and realize all they didn't know. We've had retired state troopers come to the class and come up to us afterwards and tell us they learned things they've never heard of."
It's fitting that women are taking classes at a higher rate than men, because they are more likely to find themselves under attack, whether it be while home alone or with children, at the grocery store or mall and even while jogging.
A poster on the wall of TAACT's office space reads that 6,850 people defend themselves against a criminal daily in the United States and that 200,000 women annually must protect themselves with firearms against sexual assault.
"That's just with the numbers from those who've come forward," Faircloth said. "Sexual assault and rape are the most unreported crimes we have in this country."
TAACT offers a basic concealed weapons class as well as a home defense class where students work on things like positioning and how to clear a room when someone enters the home.
But it doesn't start there. The first portion of the concealed weapons class deals solely with the law and questions like where you can carry, where you can't and when to and when not to shoot.
"This is the reality in our country," Cathy Faircloth said. "With all these shootings taking place right now, people are here who want to harm us and we don't want to live in fear. We should be prepared and knowledgeable."
Still, some think that gun ownership is a problem best solved by stopping certain weapons from being sold – such as the AR-15 and other assault rifles – and making criminals turn to less convenient means of taking out large quantities of people. However, Faircloth argues that those set on doing evil will find a way.
"These guns that everyone wants to take away, they're just tools," Fred Faircloth said. "Tools that are useful to us. It's just like a kitchen knife or a hammer. They're tools, until you put them in the wrong hands."
Gun violence seems unlikely to go away anytime soon, as just this week, in the wake of an unprecedented, ongoing month of violence, three police officers were gunned down responding to a call in Baton Rouge. As the issues that confront our country creep closer to Minden and north Louisiana at large, the Faircloth's feel the time to sit on the fence is over.
"The police are doing the best they can," said Faircloth, who also served as a sheriff's deputy in Florida after the Army. "But, the first line of defense is you and me."