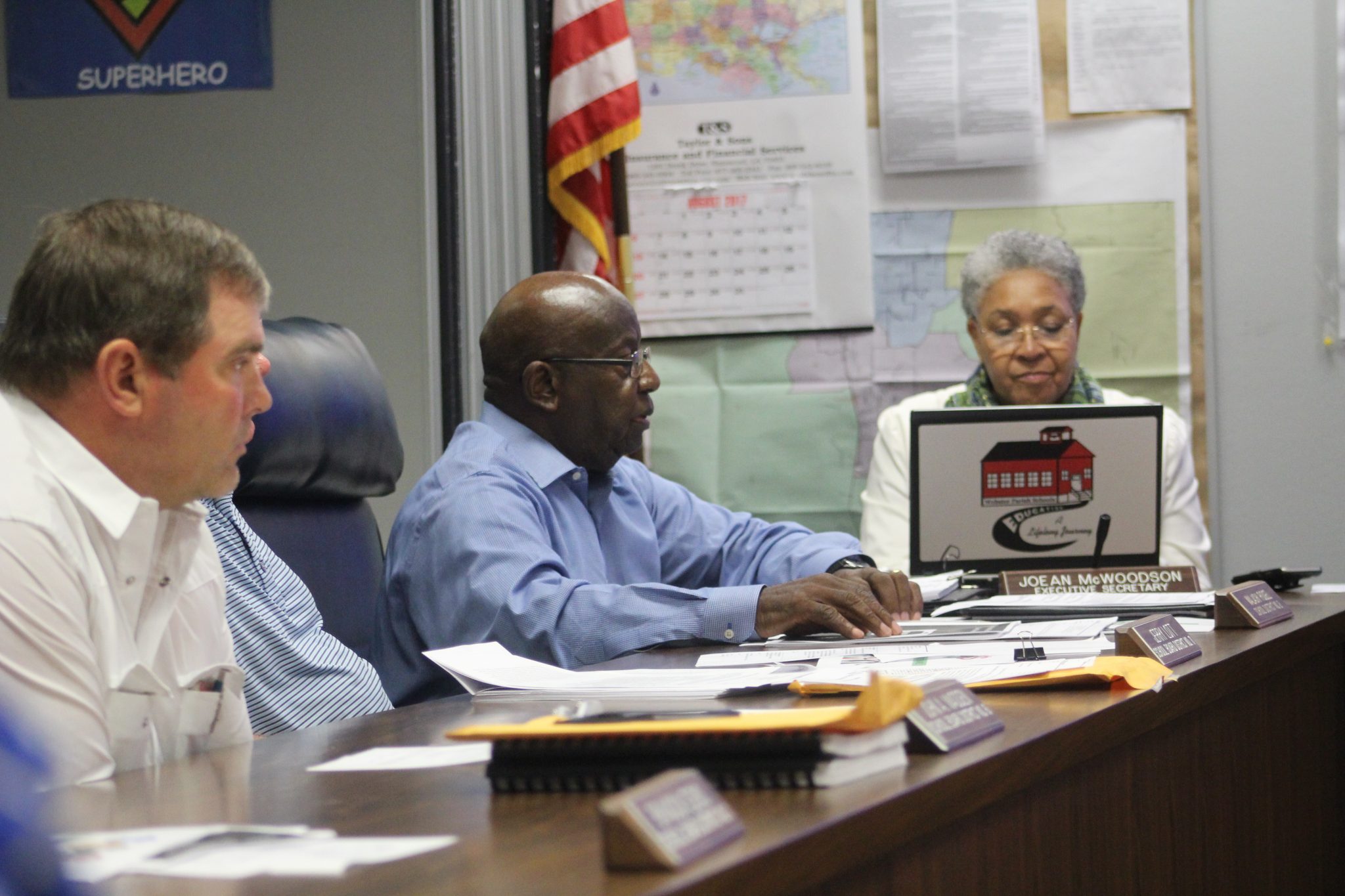 Two board members voted against adding a presentation to the agenda that could have unfrozen teachers' pay by their August paycheck.
Webster Parish School Board members John Madden and Frankie Mitchell voted against it, Madden saying he wasn't going to take action on something he's just seeing at the board meeting, Mitchell wanting to know what changed between May and now.
"What has happened since May that precipitated us going into this now that this can't wait until another meeting?" she asked.
Superintendent of Schools Johnny Rowland Jr. said they have more information now than they did in May, which led them to put it before the board Monday.
"We didn't have that information in May," he said. "We have a letter from (bonding attorney) Grant Schleuter which tells us what we can do legally."
Finance Director Crevonne Odom said time was of the essence in that if the board chose not to hear the presentation and consider it that night, it would put off unfreezing the salary schedule for at least another year.
"It's going to mess up the time schedule for getting the salaries paid out," she said. "If you approve it tonight, the 10-month employees can receive it in their 10-month checks this month, we would do back pay for the 12-month employees by Aug. 31, and the 9-month employees would get it in their check at the beginning of September."
She said if they don't unfreeze the salary schedule, they will have to wait until the 2018-19 school year because of the volume of calculations they would have to do.
"Payroll is Aug. 18, and we need to get started tomorrow," Odom said.
Madden spoke up saying, "My only problem with that is we get a packet in the mail and then we get at least that much information when we get up here that we've never seen and we're supposed to make a four-year or 10-year decision on. I am completely against that."
Madden and Mitchell said they didn't have a problem hearing the presentation as long as they didn't have to take action on it that night.
Odom said unfreezing the salary schedules could be done mid-term, but it would be February before any of the faculty saw any more money in their paychecks.
Unfreezing the salary schedule was not added to the agenda, but school board members went home with paperwork related to the presentation.
For about the last year and a half, talks have been ongoing between the teachers, represented by the Webster Association of Educators, and the school board regarding unfreezing salaries. Salaries were frozen about seven years ago and as hard financial times have dictated the economy and tax revenue, pay has not been unfrozen.
WAE members said they understood the financial hit, but they needed to work towards something everyone could live with.
Odom said the whole idea of bringing it before the board Monday was to try to give the teachers a raise this year.
Malachi Ridgel, District 2, said by not hearing the presentation it was a slight against the teachers.
"We're throwing those teachers under the bus," he said. "It's been seven or eight years since they've had a raise, and we're going to kill it.
Those who are going to retire won't even get their raise. I can't see this board sitting here and not giving those teachers a raise when they haven't had one in seven or eight years. The morale is low now, and when it goes out from this board and it's put in the paper, they need to know why they didn't get their raise. They need to know."
In other news, a motion to reduce the size of the board died without a second. In June and July, Madden presented information about the board size versus school scores in other parishes as well as the amount of money it would save. He said if the board was reduced from 12 to seven, it could save the district about $50,000 per year, which would include their monthly stipend, benefits, travel and fuel.
Monday night, he said some board sizes in independent school districts in Arkansas, Mississippi and Texas consisted of five to seven members, and many of those districts had about the same number of students and constituents in their districts.
Jerry Lott, District 11, reiterated what he said in July, saying he'd be more open to reducing the board size if he knew where the new district lines would be drawn and what the numbers are. Ronnie Broughton, District 8, said he believes the school board should continue to be the same number as the Webster Parish Police Jury.
"I still feel like the smaller communities would be left out," Ronnie Rhymes, District 5, said. "I just think it would leave us without a voice."