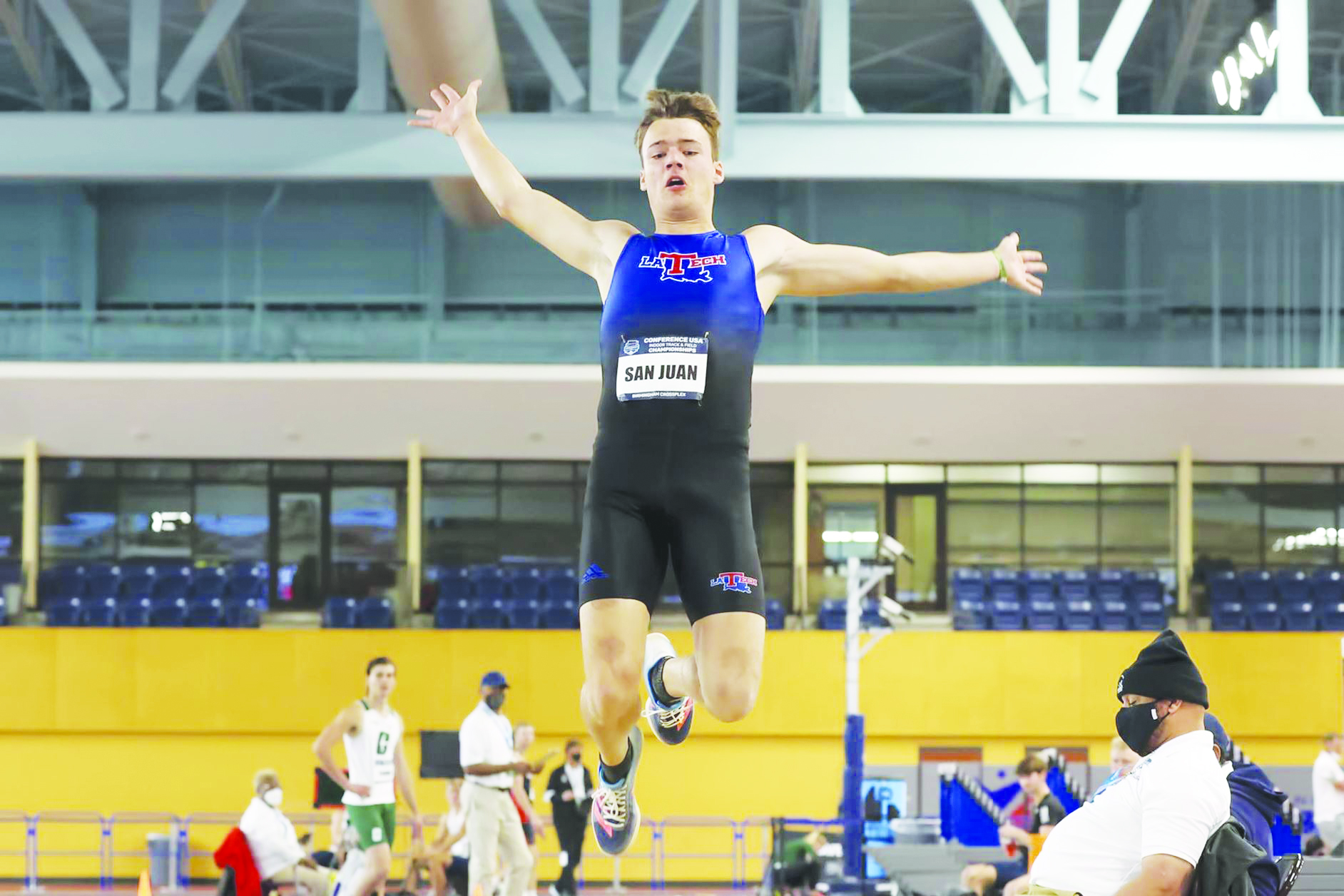 BIRMINGHAM, Ala. — Louisiana Tech freshmen Daniel San Juan and senior Riley Killian joined Johannon Murray in breaking the school record in their respective events over the weekend at the Conference USA Indoor Track and Field Championships.
"Our athletes competed hard over the last two days," said LA Tech head coach Gary Stanley. "While we certainly wanted to score more points, we did break three school records. But, of course, the most important thing coming up is the final exams next week.
"Fortunately, our teams are built more for outdoor track and field, and that starts in 4 short weeks."
Day two of the C-USA Indoor Championships began with the rest of the men's heptathlon, where San Juan finished in fifth place.
He earned a career-high of 4,865 points. Killian shaved close to seven seconds off of her previous school record of 10:16.35. Her current record time of 10:09.02 was the 23rd fastest time to cross the finish line in the 3,000m.
LOUSIANA TECH
C-USA INDOOR
CHAMPIONSHIPS
NOTABLES
• Murray broke her own school record in the pentathlon by 199 points with a total score of 3549, which earned her a podium finish of third place. (Personal Record)
• San Juan broke the LA Tech chool record in the heptathlon with a score of 4865, which was the fifth-best score of the meet. (PR)
• Raven Alexander placed fourth in the women's long jump with a jump of 5.91m. (PR)
• Maya Perry-Grimes placed sixth in the long jump with a jump of 5.90m. (PR)
• Tech's Distance Medley Relay team ran 10:37.10, which put them in eighth place.
• Killian breaks the school record in the 3k with a time of 10:09.02. Which was the 23rd fastest time on the track. (PR)
• Leah Scott finished in seventh place in the triple jump with a jump of 12.36m.
• Johnie Jean-Jacques finished fifth in the shot put with a throw of 16.55m.
• Murphy Bavinga jumped 14.51m in the triple jump and finished seventh.
• Kayla Watson finished seventh in the women's 60m hurdles with a time of 8.79.
• Urijah Williams finished seventh in the men's 60m hurdles with a time of 8.49. (PR)
• Seth Boullion finished fifth in the men's 400m with a time of 48.07. (PR)
• Faith Tarver PRed in the 400m with a time of 57.57.
• Nariah Parks PRed in the 400m with a time of 58.94. opponents and will rotate in new cross-division opponents to begin a two-year intra-division cycle.
The Conference USA Indoor Championships conclude the 2022 indoor season for Tech.
LA Tech's outdoor season opener is set for March 19 at the Jim Mize Track & Field Complex for the first and only home meet of the season for the Tech track teams.