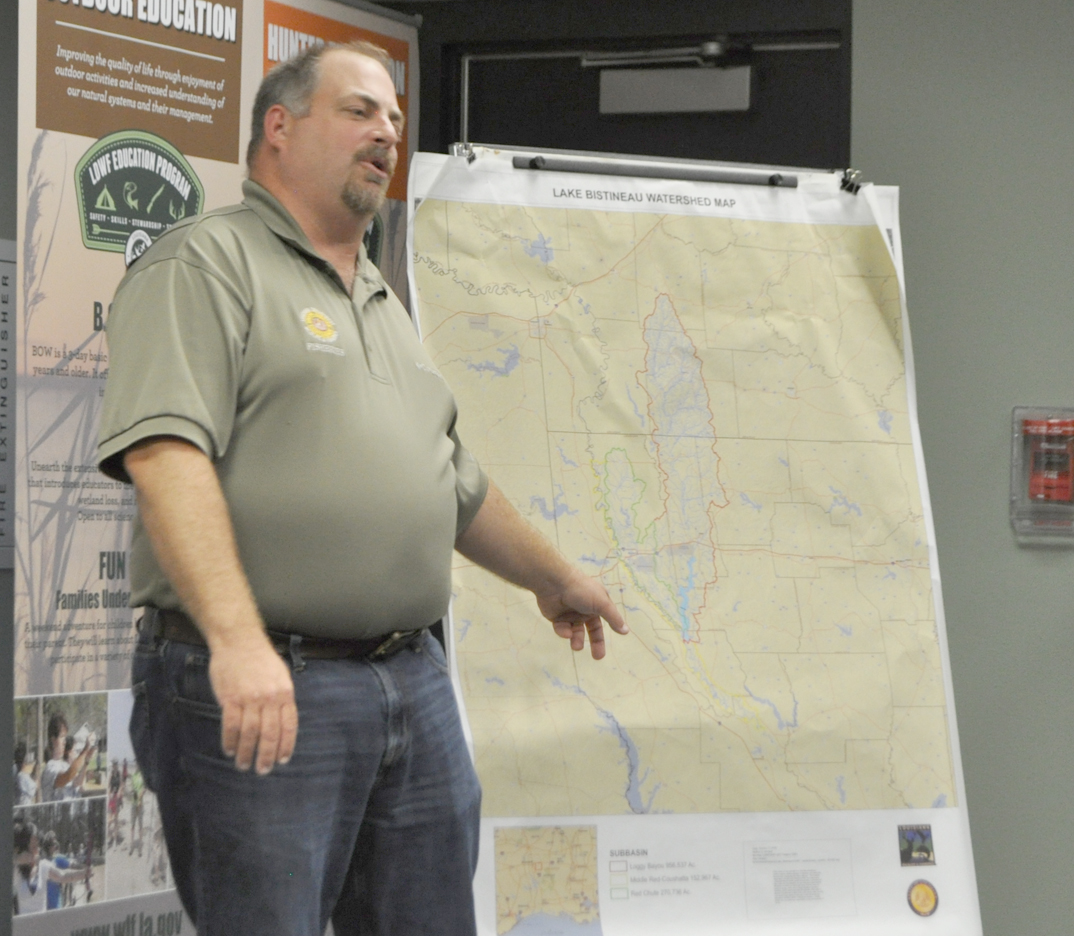 Lake Bistineau has come down five feet since the drawdown began Aug. 15, and officials say it needs to drop another two feet.
Louisiana Department of Wildlife and Fisheries Biologist Manager Jeff Sibley says they have treated more than 900 acres of the invasive aquatic weed giant salvinia with herbicides since the drawdown began.
"Additional and ongoing contractors will follow immediately afterwards, and possibly some aerial application if we can get everything worked out with the contractor," he said. "We'll continue to work with that and monitor things and get out as much herbicide as we can."
The floor was opened up for questions, and while several newcomers asked questions regarding other methods, such as a water mower, physically removing the plant and cutting trees, Sibley says the dominant factor in why they don't work is large-scale, cost-effective viability.
Dr. Brian Salvatore, a chemistry professor at Louisiana State University in Shreveport, talked about natural compounds found in essential oils, saying some of those would work.
"I think there's a lot that can be contributed through chemical synthesis," he said. "These endocides that Dr. Shiyou Li came up with are related to compounds found in essential oils, which we know are natural. These compounds look very promising to me."
He says he's glad to see so many people who care about Lake Bistineau trying to come up with a solution.
"I was very encouraged by the attitudes with people brainstorming and nobody's giving up," he said. "I hope politics don't come into it, because there's no place for it. Everybody's on the same side here. The only one that isn't is the plant (salvinia)."
Pete Camp, Bistineau Task Force member, says he's been to all of these meetings, and while he feels some information is repetitive regarding different ideas that have been tried, he wanted to hear more about Bistineau.
"He shows a lot of other lakes, and I'm not really interested in other lakes," he said. "I want to know what's going on in Bistineau; I'm really focused on Bistineau."
Sibley showed several area lakes in Region 1 that are also plagued with salvinia. For instance, Wallace Lake is so overgrown with salvinia and other aquatic growth that it is turning into land, he said.
Questions also arose surrounding the sudden change in the drawdown date when it was set for July. Sibley says the idea for the July date was to target the organics and the salvinia and give it as much time to dry out as possible.
"Since then, we've gone to a plan that was a 1,500 acre trigger target date on the salvinia, and that has worked well," he said. "We would like to just set it on that date so people will know ahead of time."
Rep. Dodie Horton, District 9, asked if Gov. John Bel Edwards and Wildlife Secretary Charlie Melancon would be willing to work with them to come up with a new plan given all the strategies on the table.
Sibley says he's sent the data to Baton Rouge, but did not comment further.
Another audience member, who was not named, says he feels the date change was politically motivated, that the idea of a lake commission put before the legislature this year won't work.
"I've been retired for 20 years and we're still in that bio-political management," he said. "We make recommendations and politically somebody else changes it, and I think if we're going to have fisheries people like we've got here, I think we need to follow your recommendations. And the public needs to support you all the way."
Horton applauded LDWF for their efforts in not only fighting the salvinia but educating the public, adding there is no room for politics in it.
"The delay of the drawdown was a political move in my opinion," she said following the meeting. "The data that the experts have been collecting for 10 years, to me, is enough for the secretary to review to know that the delay of the drawdown would be detrimental to our lake."
She says she feels the whole lake will suffer as a result of the delay. The drawdown was originally set for July 25. The date was later changed to Aug. 15.