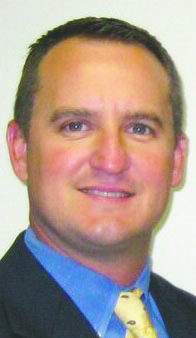 Lions Clubs in Minden partner to purchase eye camera
The Minden Lions Club and Evening Lions Club worked together to secure a Plusoptix diagnostic eye camera. The device is used to screen young children for the eye issue amblyopia which can be corrected if it's found early. In the past, the clubs have borrowed the camera from nearby clubs to perform the tests. With their own, they will be able to expand their program.
"This is a screening program that screens children from the ages of 6 years old and under. We're looking for amblyopia. We're trying to identify these children while the eye is still developing. If you can catch it while the eye is developing, you can cure that child's vision opposed to just correcting it once it turns into refractive errors. That's why this program is so essential. There's nobody else in the state that we know of that's actually screening these children at such a young age," Louisiana Lions Eye Foundation Executive Director Chris Carlone said.
This is the forty-first unit in the state. It will be used to screen children at daycares, Head Start programs, and schools. This year the two clubs have been to Cotton Valley, Cullen, and all Webster Parish Head Start programs. They are scheduled to visit Doyline High School's pre-k and kindergarten classes after the holiday break.
"I think it's going to be a great opportunity for us to go out and work together and help our local folks. We can get some more screening done since we have our own at our fingertips," Lions Club president Jason Parker said.
The camera either says pass or refer after testing a child's eyes. If it says pass the child goes on with no follow-up.
"If it says refer, we don't tell the kids anything, we don't tell the teachers anything. We just document it and send it in to us and we get back in touch with them," Carlone said.
The organization has a follow-up staff that calls parents and ensures they take the children to a doctor. If money is an issue, the Lions Club's foundation can provide financial assistance.
"Sometimes in first grade there are kids over 6, still screen. Don't turn the child down. If they're in that classroom, screen them with the rest of the kids. First, you don't want that child to feel left out. Second, you never know, you might be able to catch a problem," Carlone advised the group.
The foundation will replace or repair the device if it is ever damaged.
"It's just going to give us so much more opportunity having our own machine working between the two clubs, being able to go out and reach a lot more in the community. It's going to be an asset for us. Hopefully we can make an impact," Parker said.