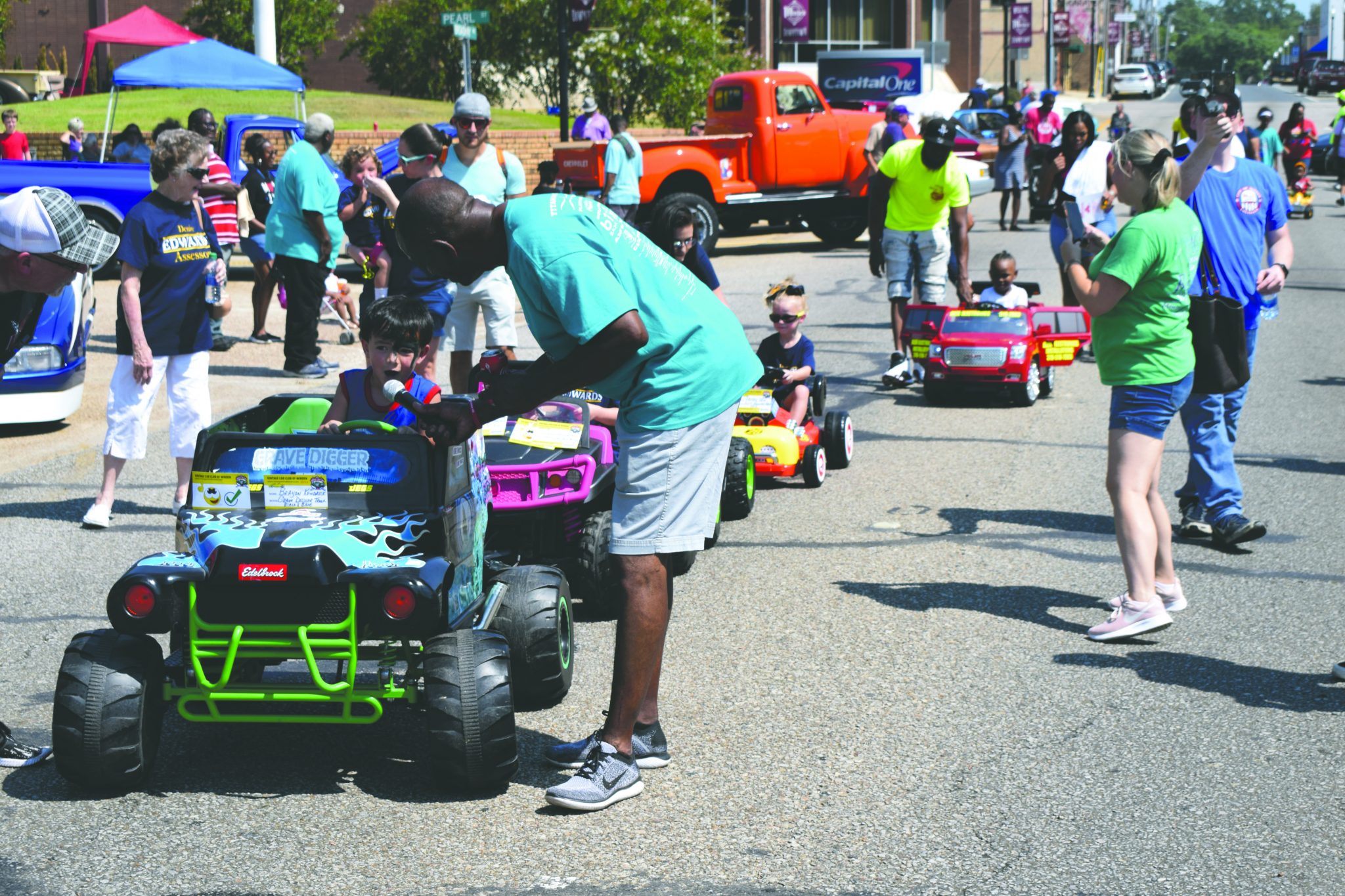 Will Phillips
Minden Press-Herald
Saturday morning, cars of various years, makes, and models convened in Downtown Minden for the 12th The Vintage Car Club Show & Shine. This event was put on by the Vintage Car Club of Minden and sponsored by the Louisiana Paving Company.
The event served up a variety of entertainment throughout the day. Of course, event-goers were free to gaze upon the dozens of vintage cars that were out for display. Parking for the vintage cars was near max capacity, given that the event had a total of 185 entries.
This year featured an event called the Kiddie Parade, where children in decorated bikes, four-wheelers, battery operated cars and all the like paraded down the street in front of the Minden Civic Center. "There was an awesome turnout and the kiddie car show just took it over the top, in spite of the extreme temperatures. It was an awesome day," said Larry Gipson, host of the event.
If cars weren't quite their speed there were plenty of other events to entertain the children in attendance, including a scavenger hunt, hula hoop contest, and a dance-off.
The competition had numerous categories and a lot of people and their vehicles were recognized. So many in fact that they can not all be listed here. For a full list of the winners of all categories of the Car Show & Shine, you can visit www.mindenpress-herald.com.
In the Antique Class (1900-1925) 1st was awarded by Karey Bryce, and 2nd was awarded to Tim Richardson. In the Antique Class (1926-1958) 1st place was taken by Mike Griffin, 2nd place was taken by Jimmy Wright, and 3rd place went to Donna Miller. In the Antique Class Modified (1900-1925) there was but one winner, that being Ron Shaffer who took 1st. In the Antique Class Modified (1926-1959), 1st was given to Don Russell, 2nd went to Lamar Booth, and 3rd went to Darrell McLeanne.
The winner of Best of Show was James Bryant with their 1947 Dodge Truck. The People's Choice this year was Donna Miller and their 1956 Ford Thunderbird. The competitor who traveled the farthest was one Stanley Lamell from Wisconsin.
"The Vintage Car Club would like to thank Mayor Terry Gardner and the city of Minden as well as all of our sponsors for their support," said Gipson.
Proceeds will go to benefit the Minden St. Jude Auction, The American Cancer Society, The Anna Pink Ribbon Foundation and The American Sickle Cell Association.
For more information about the Vintage Car Club's upcoming events, visit the club's website at www.vintagemindencars.com.
ANTIQUE CLASS 1900-1925
1ST KAREY BRYCE
2ND TIM RICHARDSON
ANTIQUE CLASS 1926-1958
1ST MIKE GRIFFIN
2ND JIMMY WRIGHT
3RD DONNA MILLER
ANTIQUE CLASS MODIFIED 1900-1925
1ST RON SHAFFER

ANTIQUE CLASS MODIFIED 1926-1959
1ST DON RUSSELL
2ND LAMAR BOOTH
3RD DARRELL MCLEANNE

SPORT & MUSCLE CLASS 1960-1975
1ST JERRY STINETT
2ND PAT COX
3RD LARRY STATON
SPORT & MUSCLE CLASS 1976-1985
1ST NIKE EDWARDS

SPORT & MUSCLE CLASS 1986-2000
1ST BRANDY ALEX
2ND SAMUEL LAW
3RD BOSIA CASH
SPORT & MUSCLE CLASS 2001-2010
1ST JASON REDMAN

SPORT & MUSCLE CLASS 2011-PRESENT
1ST GREG RICE
2ND CHERYL CRAIG
3RD TARA RICE
CORVETTE CLASS 1952-1962
1ST KARY BRYCE
CORVETTE CLASS 1963-1967
1ST PHIL HEFLIN
2ND BEENE DUDLEY
3RD STEVE DAVIS
CORVETTE CLASS 1968-1982
1ST JOHN AVERY
2ND KAREY BRYCE
3RD STEVE DAVIS

CORVETTE CLASS 1968-1982
1ST JOHN AVERY
2ND KAREY BRYCE
3RD STEVE DAVIS

CORVETTE CLASS 1984-1996
1ST ROY SCROGGINS

CORVETTE CLASS 1997-2004
1ST MARK KENDRICK
2ND KATHY STATON
CORVETTE CLASS 2005-2010
1ST DAVID KILPATRICK
2ND WARDELL CLAYTON
3RD LES AUDURA SADLER
CORVETTE CLASS 2015-PRESENT
1ST RONALD MODICNE
2ND KEN BRANTLEY
3RD FRANK RUSSELL

BIG RIG ANY MAKE ANY YEAR
1ST KAREY BRYCE
2ND KAREY BRYCE
3RD KAREY BRYCE
MUSTANG CLASS 1964 I/2- 1967
1ST PONCHO CODERRE
2ND MICKY PERRYMAN
3RD DAVID & KATHY BARTLETT
MUSTANG CLASS 1968-1970
1ST DON JOHNSON
MUSTANG CLASS 1984-1993
1ST JASON TURNER
MUSTANG CLASS 2010-2014
1ST CHAMP HENDERSON

MOPAR CLASS 1962-1978
1ST TIM SMITH
IMPORT & MISC CLASS CARS, ALL YEARS, AND IMPORT MAKES
1ST DAVID GLASSCOCK
2ND HABACU MORALES
3RD DALE SMITH
DOMESTIC CLASS PRESENT ORIGINAL & SLIGHTY MODIFIED CARS
1ST BENNY BELL, JR.
2ND DENNIS OLIVER
3RD EDDIE JELLIUM
STREET ROD 1 1900- 1959
1ST DALE WILLIAMS
2ND GARY ROBINSON
3RD CARL LINDSEY
TRUCK CLASS 1 ORIGINAL, ANY YEAR TRUCK
1ST RONNIE DAVIS
2ND LOYLE GIPSON
3RD TRENT HINES
TRUCK CLASS 2 CUSTOMIZED ANY YEAR TRUCK

1ST JAMES BRYANT
2ND STEVE COOPER
3RD CHARLEY LEDBETTER
JEEP CLASS ANY YEAR JEEP
1ST BOYCE PATE
RAT ROD ANY YEAR, CHOPPED, LOWERED AND PAINTED
1ST KENT BAILEY
2ND CHARLEY HILE
HARLEY DAVIDSON CLASS ANY MAKE OR YEAR WITH CHANGES TO ENGINE,
FRAME, FRONT END CHANGES FROM FULL TO MILD CUSTOM
1ST HABACU MORALES
2ND TY BRYANT
3RD DAVID LANDRY
SHADOW CLASS ANY MAKE MOTORCYCLE, UP RIGHT RIDER
1ST TIM MCKENTIE
MOTORCYCLE TRIKE CLASS ANY THREE WHEEL VEHICLE
1ST PAUL ROLLISON
HARLEY DAVIDSON BAGGER ANY YEAR
1ST GERALD WHITE
2ND T. JENKINS
3RD TIM MCKENZIE
OFF ROAD VEHICLE ANY YEAR/ ANY MAKE
1ST BOYCE PATE