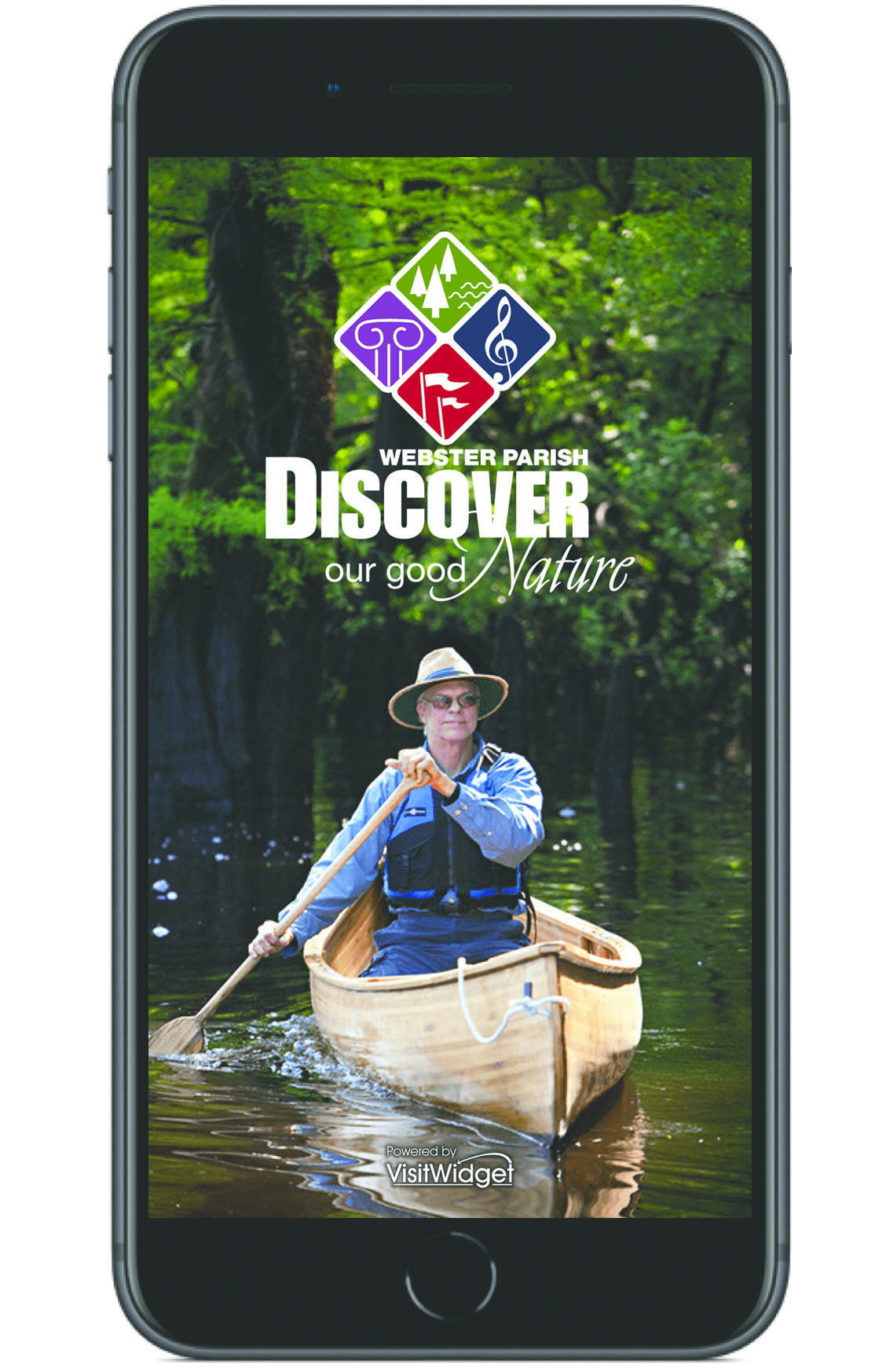 Webster Tourism launches new app to discover Webster Parish
The Webster Parish Convention and Visitors Commission is excited to announce the launch of a free mobile app, "Visit Webster Parish!" This new tool is designed with Visit Widget and provides locals and visitors a new way to explore what the area has to offer. Users will be able to see upcoming events, popular restaurants, shopping, area hot spots and points of interest. They will be able to build an itinerary and plan their stay based off of their interests, timeframe, and location. The social media feed feature keeps information up to date on what is happening now and future events.
Serena Gray, Executive Director of Webster Parish Convention and Visitors Commission, started working for the commission in June of 2018. She said, "I quickly realized that our parish has a lot to be proud of, but the communication about what we had to offer could be improved." She met with Mr. Jimmy Hall, owner and operator of Grace Estate, where he gets many visitors from outside the parish on a weekly basis. He expressed a need for a way to highlight the area attractions and that is when Gray initially came up with the idea to build an app.
The launch of the mobile app follows the redesign of the Commission's website www.VisitWebster.net. Several features on the new website are integrated into the app. Gray said, "All of the content on the website is directly transferred to the mobile app. It updates every hour, so that the content remains relevant and as accurate as possible." Some of the content includes, community calendar, "plan my visit" itinerary builder, attractions, restaurants, tours, listings for area accomodations, and more.
When asked about the unique features of the app, Gray said, "The itinerary builder is definitely the highlighting point to the app. Users can start building their itinerary on the web and it will sync to their mobile app. The added value of building your itinerary prior to your trip is that once it's synced to your phone, you no longer need data connection to access your itinerary. This is especially resourceful for our rural parish since some of our wooded areas don't receive much cell signal." Users can share their plan with their friends directly or via social media, email, or SMS. "I'm excited that our new mobile app will be a one-stop shop for planning a trip to Webster Parish. Visitors will know where to eat, play and stay, and they can find it all in one convenient location, on their smartphone," said Tracy Campbell, a Commissioner of the Webster Parish Convention and Visitors Commission.
The app will also give the Commission the ability to track where the users are from and how often they visit the app or website. This will help market events and attractions to areas where they see a lot of activity, while also seeing where they could invest more efforts.
"Webster Parish is full of hidden gems and many of them are in close proximity to each other," said Gray. "While one can spend hours online researching attractions and eateries, I would suggest saving time by using the mobile app to explore the many opportunities that are available within the parish. I hope that people from outside of Webster Parish realize that we're worth visiting and that our locals realize you don't have to travel too far for a weekend vacation."
She encourages more of the area's hospitality and tourism-related businesses to reach out to their office to become a member of a new networking group brought on by the Commission Visit Webster Network. "Becoming a member of Visit Webster Network gives us an opportunity to capture accurate information regarding their business or events, so that we can promote it to the public and continue to build that relationship over time," said Gray. It is my hope and vision that Webster Parish becomes as 'visitor ready' as possible and that we all support each other along the way. Through the launch of our networking group, Visit Webster Network, I hope to establish a culture of true hospitality and charm for our visitors. Together, we are the face of hospitality and tourism and we're ready for you."
"Visit Webster Parish!" is now available in the App Store for iOS users and Google Play Store for Android users.
For more information, contact Serena Gray at the Webster Parish Convention and Visitors Commission's office by calling 318-377-4240 or go to www.VisitWebster.net.