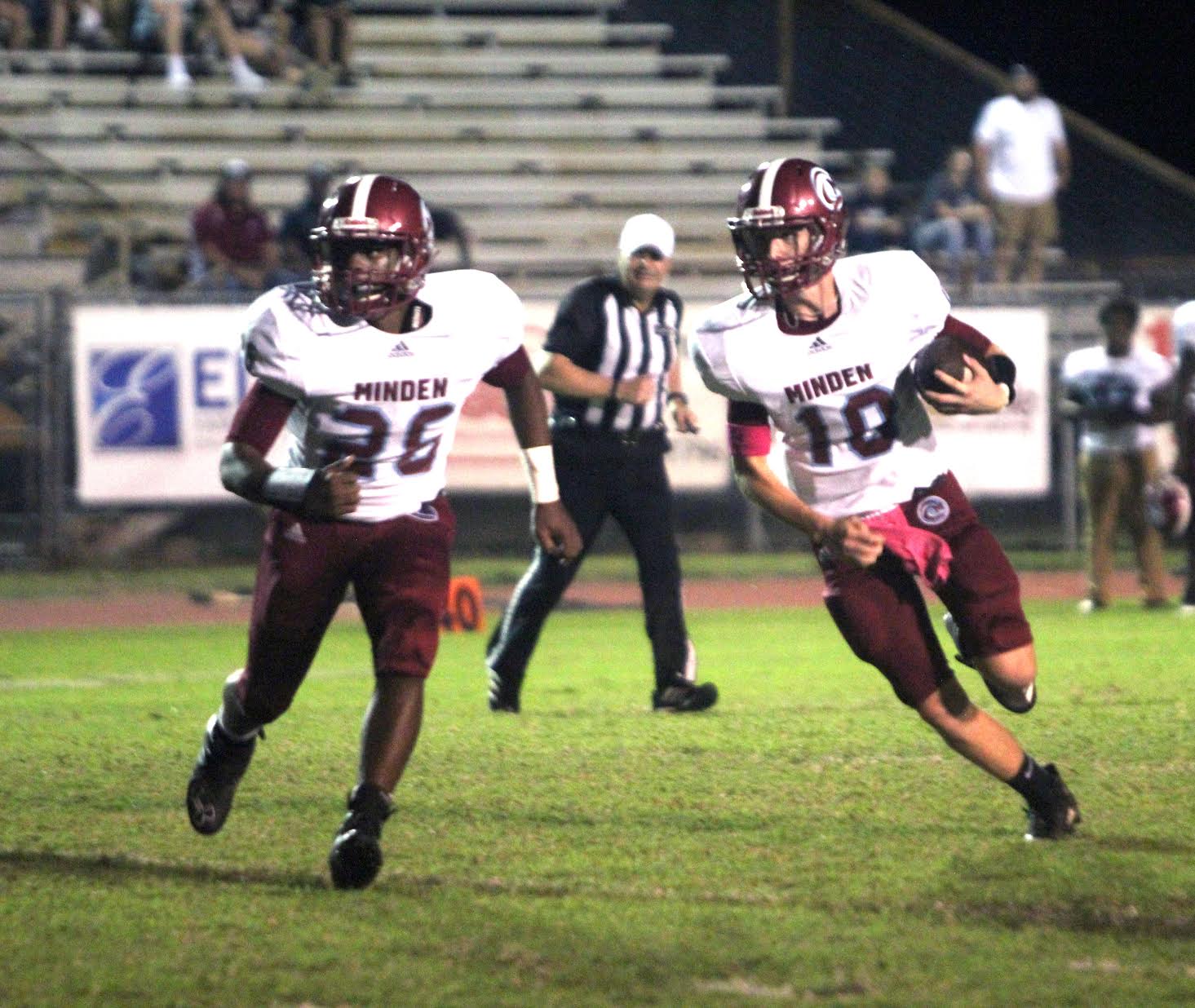 What a wonderful weekend of prep football. From a guy who shouldn't necessarily have biases toward who wins each week, it was fun to watch.
As a person working in Minden and watching the Tide play from the sidelines each week, I left Friday's game against Benton more than a little peeved.
I need to begin by stating a few things: as the lone member of the entire Press-Herald sports department, it is difficult being in four places at once each Friday to witness, photograph, and write game stories for each team. I left much of the guesswork out of the equation, and base where I'm going to go each Friday on what my predecessor's detailed schedule had designed for the year.
This weekend I threw that out the window. I recently purchased a new-ish car, so I thought I'd try to get to as many games as possible. I'd assumed North Webster would take care of Logansport since it was their homecoming game (I was wrong, Logansport is very good).
First I went to Vivian to catch some of the Lakeside game, then I made it to Benton to watch the second half of Minden's game.
I say all this as a disclaimer because I wish I could have seen the ends of both of those games. Lakeside's will go down as a classic, while Minden will be kicking themselves thinking of that game for a while.
Let's start with the Minden game, since I was on the sidelines for the end of a wild, pretty ridiculous high school football game.
Now that I'm in column-mode and have removed my unbiased reporter's cap, I can honestly say that Minden have an absolute right to feel aggrieved. We know the circumstances now and  what happened in the game. From my point of view, it all started with a very bad offside call against Minden. The referees made a mistake with that one. Instead of remedying that mistake, they doubled down and continued to pick at Minden and coach Spencer Heard.
I've known coach Heard only a few weeks, but I know a lot of people who have known him for a while. He's a cool guy, very even-keeled for a football coach. He reacted exactly as I would have reacted watching that game. The fumble/incomplete call that would have sealed the game for Minden had it been called the correct way was the tipping point of the game, but it was only one in a line of successive poor calls that tore away at the momentum Minden had spent the entire game growing.
It was a great game of football for two reasons: Minden's defense was so fun to watch, and it had a crazy finish.
Minden was blistering and hard-hitting all night. You could tell that they had their mojo working, and that the defense is the obvious calling-card this season for the Tide.
The finish was wild, but unnecessary. It should have been a run-out-the-clock win for Minden, instead Benton most likely has the inside track for second place in District 1-4A.
Blaming officials is old hat at this point, but it can't just be brushed aside. The Tide have had tough breaks all season, but just when it looked like they had it going their way finally, they had to go into Benton and beat a team who had a clear advantage.
Bottom line: the fumble/incomplete call was a ridiculous call, the ones that preceded it were questionable at best, and now Minden is going to have to hope that they can steal one from undefeated Northwood or North DeSoto.
Now to the Lakeside game, I didn't see the second half live, but what a story. I was there for the first half and Lakeside was definitely off. Both teams scored on the first plays of their first possessions, but North Caddo looked like they were going to run away with it in the second half.
Coach Jason McClendon has spoken with me all year about how he thought his team just wasn't quite where he wanted them to be mentally, yet.
The Warriors have only lost one game this season, but McClendon still picked out times where he thought, as a program, that Lakeside was coming up short.
That all changed with the win in Vivian.
The Warriors were down five starters on defense due to tardiness issues or injury. They were down 35-17. They were playing against a team who were fueled by passion from losing their coach the week before.
"Teams have to overcome adversity at some point," McClendon said. "We hadn't done that yet. But to see how our guys responded [against North Caddo] showed me that they can do it. It's a game that could solidify us as a program."
That's no overstatement.
There's always a point during the high school football season that you can tell everything has changed. This season has seen its share of dramatic games and spectacular plays, but it feels like the season has finally started after the mayhem of last week.
I was among the very surprised that North Webster dropped a home game against Logansport, but I don't think I'm the only one.
Coach Ware had spoken to me last week about how he knew the Tigers would air the ball out.
"When we have won this season, we have matched up well," Ware said.
This was not a good matchup for the Knights. North Webster's defensive line has been great all season, but with so many two-way players in the defensive backfield, defending the air attack will be a question mark going forward.
The Knights were still getting good looks on offense, but failed to convert multiple possessions in the red zone into points.
The Knights have a chance to topple another 5A school this Thursday when they head to Airline (1-5). I can't wait to see that game. I love seeing the Knights surprise big schools, and they are not a team to back down to tough circumstances. I'll be looking at how well they can defend the pass and if they can put some pressure on the quarterbacks.