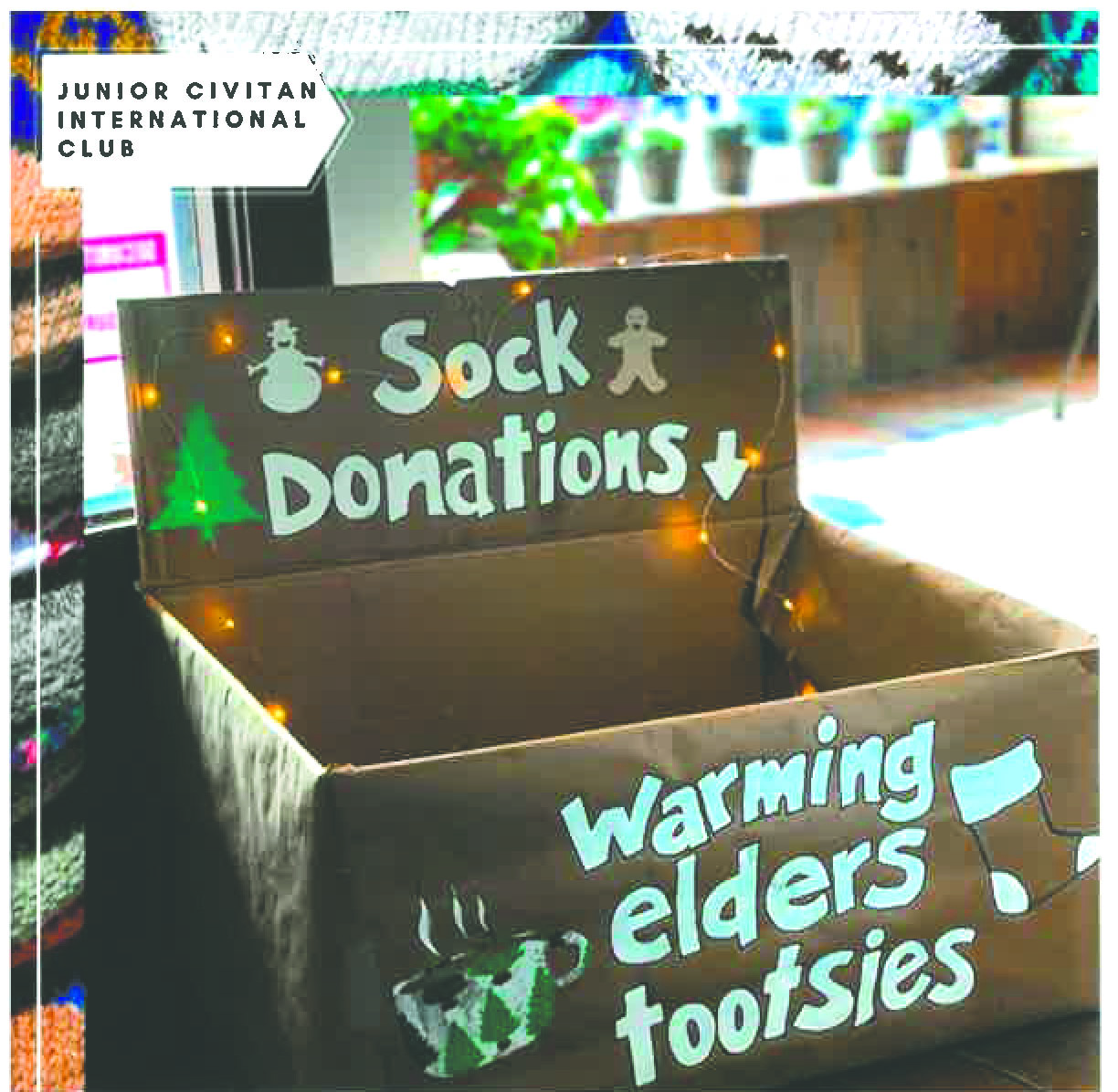 The holiday season is a time for the spirit of giving, and few understand that more than businesses and organizations around town such as UCAP, Joe LeBlanc Food pantry, Mercy's Closet, Junior Civitans, and the Minden Civitan Club, who work to give to the underserved. Around the holidays there are many different options when it comes to where to donate or who to help, so these organizations took the time to share what they have going on around the holiday's that the community can lend a helping hand with.
When it comes to the winter season, one of the most important things for anyone to have is a jacket to keep warm, especially with cold temperatures coming earlier this year than in previous ones. This holiday season, Mercy's Closet has been working to make sure that those who come in needing jackets get them, and if they don't have a jacket in the right size, they don't have to look much further than the local community to get what they need.
"Everybody in town has been extremely generous with donating jackets. We had a homeless family that came in with a two-year-old three to four weeks ago, and we didn't have the correct size to fit him, so we put out a plea on Facebook, and we ended up with this mad rush of jackets," said Diana Sanders, Founder of Mercy's Closet.
"I think that's just the way Minden is. As giving as Minden is, I think that they're on board with what we do, because we do completely free giveaways to people that are in need. People seem to be supportive of what we're trying to do."
Mercy's Closet is also running a promotion right now to help collect food for the food pantry. If a customer brings in canned goods, they will get a discount on their purchase.
This year, the Junior Civitans are organizing the 2nd Annual Warming Elders Tootsies project. "Last year this project was an overwhelming success reaching our original goal 4 times over. I'm excited to say that now, in our second year of this project it has grown covering all the major cities in north Louisiana and we will be distributing socks in each of these cities, Shreveport, Bossier, Minden, Ruston, and West Monroe," said Ethan Jeffus, Junior Civitan International Director.
This year they decided to make the collection of socks become a competition between small businesses to see who can collect the most socks. Many downtown shops and businesses across Minden have home-made unique drop-off boxes out to collect socks.
The collection of socks will last throughout the month of November leading up to the Warming Elders Tootsies kickstart party on Saturday, Dec. 7 at 5 p.m. at 1003 Broadway St.
Awards will be presented to the top two businesses that have collected the most socks and the grand total amount of collected socks from across all cities will be announced.
The Joe LeBlanc Food Pantry goes the extra mile during their 7th Annual Feed a Family Program, where they get people and businesses to sponsor meals for families in Webster Parish.
Their goal this year was 600 meals for Thanksgiving and 600 for Christmas. They were able to reach the Thanksgiving goal before their deadline of Nov. 10 and are continuing to take sponsors for the Christmas Holiday until Dec. 15.
"So far we've had families, businesses, and organizations sponsor from all over Northwest Louisiana, so it's not just a Minden thing. Whether they sponsored 1 or 100 families, we appreciate everyone who has made the financial sacrifice to sponsor a family and helping us reach our goal," said Jessica Lewis, Director of the Joe LeBlanc Food Pantry.
When asked if the UCAP sees an uptick in donations during the Holiday Season, this was Director of the UCAP Charlotte Jones' response. "There are several groups that donate. The First Baptist Church gives us gift cards to pass out, and sometimes, but not always, we may get hams and turkey's Brookshire's. People tend to be more generous around Christmas so we might get some extra Christmas gifts, which always comes in handy. I think people just get in the holiday spirit and want to give back to the community, and they find different ways to do it."
If local citizens would like to help the UCAP, as of now they are short on large men and women's coats. They are also always in need of staple food items.
In order to ensure that kids get toys for Christmas, the Minden Civitan Club in a joint project with the Young Women's Service Club is again doing its local Toy Donation Program titled "Civitan Santa."
"While there are many good programs that need your assistance, the sponsoring clubs desperately need your help with the local Toy Donation program "Civitan Santa". We try to provide at least one new toy for each of the children who would have nothing. It is only with your generous contributions that this program can provide this wonderful service for our local children," read a letter the Civitans sent out with information about the project.
Last year the program provided toys for over 500 children in almost 200 families in the Minden/South Webster Parish area. "We were able to run this program due to the generosity of local businesses and individuals who donated money plus hundreds of dollars worth of new toys for the children. We ask that you please consider us again this year. Without your help, several hundred children will think that no one cares," read the letter.
Contributions may be sent to the Minden Civitans, P. O. Box 95, Minden, LA 71058 or given to any member of the Civitans or Young Women's Service Club. Please make checks payable to the Civitan International Foundation, Federal ID #23-7407941.