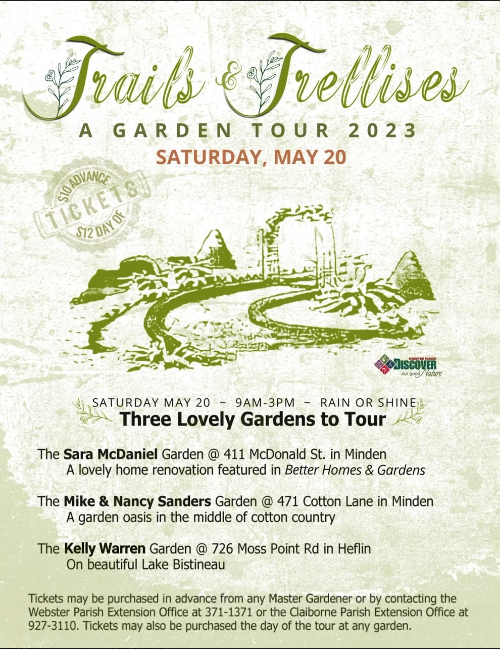 The Piney Hills Louisiana Master Gardeners are set to host their highly anticipated annual garden tour, Trails & Trellises, on May 20, 2023, from 9 AM to 3 PM. Nature lovers and gardening enthusiasts alike are invited to explore an enchanting array of gardens, each offering its own unique theme and charm. The event promises to be a delightful experience that combines the exotic, the natural, the educational, and the beautiful.
Those attending the Trails & Trellises garden tour will have the opportunity to leisurely stroll through meticulously maintained landscapes, soak up the beauty of nature, and acquire valuable gardening knowledge. With something to captivate every visitor, the event guarantees a day of relaxation, inspiration, and discovery.
To secure admission to this much-anticipated event, advance tickets are available for $10. Interested individuals can call the Webster Parish Extension Office at (318) 371-1371 or send an email inquiry to phlmg.minden@gmail.com. Alternatively, tickets can be purchased on the day of the tour at any of the featured gardens for $12.
This year's Trails & Trellises garden tour presents three magnificent gardens that showcase the horticultural prowess of their owners:
726 Moss Point Road, Heflin – Kelly and Glen Warren:
Nestled along the breathtaking shores of Lake Bistineau, the Warrens' garden boasts an awe-inspiring landscape that harmonizes with the natural surroundings. Visitors will be captivated by the splendor of this waterfront haven.
411 McDonald, Minden – Sara McDaniel:
Sara McDaniel's residence has undergone a captivating home renovation, garnering recognition from the prestigious Better Homes & Gardens magazine. Attendees will have the opportunity to explore the results of her dedication to creating an alluring and harmonious outdoor living space.
471 Cotton Lane, Minden – Mike and Nancy Sanders:
Transporting guests to a serene oasis amidst the cotton fields, Mike and Nancy Sanders' garden showcases the beauty that can be achieved in unexpected places. This hidden gem is sure to inspire visitors with its captivating design and meticulous attention to detail.
The Piney Hills Louisiana Master Gardeners, located in Minden, Louisiana, are an integral part of the Louisiana Master Gardener program. This initiative, offered by the LSU AgCenter, recruits and trains volunteers to address the educational needs of home gardeners while providing a rewarding service experience. Committed to imparting unbiased, research-based knowledge, the Master Gardeners assist the gardening public through their affiliation with the Louisiana Cooperative Extension Service.
Trails & Trellises serves as a testament to the Piney Hills Louisiana Master Gardeners' dedication to horticulture education and their desire to share the joys of gardening with the community. By attending this event, gardening enthusiasts will not only have the opportunity to revel in the beauty of well-crafted landscapes but also support a worthwhile cause. So mark your calendars and join the Piney Hills Louisiana Master Gardeners on May 20, 2023, for a day of exploration, inspiration, and the celebration of nature's splendor.