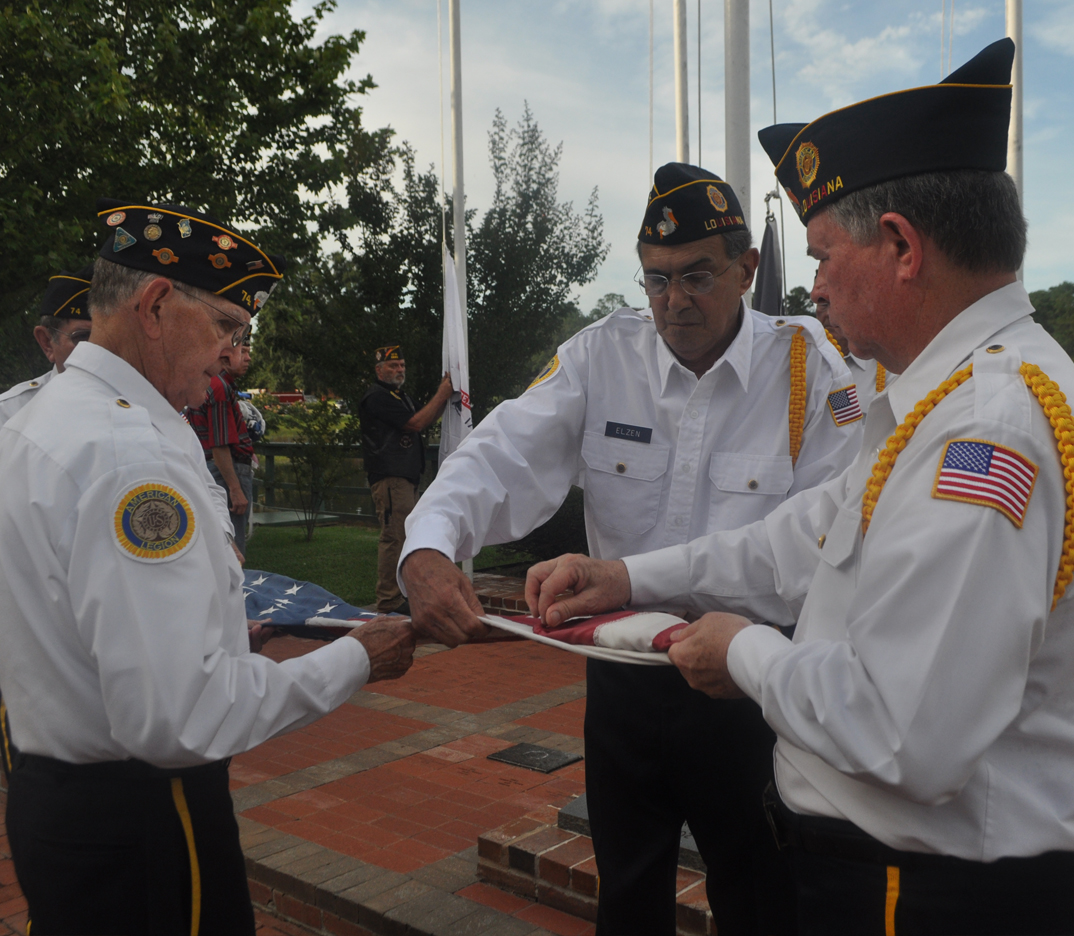 Turner's Pond was the focus of this year's Fourth of July activities – first a special ceremony at Eagle Park to honor those who sacrificed for the nation's independence and second the Fireworks over Turner's Pond.
During the ceremony, two members of the Minden community were honored, one with his name added to the Wall of Honor and the other with a special marker in honor of his service to the American soldier.
George Calvit Jr. and Leo Elshout were the honorees at the ceremony at Turner's Pond. Calvit was a Corporal in the U.S. Marine Corps and took enemy fire while outside a tank directing by phone where to fire. He received a Silver Star for his bravery and the Purple Heart for the injuries he took when machine gun fire was sprayed across the tank.
Calvit's daughter, Jean Chatman, says it is an honor to see her father recognized for his service, even though she says he would say he isn't a hero.
"It brings tears to my eyes, because I'm so proud of my dad," she said, "but I don't like the fact that he had to go through that. I'm proud that he did, but I hate that anybody has to. When I first heard they were going to do this, my first thought was, 'Daddy would be very honored, but the first thing he would say is, there are others that deserve it more than I do.' I don't think he'd be comfortable being called a hero. He was a Marine."
His grandson, Chris Kirkley, says Calvit told them he was given a job to do and that's what he did.
"He didn't feel like those Marines were anything special," he said. "He said they were given a job to do, and they did the job they were given. He didn't think they were any different than any other group of young men from this country."
Although Leo Elshout was not a native of the United States, following WWII, he came to Minden and called it home. A native of Holland, he was honored for his selflessness in hiding approximately 90 British and American soldiers from the Germans, and helping them get safely to their next destination. His son, Mike Elshout, says he is proud of his father, not only for what he did for the United States, but because of who he was as a person.
"It was a great honor," he said. "He told me that as much as he loved his home country, this was a better place to live. He loved America. He loved to go back and visit but not to stay. He loved it here. This was such a great honor."
Elshout says his father worked hard and never depended on anyone.
"When he came here, the government didn't give him anything; he didn't live off the government until he retired," he said. "Everything he did, he did with friends that helped him get here, and made it himself. My mama raised five kids, and my daddy worked his whole life as a mechanic. He left his whole family, and came over here by himself."
Because Elshout did not serve in the U.S. military, his name could not be placed on the Wall of Honor.
However, it was because of his service to this country that he received special recognition and will be given a place of honor at Eagle Park.
Sgt. James Elledge, with the Louisiana National Guard's Natchitoches Unit, was a guest speaker at the ceremony. He talked about some of the history and significance of the Fourth of July.
The Declaration of Independence was introduced to Congress on July 2 and was signed July 4, 1776, all with the threat of the British looming as this fledgling nation fought for its freedom.
"On July 9, a copy of it was delivered to George Washington," he said. "It was there in New York City that hundreds of British warships occupied the harbor. The threat was there in these people's own backyards. George Washington stood on the steps of city hall and read the Declaration of Independence. The people there were so enlightened and so joyful about the independence they had from the British warships in their backyard."
A statue of George III was torn down by the townspeople, melted and made into 42,000 musket balls for the American army.
"They were able to feel the revolution so strongly because it was in their backyard," he said.
Following the ceremony, Lakeview United Methodist Church served hotdogs and cold drinks to those who attended the Fireworks on Turner's Pond. Popsicles and watermelon were also on hand. Drinks were provided by Coca-Cola Bottling Co. of Minden.
The 22nd annual fireworks display was provided by George Fithen and family and Tommy Hathorn, paid for by the church.