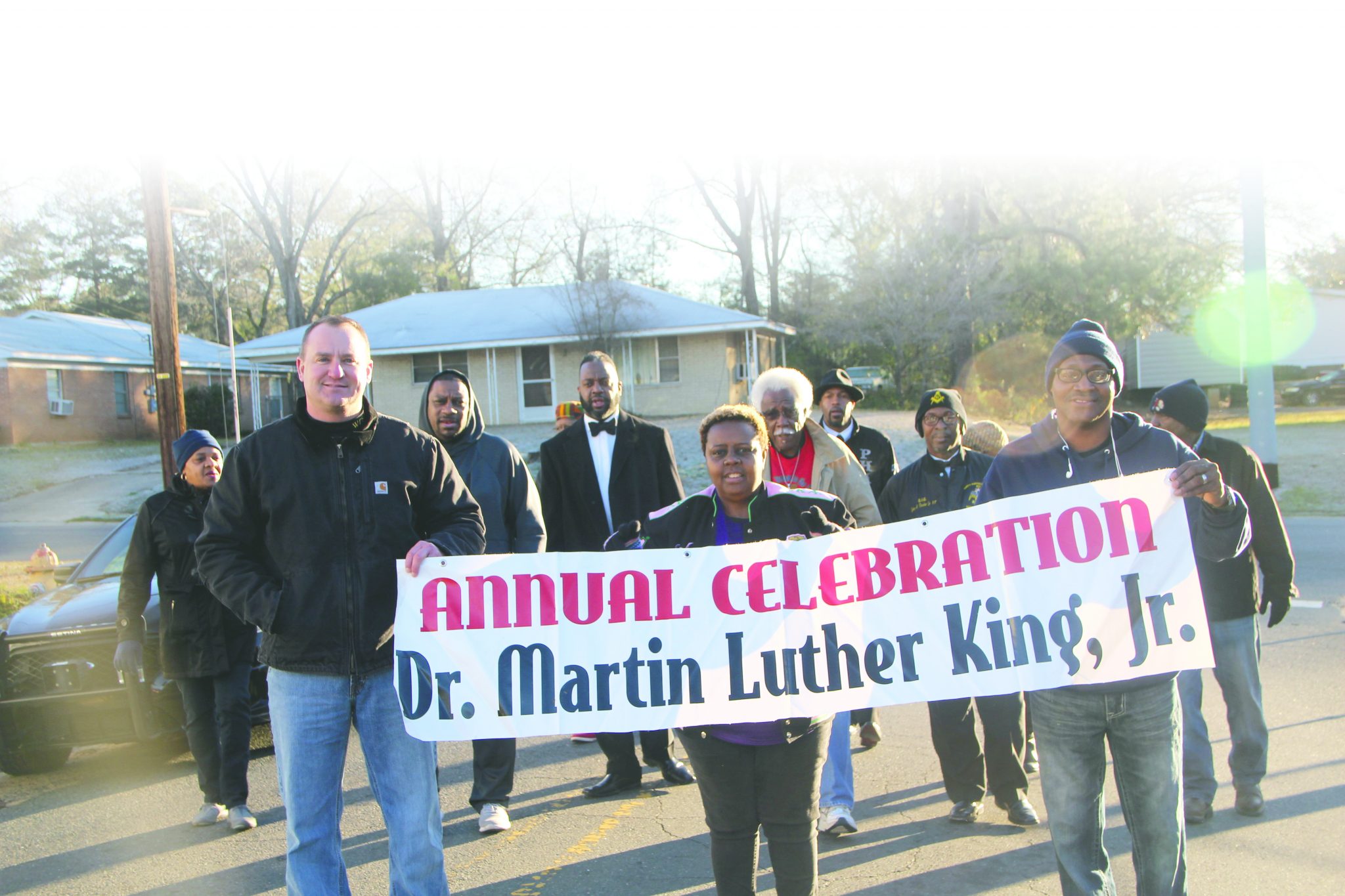 King celebration marked with march, parade, and rally
Martin Luther King Jr. Day in Minden was full of activity and a sense of unity. The morning opened with an Ecumenical March down Martin Luther King Dr. The group included local ministers, lay people, and public officials. The group joined hands and prayed at each intersection and sang songs of encouragement. The group listened to the memories of Joe Cornelius as he recounted his experience at the March on Washington. At the last leg of the walk, they joined arms and marched in silence.
The parade followed the march. Families lined up in the cold to watch eight bands perform and catch candy, t-shirts and stuffed animals from the paraders. Masonic Lodges, fraternities, sororities, biker clubs and elected officials took part in the parade.
After the parade, kids, teenagers and their parents gathered in the Minden Civic Center for the Martin Luther King Jr. Youth Rally. The Rally opened with a Battle of the Bands between Minden High School, North Webster High School, Arcadia High School, and Lincoln Preparatory School. Minden High's Crimson Chorus performed as well as the Lady Tiders Dance Line.
Chairperson, Fayrine Kennon-Gilbert introduced the speaker, Tyra Cobbs. Cobbs is a 20 year old author, elder within her church, credit counselor and real estate agent. She is a Communications Major at Southern University in Baton Rouge and a native of Shreveport, Louisiana.
Cobb's message was about passion and common sense. She encouraged young people to pursue their dreams and choose to be leaders.
"My dad always told me that potential is a dangerous word. The reason that is, is because most of the time potential goes with us to our grave. The reason why is because we don't have people to instruct us and guide us and we don't have the passion to learn when it's not fun," Cobbs told the crowd of young people.
Cobbs told young people to enjoy being alone, control their mind, and to develop passion and common sense.
"One thing I've learned is to not let people get in your head because they'll mess up your heart," Cobbs said.
After she closed the Crimson Chorus returned for another song. The rally closed with awards given for the parade.
A video of the parade can be found on our Facebook page at facebook.com/mindenph.