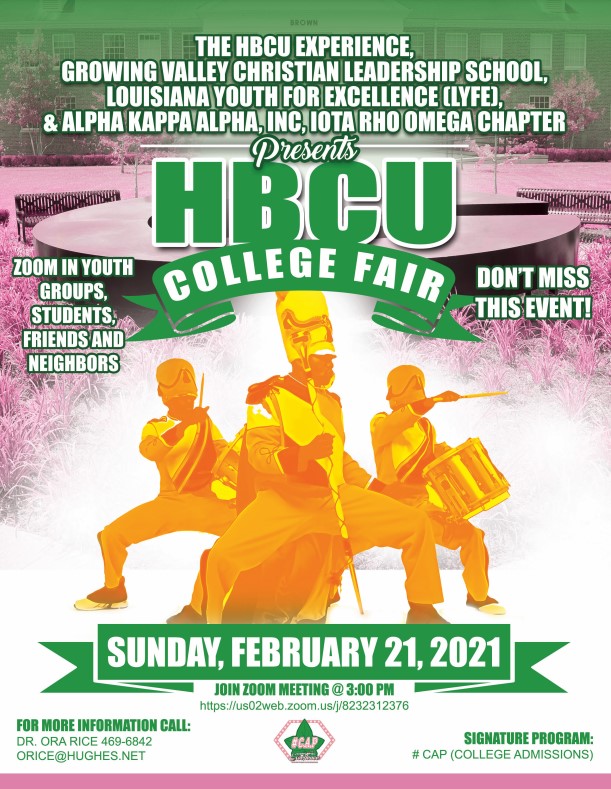 In honor of Black History Month, a Virtual HBCU College Fair will be presented to bring awareness of the Historically Black Colleges and Universities (HBCU) in Louisiana and surrounding areas. A recent fact sheet listed in the Ivy Leaf reported the following:
Among African Americans, the following Represents HBCU Graduates:
50% of Teachers
40% of Health Professionals
70% of Dentists and Physicians
50% of Lawyers
80% of Judges
40% of Members of Congress
12.5% of CEO's
40% of engineers
This event is sponsored by the Growing Valley Christian Leadership School in collaboration with Louisiana Youth for Excellence and Alpha Kappa Sorority, Inc., Iota Rho Omega Chapter. Growing Valley Christian Leadership school is currently working with LYFE (Louisiana Youth for Excellence) and through this program, programs are designed for positive youth development. 
The Virtual College Fair is scheduled for Sunday, February 21, 2021 at 3:00PM. Please join at https://us02web.zoom.us/j/8232312376
For additional information, please contact Dr. Ora Rice, coordinator318-469-6842, orice@hughes.net.