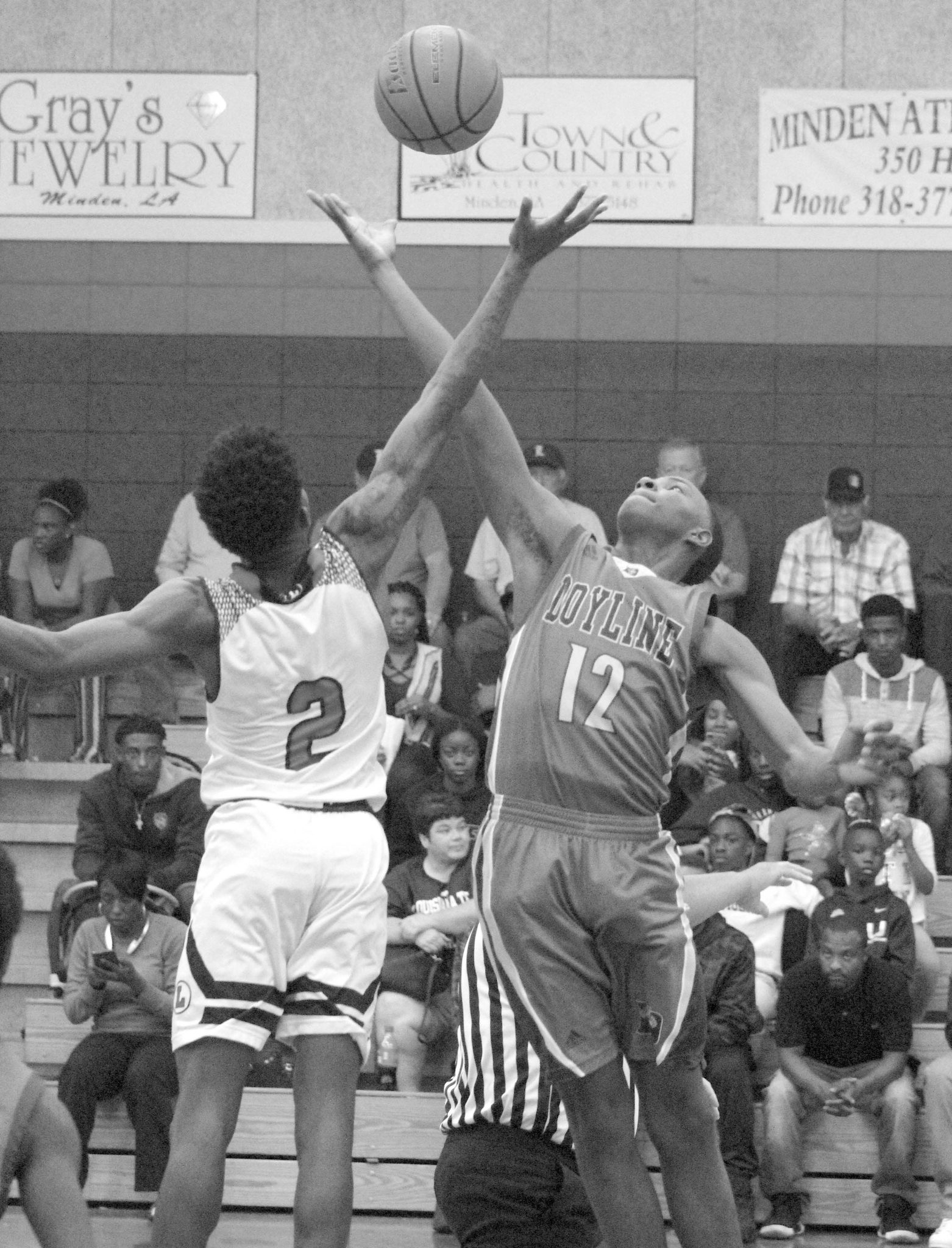 SIBLEY – No lead is safe the Battle for the Paddle. The Lakeside Warriors trailed by 17 points midway through the third quarter, but stormed back to take down the Doyline Panthers 75-66 and maintain possession of the Paddle in front of a raucous home crowd at Lakeside Warrior Gymnasium.
The Panthers led 45-29 with just over 4 minutes to play in the third quarter. By the start of the fourth quarter, Lakeside trailed just 52- 47; by the one minute mark of the fourth quarter, the Warriors were up 73-63 and a shell-shocked bunch of Panthers were trying to figure out how this could have happened.
Damian Coleman played the role of hero for first-year head coach and Lakeside alumnus Marlon McDaniel, scoring 23 of his game-high 36 points in the second half. Coleman finished a pair of 3-point plays through contact to help trim Lakeside's deficit to single digits in the third quarter, then took a steal coast-to-coast and finished with a two-handed dunk that sent the gym into full-blown chaos.
In the fourth quarter, the Warriors continued their climb, with senior guards Tyreke Loftin and Tyrese Myles scoring big back-toback baskets to give the Warriors the lead for the first time since the game's opening basket at 63-61 with less than 5 minutes to play.
Doyline's sensational sophomore duo of Decarri Markray and point guard Jordan Fuller tried their best to buck the momentum piling against them, but to no avail. Coleman knocked down a step-back 3-pointer from the top of the key with 54 seconds remaining to put Lakeside up by 10 points at 73-63, a dagger in the heart of a devastated Panther team.
"Athletically, (Coleman) is just a freak," McDaniel said. "It's just unbelievable to watch him go. He's spectacular when he's on."
Markray poured in 21 points in a losing effort, followed by Fuller with 14 and David Lockett with 11.
Lockett left the game with a gruesome injury to his finger with 3 minutes to play.
His injury appeared to take out what steam was left in the Panthers for a comeback bid.
McDaniel and assistant coach Gary Holmes spent most of the first half trying to crack the code against Doyline's smothering halfcourt defense. The Panthers length and athleticism led to early foul trouble for the Warriors and plenty of second chance opportunities for Markray and his teammates.
Lakeside also spent the first half jacking up shot after shot from deep with players who are either inexperienced or fresh off the football field. In the second half, the Warriors began getting out in transition and driving to the basket, chipping away at the Panther lead minute by minute with relentless effort and intensity.
"We haven't been in the gym long enough to hit those shots yet," McDaniel said. "In the future, we'll start hitting some of those shots. A brand new team walked into my gym Sunday after the football season ended. I had to figure them out, and I'm still not sure if we figured them out, but we have a ton of heart."
As far as first career wins go, they don't get much more special than Tuesday night for McDaniel, who was moved to tears on opening night over the heart his team showed down the stretch.
"I could not ask for more than I got out of these guys tonight," McDaniel said. "I wouldn't even dare try to. What they did out there tonight was just spectacular."
Doyline's record drops to 4-3, while Lakeside moves to 1-0. Both teams play their next game in the Lakeside Don Stahl Memorial Tournament, which tips-off Wednesday in Sibley.
Lady Warriors vs. Lady Panthers
In the girls contest, Rendi Dillard was victorious in her debut as head coach of the Lady Warriors, downing the Doyline Lady Panthers 58- 24.
The Lady Panthers gave the Lady Warriors trouble in the opening quarter, playing tough defense and limiting Lakeside to 12 points.
Dillard's team defended well also, as the two teams went into the second quarter with the Lady Warriors up 12-6.
Lakeside turned things up a notch in the second quarter thanks to more defense and some improved offense, led by Chelsea Mays, who finished with a game-high 15 points.
Mays did a little bit of everything to help her team win, knocking down open shots, rebounding in the paint for putbacks and coming up with steals on defense.
"Chelsea had a great game," Dillard said. "She played extremely hard the entire ball game."
At halftime, the Lady Warriors led 28-12.
In the third quarter Lakeside went on a massive run to put the game well out
of reach. By the final time the final buzzer sounded signaling the end of play, Lakeside had a 58-24 win in their pocket to open the season.
Freshman Ja'Mya Jackson finished in double figures with 12 points, as did Allison Lofton and LaCandria Key with 10 points each.
"I was proud of the defensive effort," Dillard said. "We are still struggling to find our way offensively. It was by no means a perfect game, but we are making strides in the right direction. I'm proud of the girls' effort tonight."
Doyline and Lakeside play again today at 5 p.m. in the first round of the 24th annual Don Stahl Tournament.