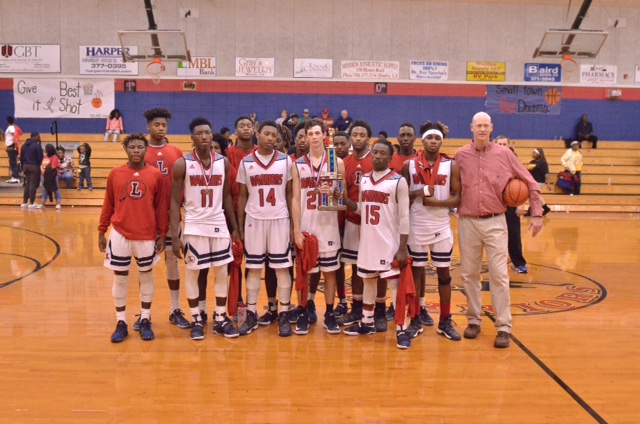 SIBLEY – The 23rd Annual Don Stahl Memorial Tournament wrapped up over the weekend, with a pair of Webster Parish teams taking runner-up finishes in both the boys and girls final.
Lakeside vs. Byrd
(boys final)
The Lakeside Warriors entered the finals thanks to a 13-point win over the Doyline Panthers Friday night, but had less luck against Byrd in the finals, falling to the Yellow Jackets in a phenomenal basketball game, 71-63.
"It was a very, very good game," Lakeside head coach Jason Gould said. "We went toe-to-toe with them."
Lakeside used the 3-ball early on to get themselves and the crowd going, jumping out to a 19-16 first quarter lead. The Warriors got a pair of triples from point guard Tyreke Loftin, followed by a deep ball from Jason Gould to seize the early lead.
Byrd outscored Lakeside by four in the second quarter to take a 1-point halftime lead, and the two teams tied in the third quarter to keep the slim-margin in favor of the Yellow Jackets.
In the fourth quarter, with 3 minutes left in the game, Byrd made their move.
"We had some turnovers against their press and they made some big shots," Gould said. "Probably for the last 3 minutes, we were just trying to play catch-up and couldn't do it, but it was a great game and we had a great crowd."
Chase Mitchell led the Warriors with 17 points, followed by Jalen Gould with 13 points on 3, 3-pointers. Damian Coleman and Michael Bradford each pitched in with 12 points for Lakeside.
The Warriors will be back on the court, Tuesday at home against North DeSoto, starting at 4:30 p.m. with the junior varsity games.
Lakeside's Chase Mitchell and Jalen Gould each earned all-tournament honors for the Warriors.
Minden Lady Tiders vs. Evangel Lady Eagles
(girls final)
The Minden Lady Tiders fought a hard battle against the Lady Eagles of Evangel, but fell for their first loss of the season, 62-57.
"It was really a tight ball game early," Minden head coach Jacob Brown said. "I thought going in, we had a good plan as far as trying to slow down their main scorer. A good player is going to find ways to score, but we had a solid plan, although it broke down sometimes due to our lack of rebounding."
Minden trailed 13-12 at the end of one quarter.
"I thought our full-court pressure played a factor," Brown said. "But sometimes we didn't turn them into points. We continued to play well and took a 21-20 lead in the second quarter."
Minden had a chance to take a commanding lead at one point during the second quarter when they assumed a 19-11 advantage, but Evangel slowly crept back into the game, cutting the halftime deficit to 1-point.
"I thought we put up some quick shots," Brown said. "I wanted us to run through our half-court sets, but we had some trouble doing that and finishing layups and shots in the paint."
Minden went into the fourth quarter trailing 40-33 having been outscored 20-12 in the third quarter.
Foul trouble and a weak presence on the boards began to prove costly with each passing minute, as the Lady Eagles held their lead from the free throw line in the late going to win the tournament title.
"I thought our girls competed hard, there's no doubt about that," Brown said. "We have to do a better job of controlling the things we can control, and tonight that was finishing near the basket and blocking out."
Bre Rodgers scored a career-high 25 points for the Lady Tiders. Sha'Terra Batton had 11 points, Destini Powell had 8 points and Tayler Banks and Sha Whiting each finished with 5 points.
Bre Rodgers and Sha'Terra Batton were selected to the all-tournament girls team.