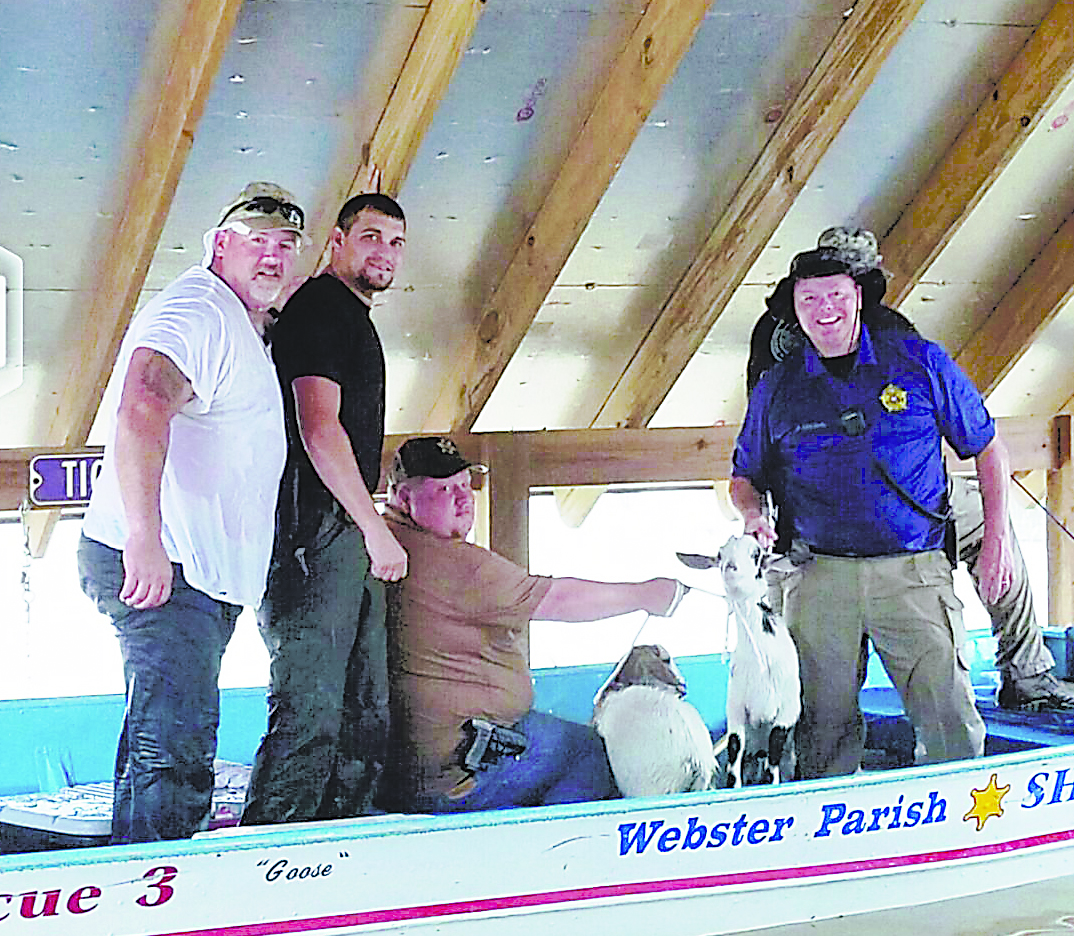 Sad, surreal, unity – these are all words used to describe the conditions in south Louisiana by local emergency personnel who answered the call for help over the weekend.
Four Webster Parish Sheriff's deputies and four Minden firefighters traveled to Livingston Parish last Friday to help the flood victims. They arrived late that evening, unloaded their boats and equipment and got to work, shuttling flood victims to higher ground for the better part of 14 hours before taking a break and getting a meal.
Dep. Bobby Igo III says they worked in the Walker area, rescuing people from a hotel and neighborhoods.
"It was surreal," he said. "Families were stuck on roofs and children were uprooted from everything they knew. They were having to move and didn't really understand why they were having to leave their home. Families didn't have the supplies that they needed, and there were nursing home patients that were stuck in wheelchairs and couldn't go anywhere."
They also rescued several hotel patrons, one a family on their way to Disneyworld, he said.
They'd stopped for the night and lost their vehicle and everything in it, he said.
"Most people were passing through from vacation," Igo said. "They'd stopped at the LaQuinta Inn right off interstate, and every vehicle at the hotel was flooded up to the windows."
Minden Firefighter Brian Dison says he spent the weekend with two Livingston Parish Sheriff's deputies rescuing people from a neighborhood underwater. After several hours of rescue, on Saturday morning, he helped an elderly woman get out of her house and into the boat, and he just stopped.
"We were kind of sitting there, and the weight of it just hit me," he said. "We were looking around, and there's no land I could see other than the trees sticking up through the water. I teared up for a minute, because the reality hit me that there's no place for these people to go except into the boat with us. It was a reality check."
Dep. Terry Brown says they rescued pets too. They even rescued some goats, he said.
"We saw these goats, they were like show goats, and if we hadn't have pulled up, they'd have drowned," he said. "So, we got the goats, put them in the boat and took them to dry land."
All three say they were welcomed with open arms and flood victims welcomed the help they were offering. Igo says the spirit of Louisiana was alive and well in the area they worked, where law enforcement, emergency personnel and civilians alike worked together for the common good.
"It was good to see everybody coming together, putting their emotions aside and start coming together as a state and as a community," he said. "We didn't know some of the people we were working with from Adam, but yet they were willing to jump in the boat with us just like we were willing to jump in the boat with them."
Dison praised the organization of the emergency responses, saying much was learned from the aftermath of Hurricane Katrina in 2005.
"You've got one particular body in charge of the whole network of people, and I think that helped streamline the whole event once they got it set up and going," he said. "Nobody was left unattended, but a lot of people had to be moved. With the two boats I had, we probably moved over 200 people. They were all very respectful, and we had no issues with any of the people we recovered."
Brown says the unity among the people was amazing.
"It was just everybody helping each other out," he said. "We didn't see anything bad as far as looting, because everybody was focused on helping each other out."
Webster Parish Sheriff Gary Sexton says although they have not had a call to return down south, his deputies remain on standby.
"I called the Louisiana Sheriff's Association and told them if they need somebody, let me know," he said. "Our guys are ready to go back, or send another crew."